25.09.19
8 beautiful marble-inspired tiles with all the character of the natural material
Tiles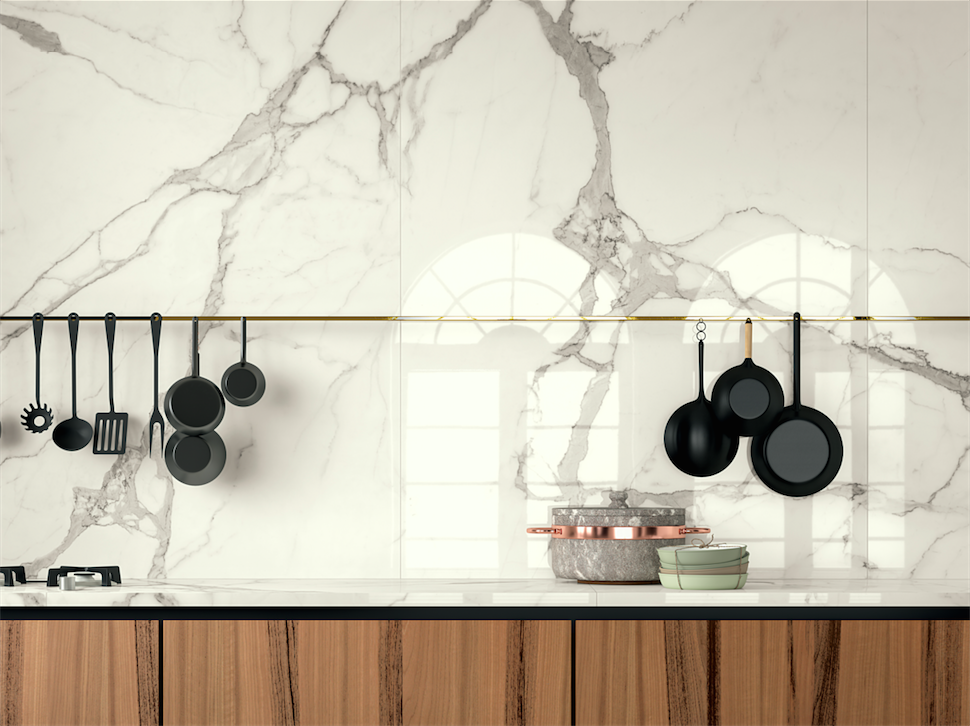 Marble has been used for centuries to beautify spaces, and we have become familiar with terms such as Carrara, Calacatta and Volakas, the names of popular types of marble commonly used in homes. For each well-loved natural marble type, we daresay there is a tile available that has been inspired by its distinctive character.
Tiles present a more sustainable way to enjoy the beauty of marble. They also allow you to incorporate the luxurious look of marble in places that are traditionally unsuitable for the material, such as high-humidity bathrooms and kitchens. Tiles are low in maintenance, and their durability means surfaces look great for longer. Learn more about marble-inspired tiles, and the actual stone they were modelled after, here!
The precious Statuario marble is highly regarded among Italian marbles for its white background with subtle gold or grey veins. In this bedroom, the Statuario Michelangeo marble-inspired tile from Emil's Tele di Marmo collection replaces the natural material in a bookmatched format that would have formerly been extraordinarily expensive to pull off.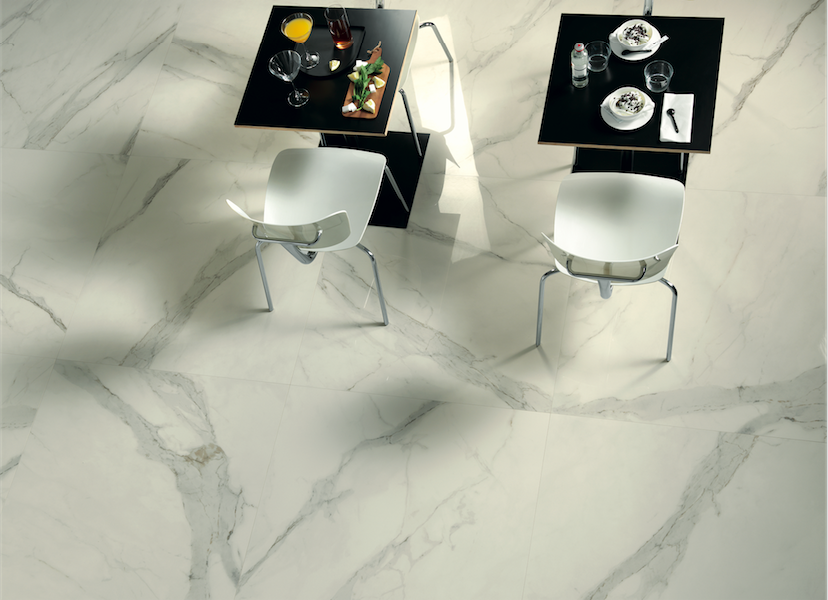 With its large format design of thick, yet subtle veins dancing across the floor, the Statuario marble-inspired tiles of Cercom To Be above bring an impression of refinement and elegance to the space.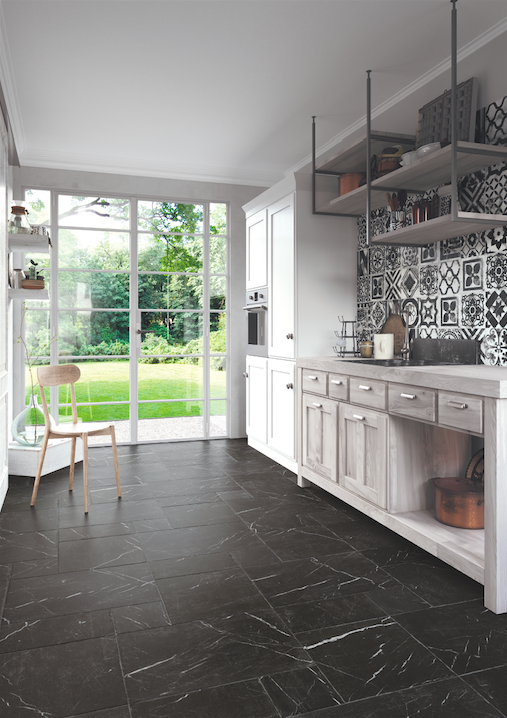 Deliciously dark with obvious gold or white veins, St Laurent is a marble from France that will give your space a certain je ne sais quoi. Tile makers such as Serenissima have bought into it stylish appeal to give you marble-inspired tiles such as Magistra. Use it in the kitchen for truly chic and luxurious style.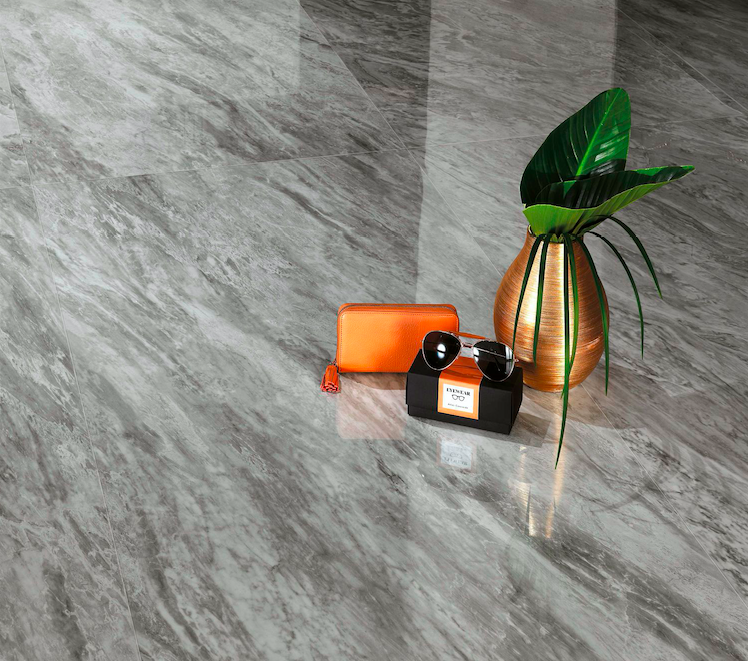 Bardiglio marble from Italy is distinguished for its rich and deep grey cloudy hues, with distinctive dark thin veins running in the same direction. See its unique qualities in the Atlas Concorde Marvel Stone Bardiglio Grey tile.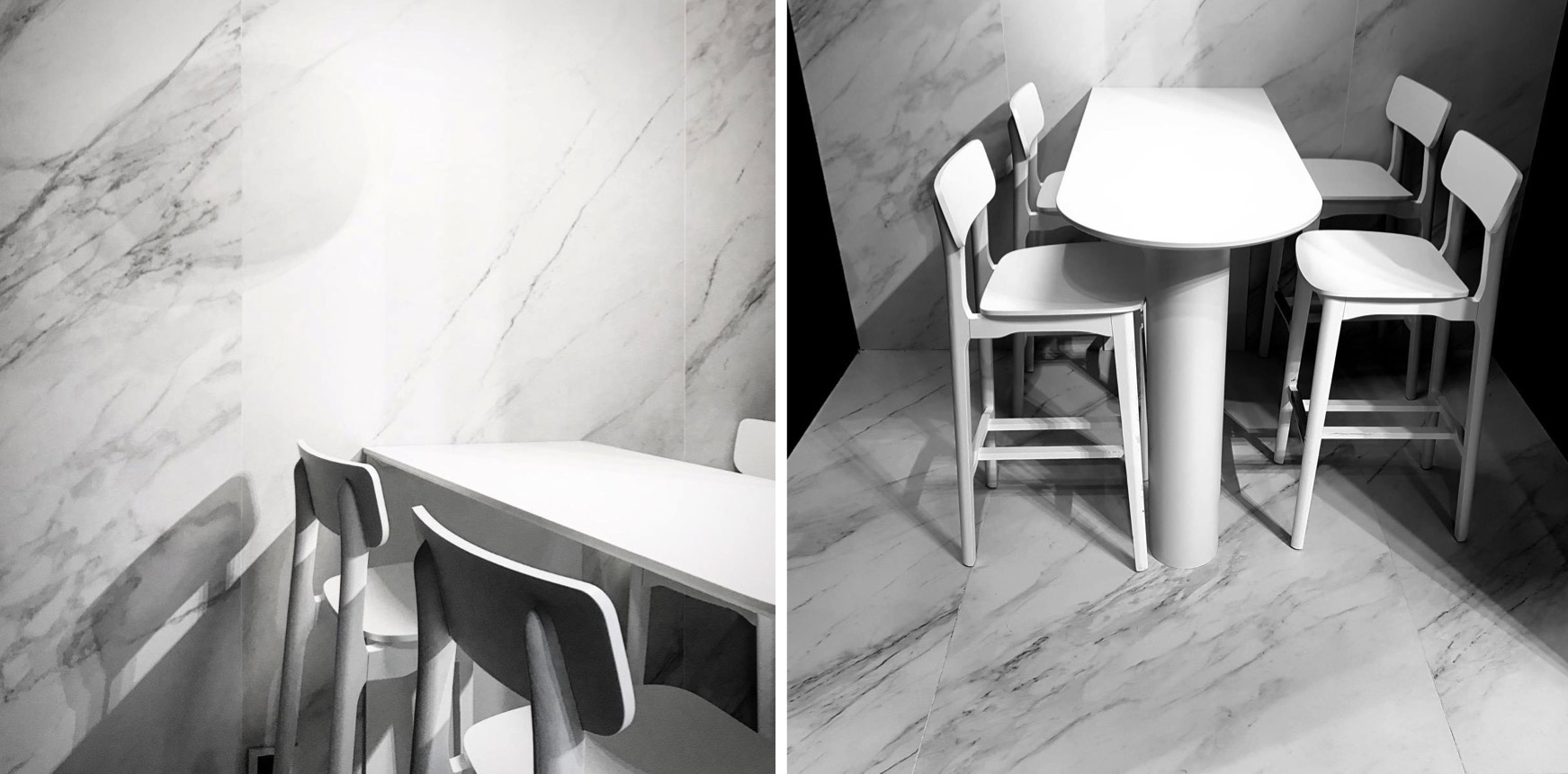 Did you know Volakas marble was named after a remote village in Northern Greece, where it is famously from? The marble-inspired tiles of Edilgres I'm Italian Marble collection replicates the diagonal beige or grey veins of this popular marble, set against a clean white background. Some varieties of Volakas marble also feature veins that resemble clouds.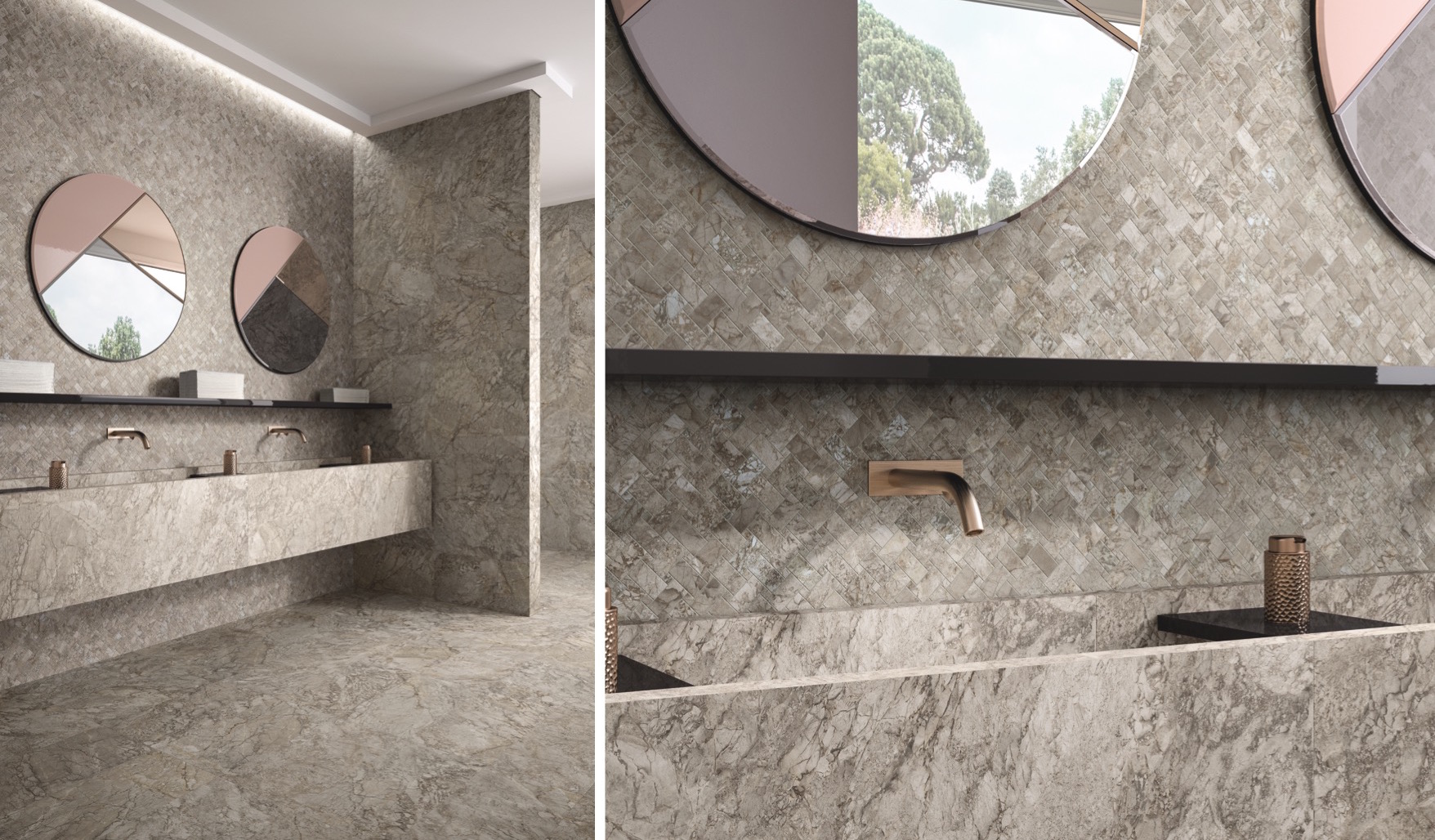 Breccia marble's unique patterning comes from its mineral fragments that has been cemented together, showcasing amazing visual texture that is also pleasing to the eye. Inspired by Breccia marble, the Emil Tele di Marmo tiles also come in smaller mosaic-style pieces (pictured above right) that bring a further textural dimension to the surface.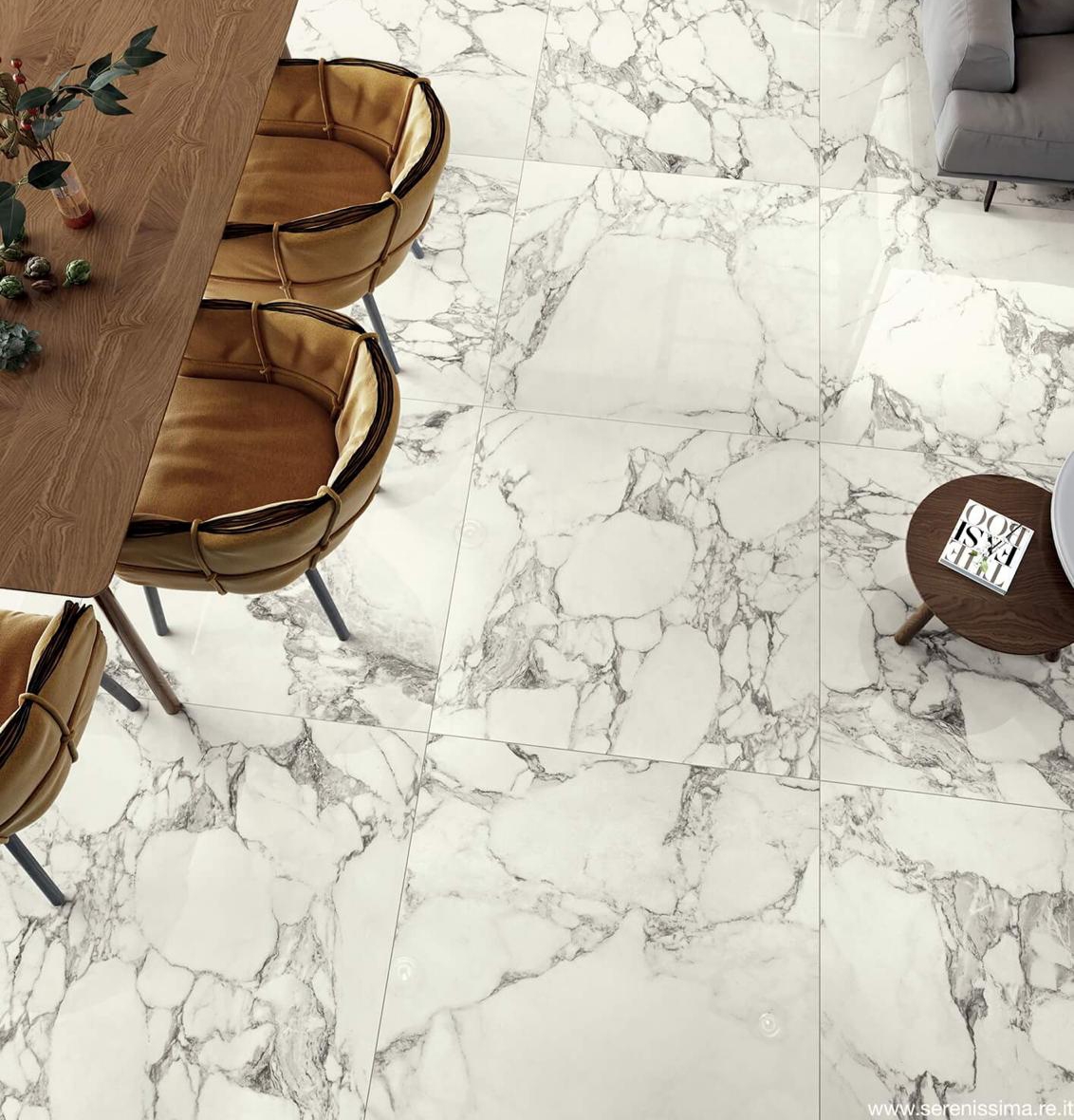 With a name derived from the Italian word for peacock, you can already guess that Paonazzo or Paonazzetto marble is no wallflower. Its showy vein patterns are usually set against an ivory background, as with the ​Serenissima Magistra​. Colours such as red and purple are also associated with Paonazzetto marble. Arabascato is usually associated with strong and dark veins and this collection actually looks like an understated version of it.

See more marble-inspired tiles at riceLAB. Make an appointment by emailing us here or by calling 6692 1199. riceLAB is at 213 Henderson Road 01.03 Singapore 159553. RICE is open from Mondays to Fridays 10am to 7pm, and Saturdays from 10am to 6pm.