21.11.18
Emilgroup makes tiles that travel the world and are loved by many. Discover their most popular collections…
Tiles
Tile brands are not as well known to the man in the street as say fashion brands, but the products of some tile makers might be more familiar than you think! Take for example, one of Italy's most popular tile manufacturers, Emilgroup. Its production capacity is over nine million square meters a year, and each year it sends more than 6,500 items worldwide (including Singapore!). Represented by its four core brands, Emilceramica, Ergon, Provenza and Viva, the chances of you having seen or even set foot on one of their tiles is pretty high indeed. Learn more about its most popular designs.
Dotcom by Viva
Dotcom here doesn't have anything to do with the Internet, but is a family of stone-inspired tiles modelled after sandy limestone. The highlight of Dotcom is its subtle sedimented pebble patterning that gives it a pleasant shading that's perfect for simple modern interiors. Dotcom is available in four colours and a variety of sizes, including anti-slip variations.
Grain Stone by Ergon

Fine grained terrazzo and limestone is the inspiration behind Grain Stone. Granite has always been a favourite of architects to transmit a feel of timelessness, and it does the same here in the form of stone-inspired tiles for floors and walls. Within the Grain Stone family, the Cage variation, which has vertical and horizontal line etchings, bring character and dynamism to the mix.
Stone Talk by Ergon
Replicating the look of stone in a range of archetypal finishes, Stone Talk is often used with Grain Stone, as it shares the same two warm-, two cool- and one white tone. The three finishes include the minimalist and elegant Minimal; Martellata, which features a fluid and dynamic hammered veining; and Rullata, with its grooved and faceted effect.
Tele di Marmo by Emilceramica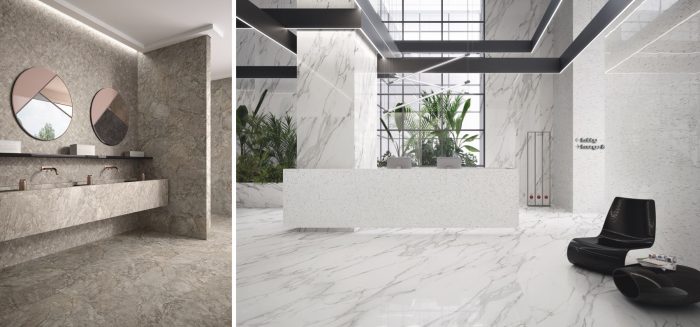 Marble has always been a marker of luxury, and Tele di Marmo takes marble-inspired tiles to greater heights with its family of four different natural and semi-polished marble, each with a unique vein pattern. Breccia for instance (pictured above left), sports a spidery fractured design based on its namesake, while Statuario (pictured above right) defines classic style with its long defined streaks.
Stone Project by Ergon

An evergreen favourite, the Stone Project tiles were created by studying natural stone and its unique expressions depending on how the stone was cut. This led to the creation of the Falda (pictured above left) and Controfalda (pictured above right) families. The Falda tiles capture the grain direction of a slab of stone by cutting it vertically, which results in linear veins; while the Controfalda tiles feature the clouded patterning of the stone as it is cut horizontally. Available in three warm-, three cool- and one neutral tone, this collection has something that will suit every space.
Stone Project tiles have been used in upscale Singapore condominiums such as The Panorama, Marina One Residences and Parc Esta.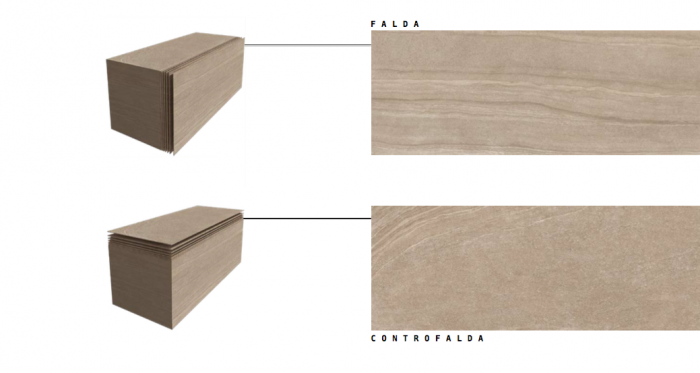 With tiles that go up to 160cm x 320cm in size, and at just 6.5mm thick, the new LEVEL, tiles are perfect for those who want seamless finishes. Use them as backsplashes for kitchens, and on the bathroom wall and floor, even on tabletops and on cabinet doors. Level's four contemporary looks – concrete, design, marble and solid colours – will help create a versatile canvas of smooth joint-free surfaces for any decor theme.