27.02.19
Find out how RICE concierges make that great first impression!
Uncategorised
The old cliché 'first impressions count' is something RICE has taken seriously since we opened our first tile showroom at Kallang. Coupled with our rising emphasis on service excellence, RICE set up the concierge team in 2013 when our showroom was at Eng Watt Street. Today, the concierge team at RICE is still creating fabulous first impressions for everyone who steps through our doors, this time at our current flagship at Henderson Road. RICE concierges Michael Gabaldon and Samantha Tan are making sure of that, but what exactly are their duties in a role more commonly associated with hotels than tile showrooms? Here's what they say!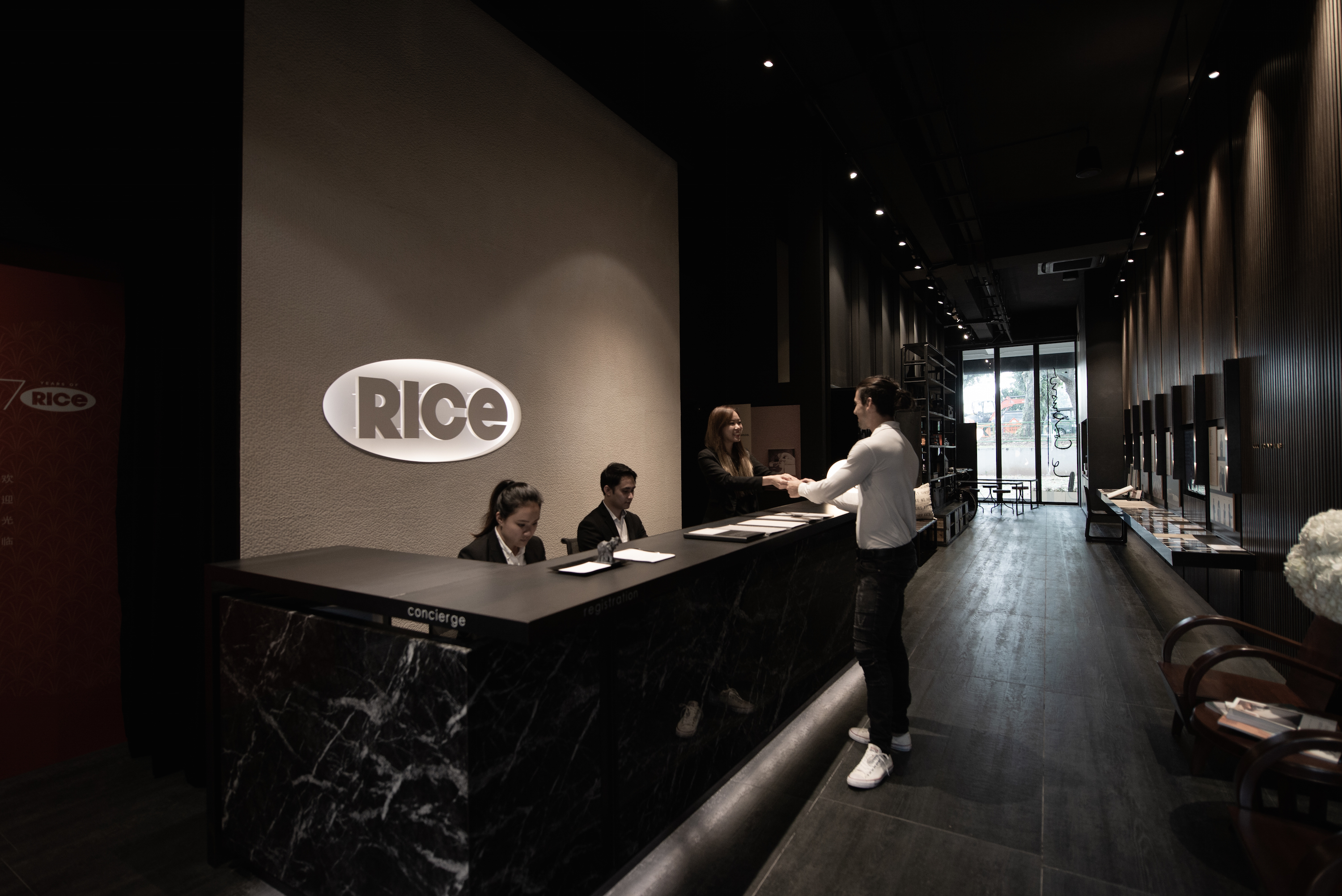 "We try to make visitors feel welcome, as I understand our entrance can look a little intimidating," says Samantha who has been a RICE concierge for two years. Visitors are encouraged to make appointments to visit riceLAB, but the space does get the occasional curious passerby peeking through the tinted doors wondering if the place is a new cafe or restaurant. Samantha shares that the concierges try to encourage them to enter and "being friendly and smiley helps break the ice."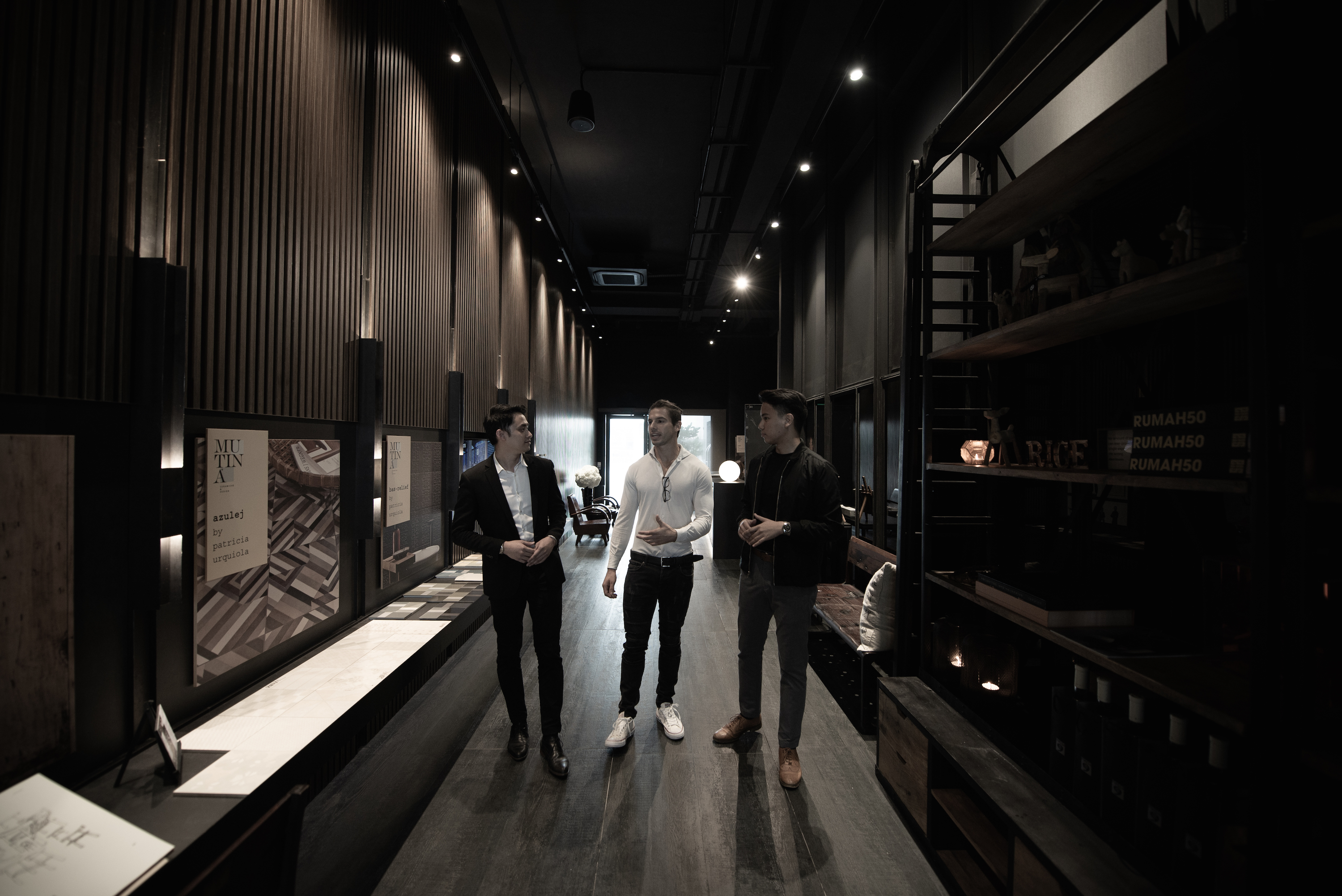 Whether the visitors have appointments or happen to just 'stumble' onto riceLAB, "everyone is personally attended to," says Michael, who has been in this role for six years. He says, "What sets us apart from other tile showrooms is the personalised service," and that involves taking down each visitor's particulars, so that the Material Planners and Consultants (MPCs) can follow up with the guest. This is when the concierges might encounter some resistance, which they have been trained to handle with professionalism.
RICE concierges learn from the best, and RICE has even sent Michael to Japan to observe their world-class customer service standards. Besides learning from others, "we also do a lot of role playing for various scenarios, and receive product training so we can share product information with visitors as well," says Samantha. When she joined the company, she also shadowed the company's MPCs as they showed their clients around the space. When a visitor drops by without an appointment and the company's MPCs are unavailable, the concierges are able to step in to show the guest around.

The most satisfying part of their jobs is being able to assist people with their enquiries. A large part of this satisfaction comes from a daily routine of answering calls, checking emails, attending to requests for tile samples, and informing MPCs that their appointments have arrived. Then of course there are emergency situations such as urgent requests for information. With all these duties at hand, ideally there should always be two concierges at the counter, says Michael, especially during busy Saturday afternoons. The concierges also offer drinks such as freshly brewed coffee, and snacks to nibble on, to waiting visitors. "We treat them just like guests in our home," says Samantha.
This high standard of customer service can sometimes unnerve visitors. "They're not used to receiving so much attention," explains Michael. "But we do see the impact on the customer, especially when we address repeat customers by name when they return to riceLAB. It makes them feel special and establishes trust and rapport."
Experience a different level of service at riceLAB. Make an appointment to visit riceLAB by emailing us here or by calling 6692 1199. riceLAB is at 213 Henderson Road 01.03 Singapore 159553. RICE is open from Mondays to Fridays 10am to 7pm, and Saturdays from 10am to 6pm.