01.08.18
Steal these 7 ideas on how to do the modern luxury look at home
Tiles
If you love the upscale ambience of a luxury hotel room, or the plush environment of a well-appointed lounge area, you might just be in love with the look of modern luxury. This new generation of luxury replaces the glitz and fussy ornamental decorations of the past with classic profiles, superbly-crafted furniture, unique and exotic materials, and just a touch of shine. Tiles can play a big part in creating this look, just look at these examples below!
Edilgres IM Italian Marble
These marble-inspired tiles from the IM Italian Marble collection by Edilgres create a work of art on your floor with its dark spidery veins against a cool white background. The Arabesque White tile comes in two finishes – matte and polished – to add a touch of elegance to wherever you choose to place it.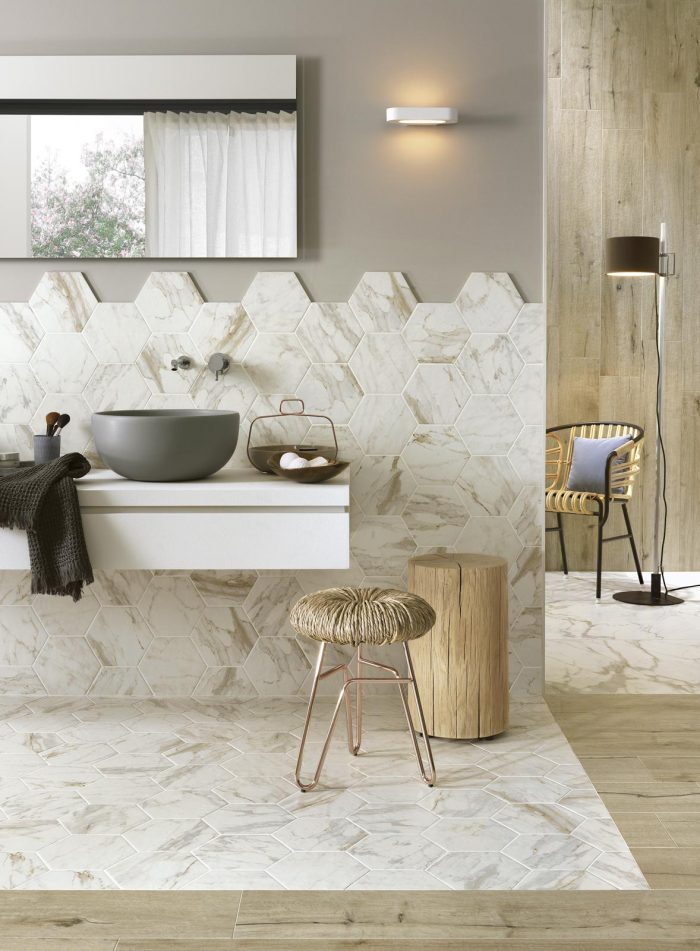 Ragno Bistrot
The vein of gold running through the marble-inspired hexagon tile from the Bistrot collection by Ragno gives it a touch of modern glamour. However the space still looks thoroughly modern thanks to the unique shape of the tile and the airy space's light colour palette.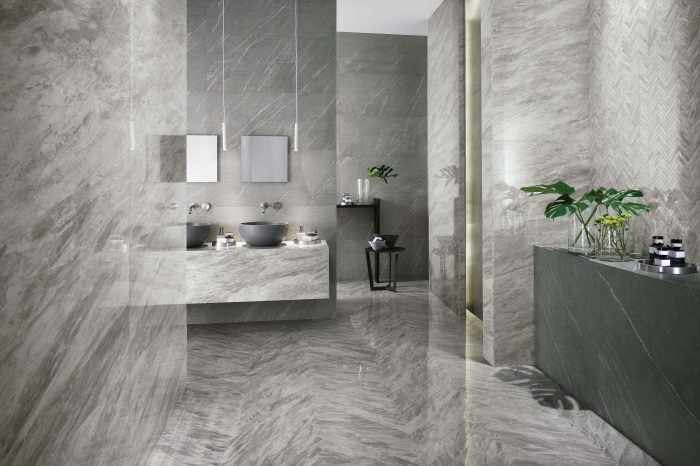 Atlas Concorde Marvel Stone
A marble bathroom has always been a marker of luxury. Do away with the high maintenance of marble but retain its upscale look with the glossy Marvel Stone marble-inspired tile from Atlas Concorde. The result of this floor-to-ceiling tile treatment is worthy of any five-star luxury hotel, even if it's not natural marble!
Atlas Concorde Marvel Pro
Modern luxury can be moody and atmospheric as well. You can't believe the dramatic inky black wall on the left streaked with white veins is not marble, but a marble-inspired tile by Atlas Concorde Marvel Pro. On the right, white marble-inspired tiles with dramatic grey veins (from the same collection) are spotlit like a piece of artwork.
Panaria Trilogy
Resembling grey stormy skies, the marble-inspired Trilogy Sandy Grey tile from Panaria has a distinctive pattern that gives it an air of exclusivity. The neutral colour tone is contemporary without being bland.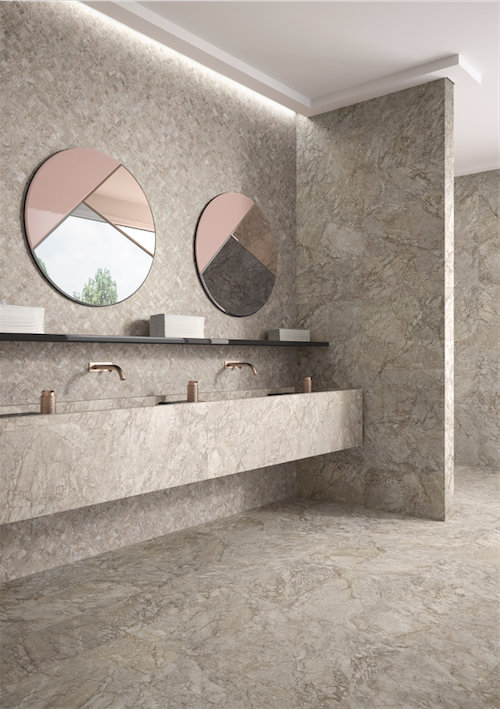 Emil Ceramica Tele di Marmo
The exotic, intricate veins of the Tele di Marmo marble-inspired tile from Emil Ceramica is the only decoration you need to pull off an upscale bathroom space like this one. Just top the luxurious yet elegant look off with some shine in the fixtures and your space is complete.
See the featured tiles and get more inspiration for the modern luxury decor theme at riceLAB. Make an appointment to visit riceLAB by emailing them here or by calling 6692 1199. riceLAB is at 213 Henderson Road 01.03 Singapore 159553. They are open from Mondays to Fridays 10am to 7pm, and Saturdays from 10am to 6pm.