25.04.18
Don't forget the lighting when you choose tiles for your home. Here's why!
Tiles
This area at riceLAB features tiles on the floor and walls, with lighting that creates the soothing ambience of a hotel suite.
Lighting could be the last thing on your mind when you're choosing tiles for your home. But perhaps it should be the other way around. After all, once your tiles are installed, there is very little you can do if you discover (to your horror), that the beige tiles you chose for your living room appear yellowish when you've switched on the mood lighting at night. A darker colour, on the other hand, might not be that affected by the cast thrown by warm lighting, says architect Kimberly Toh of Studiogoto.
She explains, "Lighting plays a very important part in the design of a home. It isn't just tiles that are affected by lighting, but all the other materials in your home as well. Each material also impacts each other when they are placed together in a space." Kimberly should know a thing or two about how lighting affects the look of tiled surfaces – after all, her firm designed riceLAB, which features an array of living spaces decked out in tiles on the floor, walls and even cabinet doors. Here, she shares with us her know-how on the importance of lighting when choosing your tiles.
Daylight vs Mood Lighting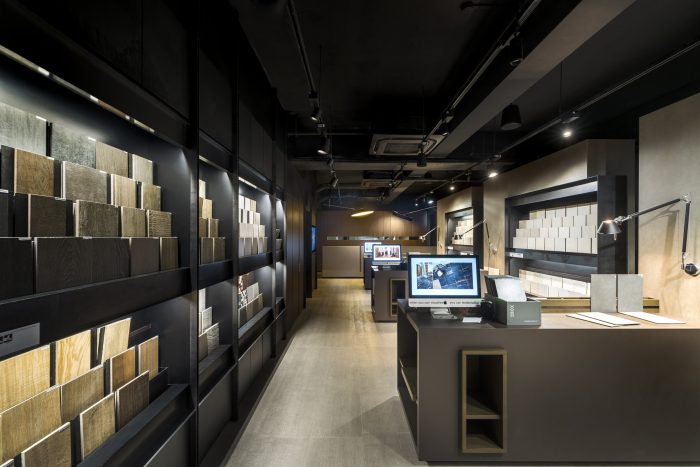 MATERIAL LAB, with its racks of tile samples and workstations fitted with adjustable lamps that provide warm lighting options.
Homeowners might insist on seeing tiles under lighting conditions similar to daylight, or under actual daylight, thinking that is the best way to choose tiles. But they might forget that tiles in a domestic environment are often not lit with daylight. Homeowners and interior designers should take into consideration the lighting they will be installing in that space and choose tiles based on those lighting conditions, advises Kimberly.
A tile sample in MATERIAL LAB showing it under warm lighting (left) and cool daylight (right).
Whether it is cool daylight or warm lighting, you'll be able to see all of the tiles available at RICE under both these types of lighting at the riceLAB showroom. The tiles on the rack at MATERIAL LAB on the third floor are all illuminated with cool daylight; to see how the same tile looks like under warm ambient light, bring it over to the workbench and pull over the wall-mounted adjustable lamp.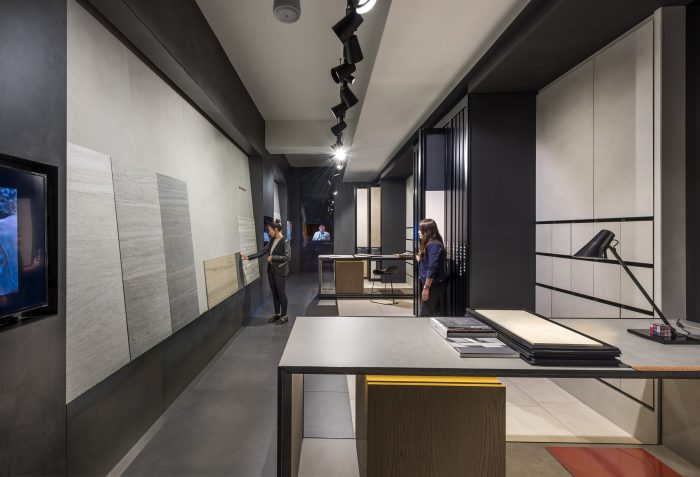 PROJECT LAB displays full-sized tiles under three different lighting types.
For commercial projects, RICE has PROJECT LAB on the second floor, where full-sized tiles are displayed and illuminated with a choice of cool daylight, warm lighting or a combination of both.
Vertical vs Horizontal Applications
The same tile used on a vertical surface and horizontal surface will look different, due to the throw of light on it. For example, if the same tile is applied on the wall and on the floor, the colour of the wall will tend to appear darker as compared to the floor. At the work stations in MATERIAL LAB, you'll be able to see a simulation of how the tile will look on your wall and floor, thanks to the magnetic strip at the back of each sample that magnetically attaches it to a vertical support on the table.
Tile Textures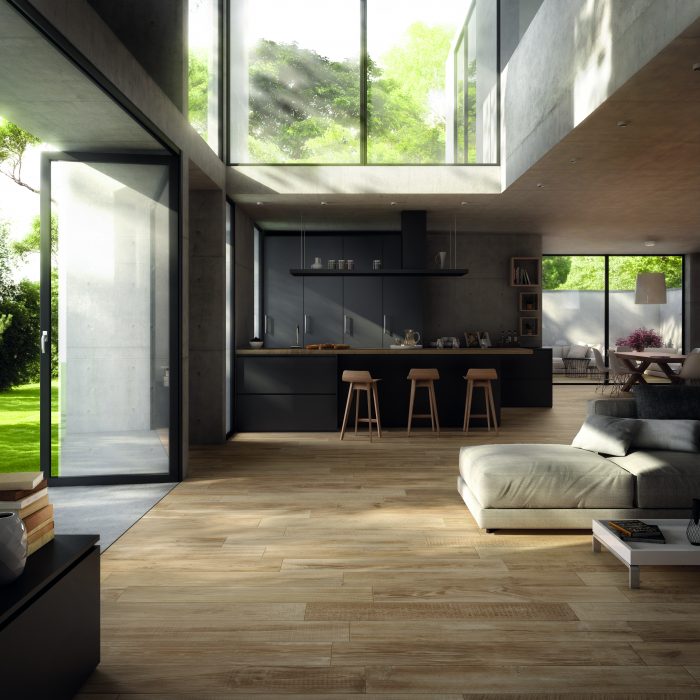 Panaria Ceremica Crosswood
The texture of the tile is another factor to take into consideration. "There is a perception that tiles are flat surfaces, but some do have textures that can be affected by the lighting used," says Kimberly. For example, texturised timber-inspired and stone-inspired tiles. "Using harsher or more direct lighting will highlight the texture of these tiles. Softer illumination, on the other hand, will leave the tiles looking flat."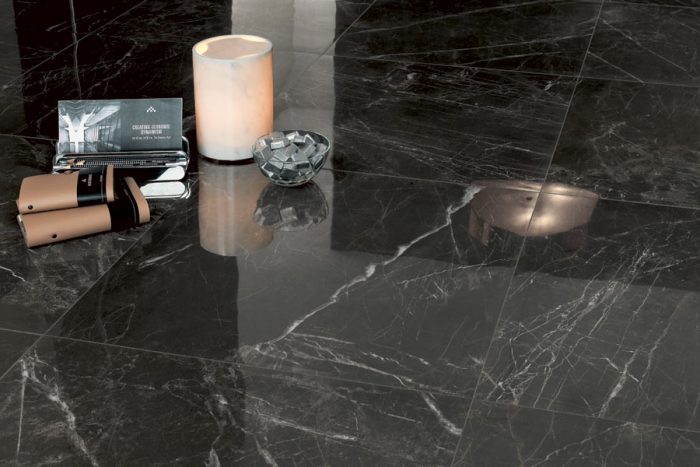 Atlas Concorde Marvel Pro
Kimberly cautions homeowners to take care with glossy wall tiles (as with all glossy wall claddings), especially when there is cove lighting at the top. Make sure the almost mirror-finish on the wall surface does not reflect what you want concealed, such as lighting tubes! Use indirect lighting to illuminate tiles with glossy finishes to avoid hotspots as well.
Perception of Colours
As mentioned in the example at the start of this article, our perception of colours changes with the lighting used, and also in the context of other colours. A beige floor will look even yellow-er under warm lighting, as compared to say a grey-coloured floor. And a dark colour used next to a light one will punch up the contrast between both hues.
Visit riceLAB to see how tiles are lit in various living settings such as the living room, bedroom, and bathrooms. Make an appointment to visit by emailing them here or by calling 6692 1199. riceLAB is located at 213 Henderson Road 01.03 Singapore 159553. They are open from Mondays to Fridays 10am to 7pm, and Saturdays from 10am to 6pm.