08.05.19
Like Lego, tile brand CE.SI. gives you basic building blocks to create the designs you want!
Tiles
Homeowners who have a singular vision for their home know this – you can visit all the tile showrooms in Singapore and still not find the materials you desperately need to get the look of your dream space. If you belong to this breed of homeowners who desire more individualistic interiors, you'll be happy to know that Italian tile brand CE.SI. is now available at riceLAB! CE.SI. provides you with the basic building blocks you can use, like Lego, to create designs of your own imagination.

CE.SI. offers tiles in 82 gorgeous colours, from the softest pastels to the brightest hues, and in shapes such as squares, rectangles, and octagons, in a good variety of sizes. This translates to a multitude of possibilities for creating different looks. Use four-sided shapes such as squares and rectangles in neutral tones to create contemporary grids and smart minimalist interiors, inject pops of colour into a white tiled space with coloured tiles for a fun space, or use glossy bevelled tiles in jewelled hues for sophisticated appeal in your bathroom. The glazed and unglazed porcelain stoneware tiles also come with non-slip surfaces for safety in wet areas.

If you love the look of subway tiles, you'll never have to choose between white or black options in one size only. Have some fun with colour! Do half the wall in pink and half in white, using smaller-sized tiles (pictured above). Your tiles can be matte or glossy, flat or three-dimensional. CE.SI.'s Metro collection offers glazed subway tiles with bevelled edges inspired by the tiles used in the Parisian underground stations of the 19th century.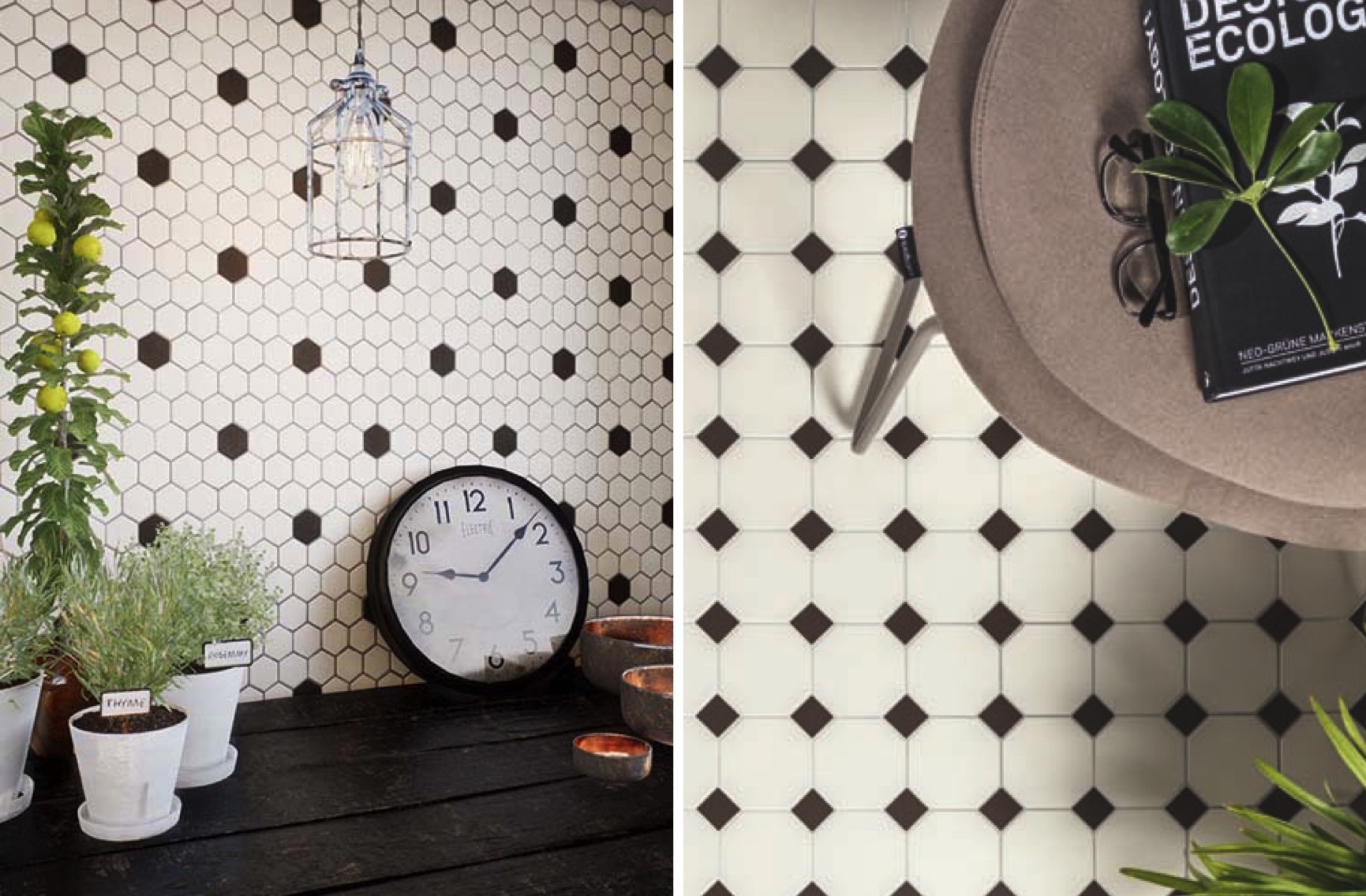 The more unusual shapes in the CE.SI. family are those that create the most classic designs. Evoke an old-world colonial charm with small honeycomb tiles, and octagons with inset squares, available in a range of colours, which are part of the brand's Art Déco collection.

CE.SI. also provides customers with solutions to terminate the tiles, an industry term to mean how tile edges are treated when they reach the edge of the wall. For this, CE.SI. produces specially-shaped curved trims to provide a seamless, complete look to the whole surface.
All the featured tiles above are from CE.SI. Find out more about the brand at riceLAB. Make an appointment by emailing us here or by calling 6692 1199. riceLAB is at 213 Henderson Road 01.03 Singapore 159553. RICE is open from Mondays to Fridays 10am to 7pm, and Saturdays from 10am to 6pm.