12.09.18
Terrazzo is trending and there's no better way to get this trend home than with terrazzo-inspired tiles
Tiles
Portofino Cemento tiles from Vives
We're no strangers to terrazzo flooring here in Singapore. This hardy material was ubiquitous in our homes during the 70s and 80s, and many of us grew up with its comforting coolness underfoot. So when this old-school material resurfaced recently as a hot trend in home interiors, we embraced it enthusiastically like an old friend. Things have changed for the better though. Terrazzo no longer needs to be poured onsite; and the design of your flooring is no longer unpredictable. This is because we now have terrazzo-inspired tiles!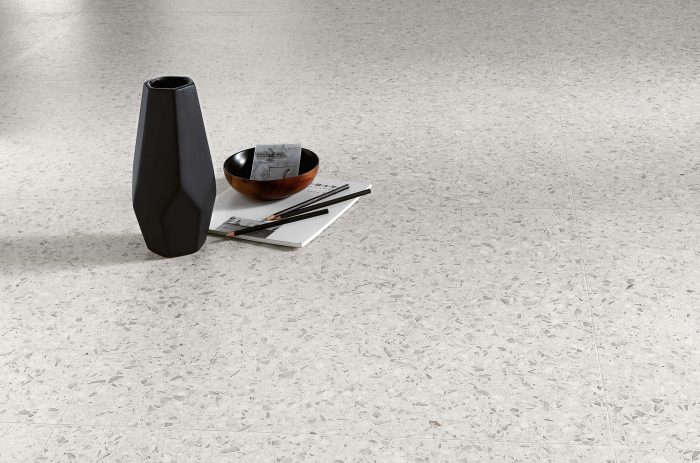 Marvel Gems White Matt tiles from Atlas Concorde
What's in terrazzo? A historical material created by Venetian artists, fragments of granite, marble, quartz, and glass (in various combinations) are mixed in with concrete, poured onsite and polished to become a beautiful and durable floor. Terrazzo-inspired tiles take much of the labour and time out of this process, and this is just one reason you should be considering them to enjoy this fabulous trend in your home.
Using tiles cuts the time needed to mix, pour, level, dry and polish the flooring – all processes associated with installing terrazzo flooring. This means savings in labour costs as well! Terrazzo tiles come in various sizes; choose larger tile sizes to reduce the amount of joint lines. Actual terrazzo too, is poured in grids and has joint lines. But due to the busy pattern of the terrazzo design, the joint lines are hardly visible for both terrazzo as well as tiles.
Generally, terrazzo-inspired tiles are also more affordable than actual terrazzo, or terrazzo slabs. Your tiled flooring will also be easier to repair than terrazzo, if the flooring is damaged.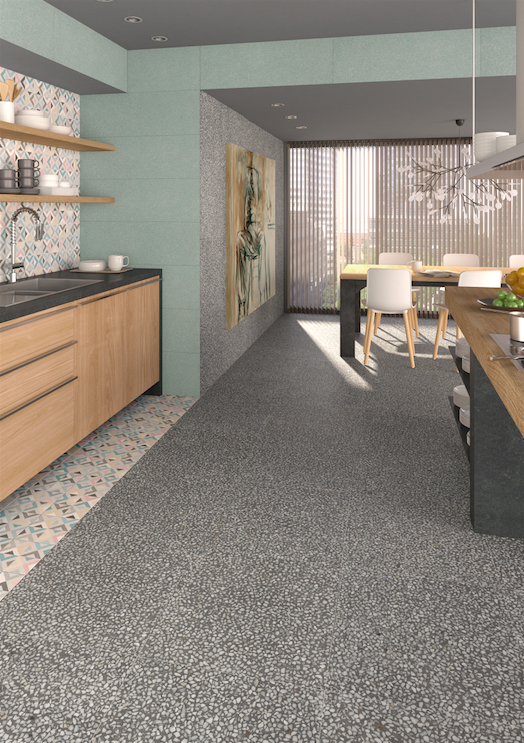 Portofino Grafito tiles from Vives
The second reason to love using terrazzo-inspired tiles has to do with the control you have over the design of your floor. As terrazzo is made up of chips of different materials in various sizes, it is difficult to predict the final look of the floor. However, with tiles, you will know with more certainty how it will all turn out.
Marvel Gems Terrazzo Pearl tiles from Atlas Concorde
Finally, if you ever wanted terrazzo on your walls, it is now super easy to achieve with tiles! Using actual terrazzo on walls is possible by using terrazzo slabs, but you have to consider the load your wall can carry. Take out the guesswork and use terrazzo-inspired tiles instead. Tiles extend the decorative potential of this timeless material for every part of your home.
See a great selection of terrazzo-inspired tiles at riceLAB. Make an appointment to visit riceLAB by emailing them here or by calling 6692 1199. riceLAB is at 213 Henderson Road 01.03 Singapore 159553. They are open from Mondays to Fridays 10am to 7pm, and Saturdays from 10am to 6pm.