28.02.18
5 Reasons Why You Should Be Using Slim Tiles in your Renovation
Tiles
The Cotto D'Este Kerlite Iron 5 Plus 2 silm tile flooring looks like oxidised metal panels.
They might be slim, with thicknesses ranging from 3.5mm to 5mm, but slim tiles are the new heavyweights of the tile industry! Hardy, versatile and trend-forward, they're fast gaining popularity among homeowners. We tell you five reasons you should be considering them for your home renovation.
1. They can be laid over your existing tiles for a no-fuss makeover
Want a quick transformation for your new or existing home? Slim tiles can be laid over your existing floor or wall tiles, no hacking needed! They can also be applied directly to plastered walls, and also to cabinetries. As they come in sizes ranging from a mere 3.5mm- (suggested for walls) to 5mm-thick (suggested for floors), they would not add much bulk or weight to your surfaces.
2. They save on installation time
These large format tiles, which usually comes in a size of 300cm by 100cm, require less manpower to install. With the ceiling heights of most apartments ranging from 2.3m to 3m-tall you'll only need one tile to cover a wall space from floor to ceiling, or just one for an entire kitchen backsplash. Used on bathroom floors, they resolve the issue of having the grouting of the floor and wall tiles line-up.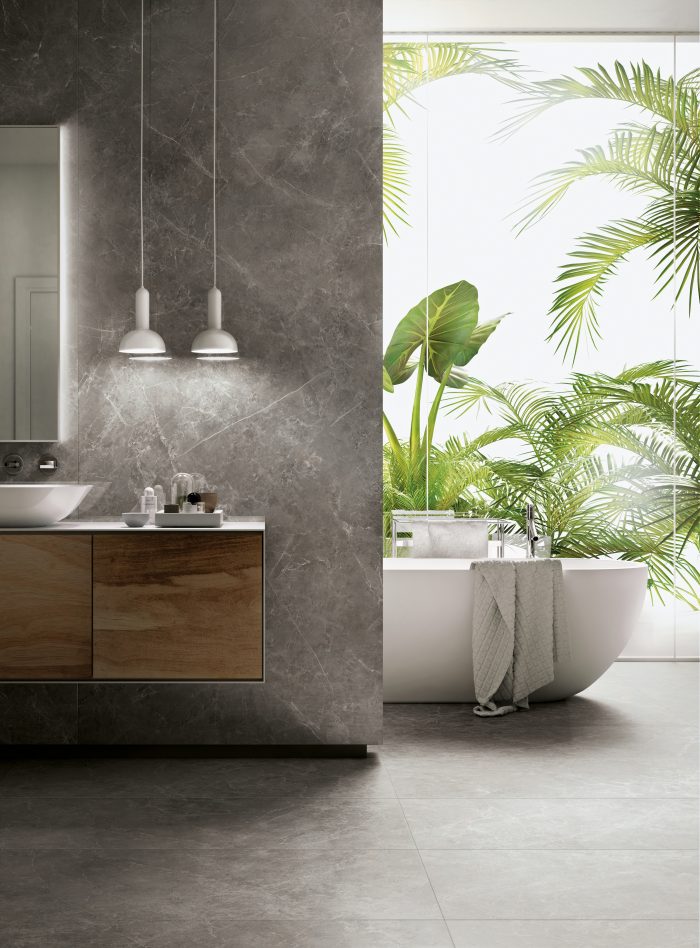 3. They make your space look larger

Using less tiles to cover the same space results in less joint lines and a more seamless finish, for more luxurious- and spacious-looking interiors.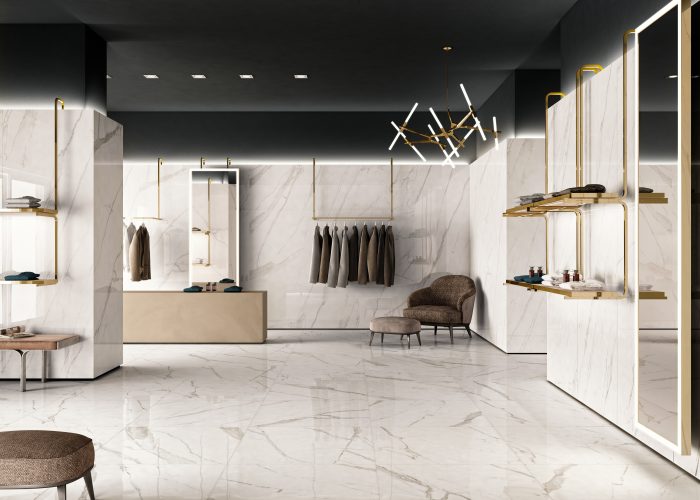 4. They save you money in the long run

Slim tiles are homogeneous porcelain tiles, which are more durable than ceramic tiles. You'll need less tiles to cover the same area and less labour to install them, and that means you save money. Also, their durability means they'll last longer too!
5. They are a great style choice
Slim tiles replicate the look of timber, stone, and metal to give you the decor scheme you want without the attendant cost and maintenance issues associated with natural materials. So now your bathroom can be just as cosy as your living spaces with timber-inspired slim tiles, or emanate luxury with marble-inspired ones – with no issues of warping, staining or porosity!
Be inspired by how slim tiles have been applied in various living settings – on walls, cabinets, furniture, and even in the lift – at riceLAB. The showroom is located at 213 Henderson Road 01.03, and is open Mondays to Fridays from 10am to 7pm, and on Saturdays from 10am to 6pm. To better serve your needs, appointments are recommended. Contact riceLAB for an appointment by emailing them here or by calling 6692 1199.