05.06.18
Create the sophisticated hotel-suite look you love…with tiles! Learn how it's done here
Travel, Tiles
Can you spot the tiles in this luxe 'bedroom suite' at hoteLAB? Used on the wall, floor and the headboard, the medley of wood-, and stone-look tiles bring texture and warmth to the space.
Ever stayed at a luxury hotel and wish you could bring that experience (or at least that style) home? You're not alone. Many well-travelled Singaporeans request their designers to create homes (or bedrooms), which exude the intimate and upscale hotel aesthetics they love. What you might be surprised to learn is that you can create this look with tiles!
The tagline of RICE, "experience beyond tiles" is perhaps best demonstrated on the fourth floor of their showroom riceLAB. Aptly named hoteLAB (pronounced Hotel Lab),its design is inspired by the interiors of luxurious boutique hotels. The series of spaces on this floor has been conceptualised to open visitors' eyes to the exciting ways tiles can be used to create 'experiences' and multi-dimensionality in a space.
Visitors are welcome to lounge in this library, known as archiculturesuite, at hoteLAB, which features highly patterned marble-look tiles on the floor and slim tiles on the walls.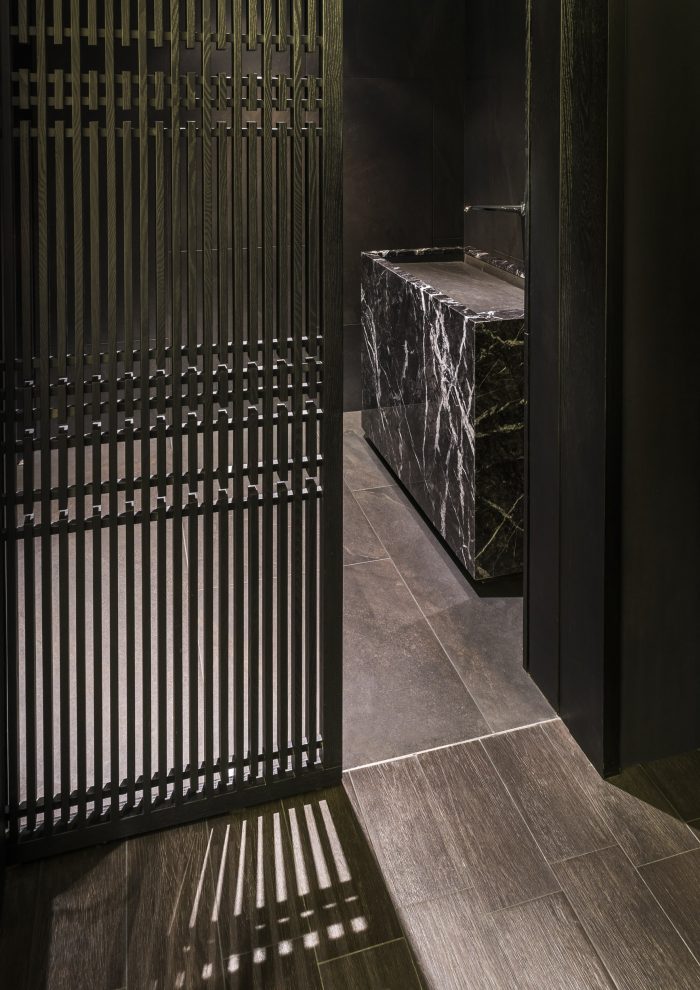 This intimate space, a powder room at hoteLAB, uses a combination of materials in dark tones to create its restful aesthetics. They include timber- and stone-look tiles on the floor and wall, together with a black marble freestanding washbasin.
If you've always seen tiles as a flat two-dimensional material or a lesser alternative to natural materials such as wood or marble, visiting hoteLAB will change your mind completely. The beautifully illuminated spaces on this floor feature mostly Italian tiles on floors, walls, cabinetry, washbasins, bathtubs, and even on table tops. But they are such expert simulations of wood, stone, marble and metal that you might wonder where the tiles are, and could even forget you're in a tile showroom completely! Not only do tiles confidently step in to replace natural materials, they go one up on them with their versatility of use in many areas, and easy maintenance.
See how slim tiles have been cut to create a streamlined pattern on the wall of the lounge suite in hoteLAB. Metal strips are set in-between the tiles to finish off their edges.
You can also find out more about slim tiles and how they can be used at hoteLAB. Here, they have been used extensively to clad walls and cabinets, providing depth and texture. These large format tiles, which are just 3.5mm to 6mm-thick and can go up to a massive 300cm by 100cm in size, come in wood-, metal-, and marble-looks, and more. Their size means that a single panel can be used for floors and walls in a small space like a bathroom, and eliminate all grout lines!
The thinness of slim tiles also allows them to be laid over existing tiles for a quick makeover with less installation time required. At hoteLAB, you'll also see the various ways in which the edges of slim tiles can be finished.
Of course, creating great-looking interiors are never done with one material but a combination of a few. Likewise, the sophisticated spaces of hoteLAB also show how other materials such as veneer, laminates and stone can be complemented with tiles to create the hotel suite of your dreams, at home.
Explore a new world of creative possibilities with tiles, and see how they are used in unexpected ways at riceLAB. Make an appointment to visit by emailing them here or by calling 6692 1199. riceLAB is at 213 Henderson Road 01.03 Singapore 159553. They are open from Mondays to Fridays 10am to 7pm, and Saturdays from 10am to 6pm.