21.09.22
Fun and fabulous kitchen design ideas using Mutina tiles
Food, Tiles
Whether you cook at home or not, you will want to use Mutina tiles to dress up your kitchen or pantry space! The tiles, by the Italian tile company renowned for their creativity and innovation, are in a different class altogether. Mutina works with top drawer names in the design and furniture industry to produce unique collections that delight with their fresh original concepts. The fun cosmopolitan vibe of Mutina tiles is especially suited to open-concept kitchens which have become extensions of the living arena. For inspiration that's close to home, see how Mutina tiles have been used by local interior design firms to create these gorgeous kitchens in Singapore!
Home: Three-room HDB flat in Queen's Close
Designer: Studio Fortyfour
Mutina collection used: Mutina Lane (backsplash) and Mutina Mews (flooring)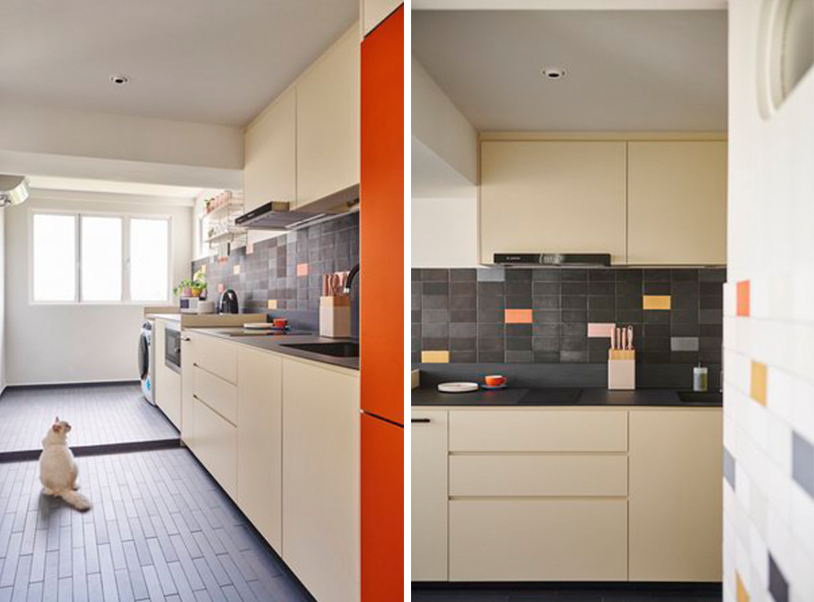 Taking advantage of the abundant sunlight streaming into the space, Studio Fortyfour dressed the backsplash of this HDB kitchen in Mutina Lane Poly Black tiles. The tiles are in a palette of black and dark grey hues that anchor the space, with pops of energetic colour. The Lane collection pays homage to the architecture and streetscapes of London; and to this kitchen it adds a touch of old-school style with its subway-tile shape, as well as dynamism in the colours, just like the city. On the floor are Mutina Mews Ink tiles in 5cm by 5.45cm that echoes the shape of the Lane tiles. Both Lane and Mews are designed by Barber & Osgerby.
Home: Apartment in Petir Road
Designer: JOW Architects
Mutina collection used: Mutina Puzzle (flooring)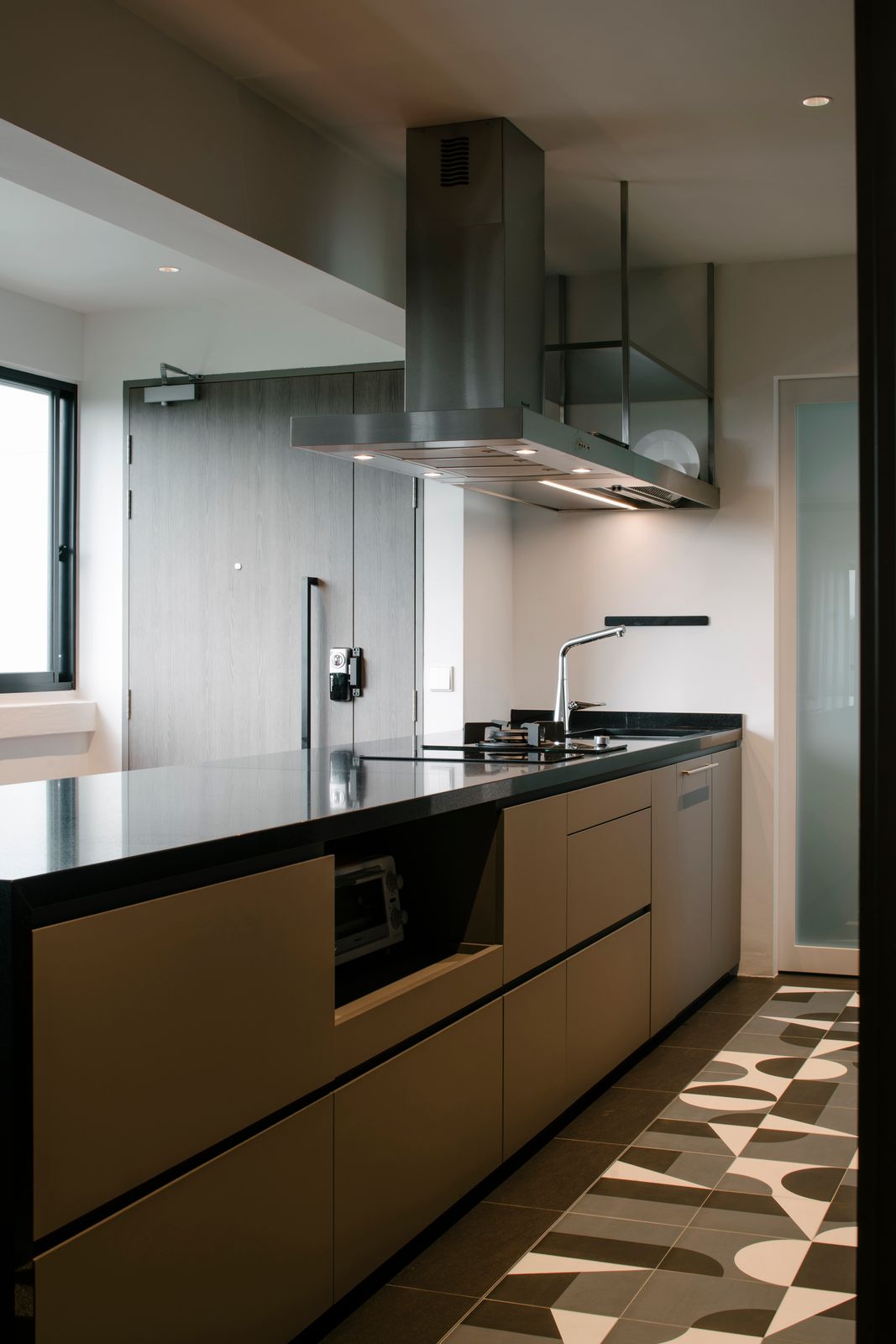 Photo credit: Studio Periphery
Mutina tiles are assertive, perfect for when you want a splash of colour or statement pattern in a space. In this apartment by JOW Architects, the Mutina Puzzle tiles by Barber & Osgerby were chosen to create a tile 'rug' set in the dark grey flooring of the minimalist open-concept pantry kitchen. The six randomised graphic patterns of Puzzle, in the Anglesey colour palette of navy, black and cream, break free of the strict lines of the space to bring a touch of playfulness to the home.
Home: Apartment in Ang Mo Kio (Lagom Apartment)
Designer: Arche
Mutina collection used: Mutina Azulej (backsplash)
The motifs of the Mutina Azulej tiles by Patricia Urquiola marry tradition with modernity with digitally-created designs that are meant to be used as a patchwork of styles with no fixed arrangement. In this kitchen designed by Arche, the designs of the Azulej Combination tiles in Grigio are familiar as they remind us of flowery Peranakan tiles, but also contemporary with their urban colour palette devoid of bright hues. Their pairing with kitchen cabinets in an on-trend navy, accentuated with shiny brass drawer handles, is impeccable.
Home: Condominium apartment at Aspen Heights
Designer: Studio Fortyfour
Mutina collection used: Mutina Tape (flooring)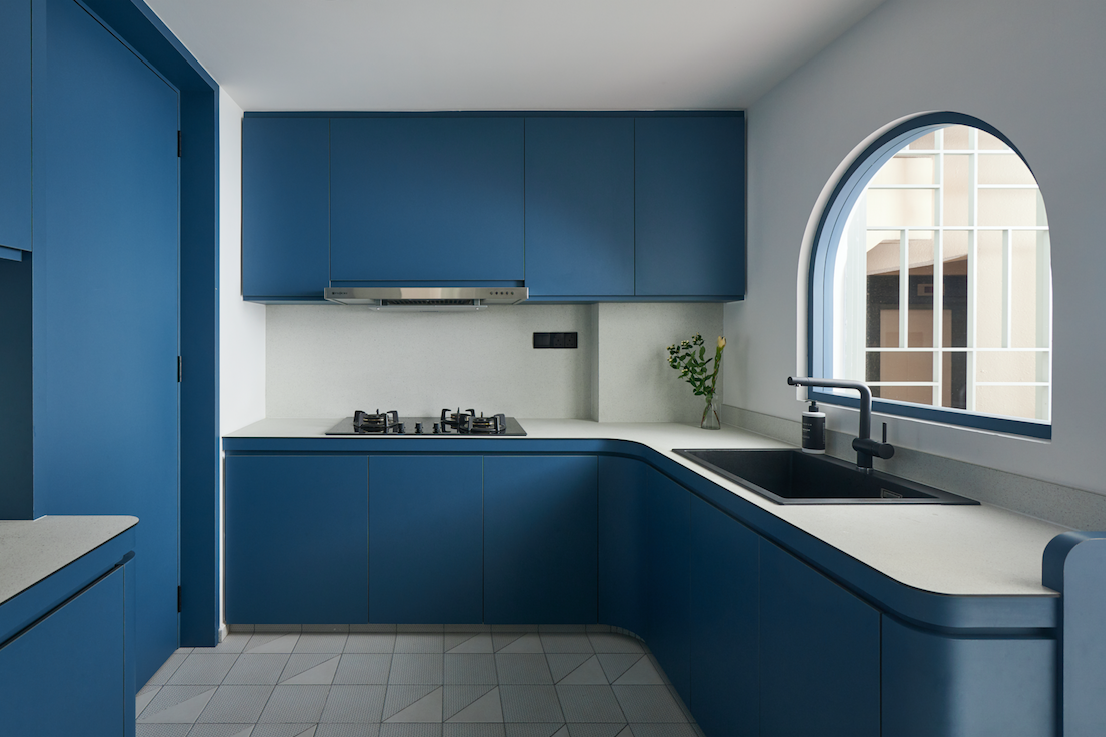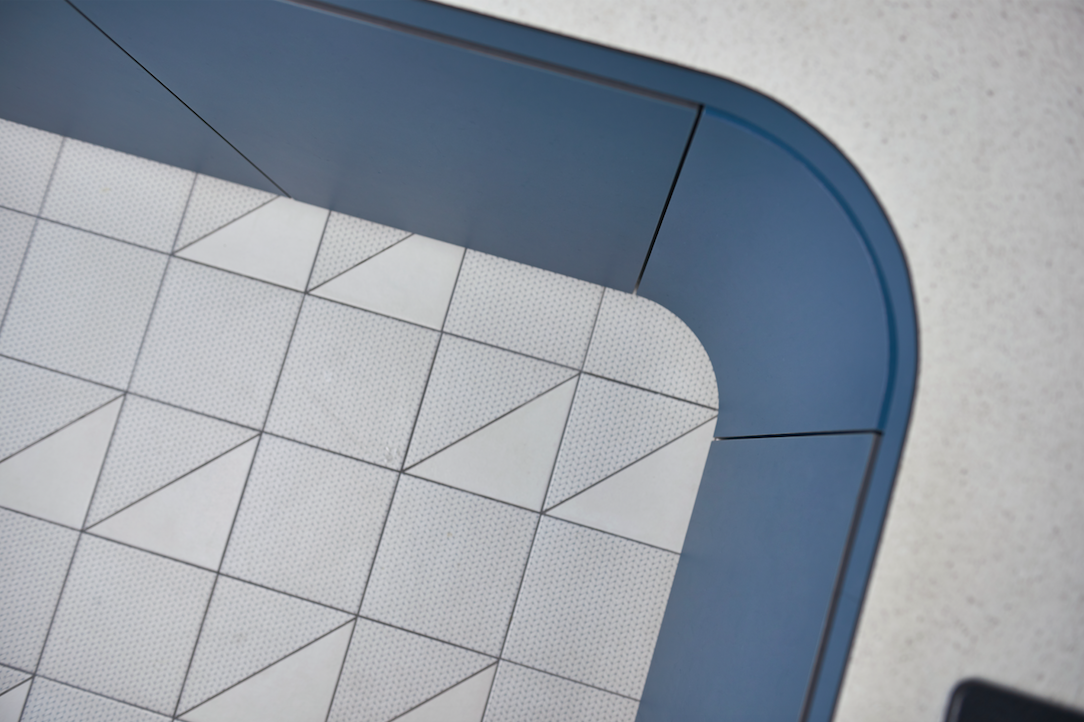 The subtle repeated motif on the tiles of the Mutina Tape collection, which look like patterned tape laid over plain tiles, is what drew Studio Fortyfour to use them for this kitchen. The designer didn't just lay the 20.5cm by 20.5cm tiles in Mesh Blue and Base White as they are, but also cut some of them into triangles to create graphic outlines with the contrast of shapes and colours. The solid blue of the kitchen cabinets complements the tiles.
Home: Condominium apartment (Tile Haus)
Designer: Treehaus Architects
Mutina collection used: Mutina Mattonelle Margherita (wall)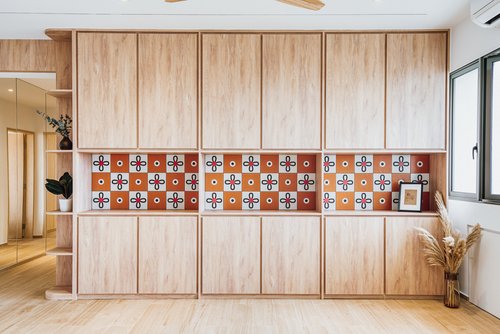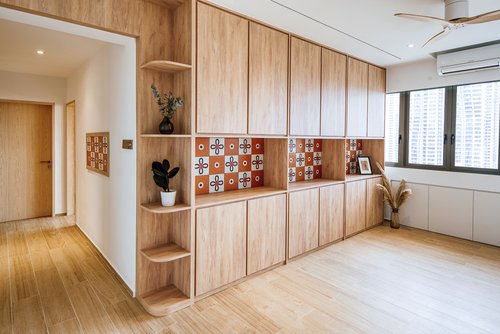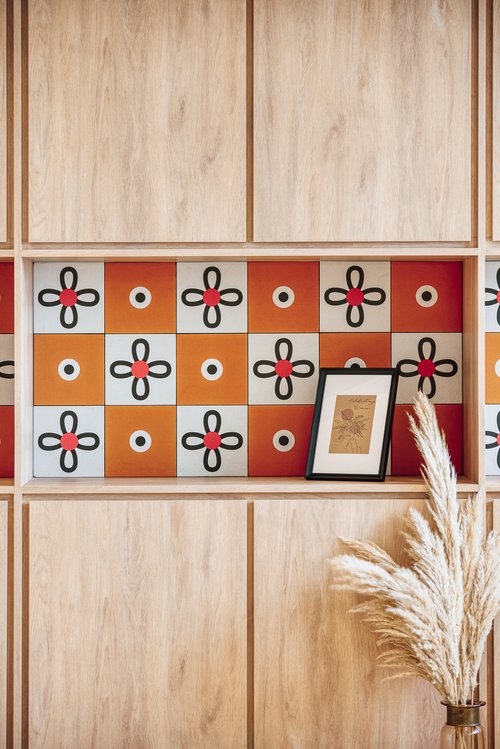 The 27 hand-drawn patterns of the Mutina Mattonelle Margherita collection by artist Nathalie Du Pasquier boast thick lines, bold graphic expressions and lively colour, and are to be used in moderation. Just the right dose of pattern and colour can be seen in this home by Treehaus Architects, who applied the Petals and Point designs in a checkerboard formation on the back wall of the open display shelf. This would work perfectly as a kitchen backsplash as well, with timber kitchen cabinetry echoing the warm colours of the tiles.
Visits to riceLAB are strictly by appointment only. To minimise their time spent at riceLAB, we encourage guests to make their tile selections online at www.rice-fields.com before coming down. Make an appointment by emailing us here or by calling 66921199. riceLAB is at 213 Henderson Road 01.03 Singapore 159553. RICE is open from Mondays to Saturdays from 9am to 6pm.

Get the European tiles you love at great prices! Browse the Tile Me You Love RICE range on our website in the Materials tab, using the filter Tell Me You Love RICE.

Keywords
kitchen, Mutina Lane, Mutina Mews, Mutina Puzzle, Mutina Azulej, Mutina Mattonelle Margherita