19.08.20
Here's how good your home can look with terrazzo!
Tiles
Terrazzo made its big comeback a few years ago, and has never left our design radar since. The material, recognised by its suspended fragments of quartz, glass, granite, marble, and other materials in a cement-like binder, was widely used as the flooring of local homes in the 70s and 80s. As such, many here associate it with a sense of retro-kitsch and use it to create modern homes with a dose of nostalgia.
However terrazzo can do more than old school styles. Due to the random and multi- faceted nature of its patterning, terrazzo adds visual texture to interiors and can be as subtle or loud as you like, depending on the size and colours of the fragments. Originally terrazzo had to be poured on site or pre-cast in slabs, but now there's another alternative, terrazzo-inspired tiles! Tiles open up the decorative possibilities of the material and make it easier to apply on floors, walls, even furniture such as countertops. In fact, terrazzo can be used to create great looking spaces in every part of your home. Take a look below!
Living Room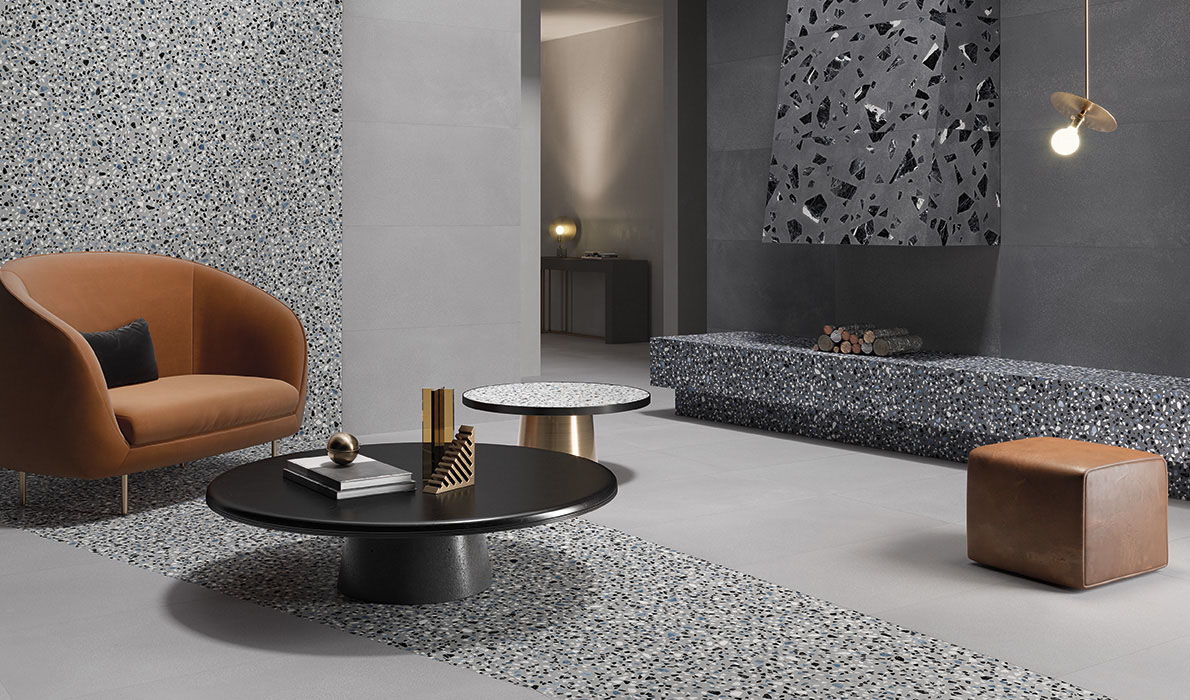 This living space wows with the terrazzo-inspired tiles of Ergon Medley. The collection comprises of patterns in various scales and two of them, Rock and Classic, are used in shades of grey to define various zones. They create a cohesive picture that also provides a touch of playfulness to the sombre colour palette.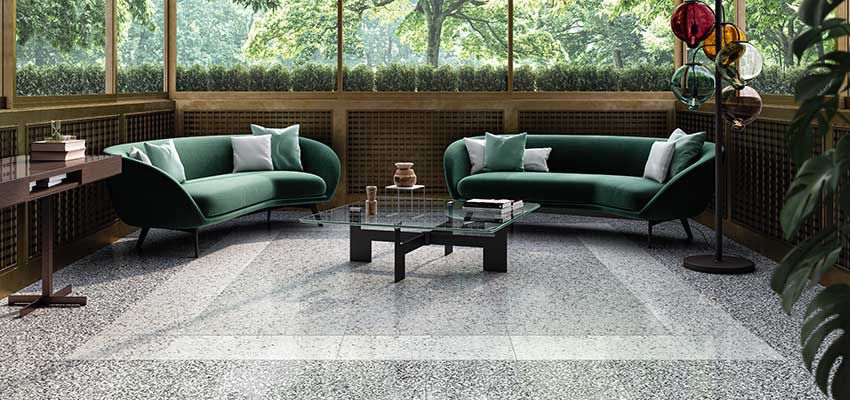 The tiled floor design of this living room provides a sense of order and symmetry, which is echoed by the twin sofas, in this irregularly-shaped space. The semblance of a floor rug is created using two tile sizes and the White, Pearl, and Grey terrazzo- inspired tiles of the Casalgrande Terrazzo collection.
Dining Room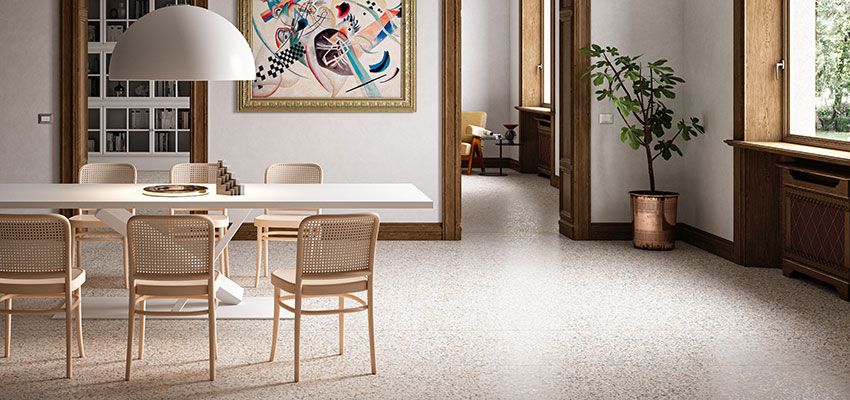 This dining area owes its cosy yet breezy demeanour to its soft white palette, blonde wood and rattan furniture, and Beige tiles of the flooring from Casalgrande Terrazzo. With its subtle toasty coloured speckles, the terrazzo-inspired floor tiles bring warmth into the space and complements its furnishings perfectly.
Kitchen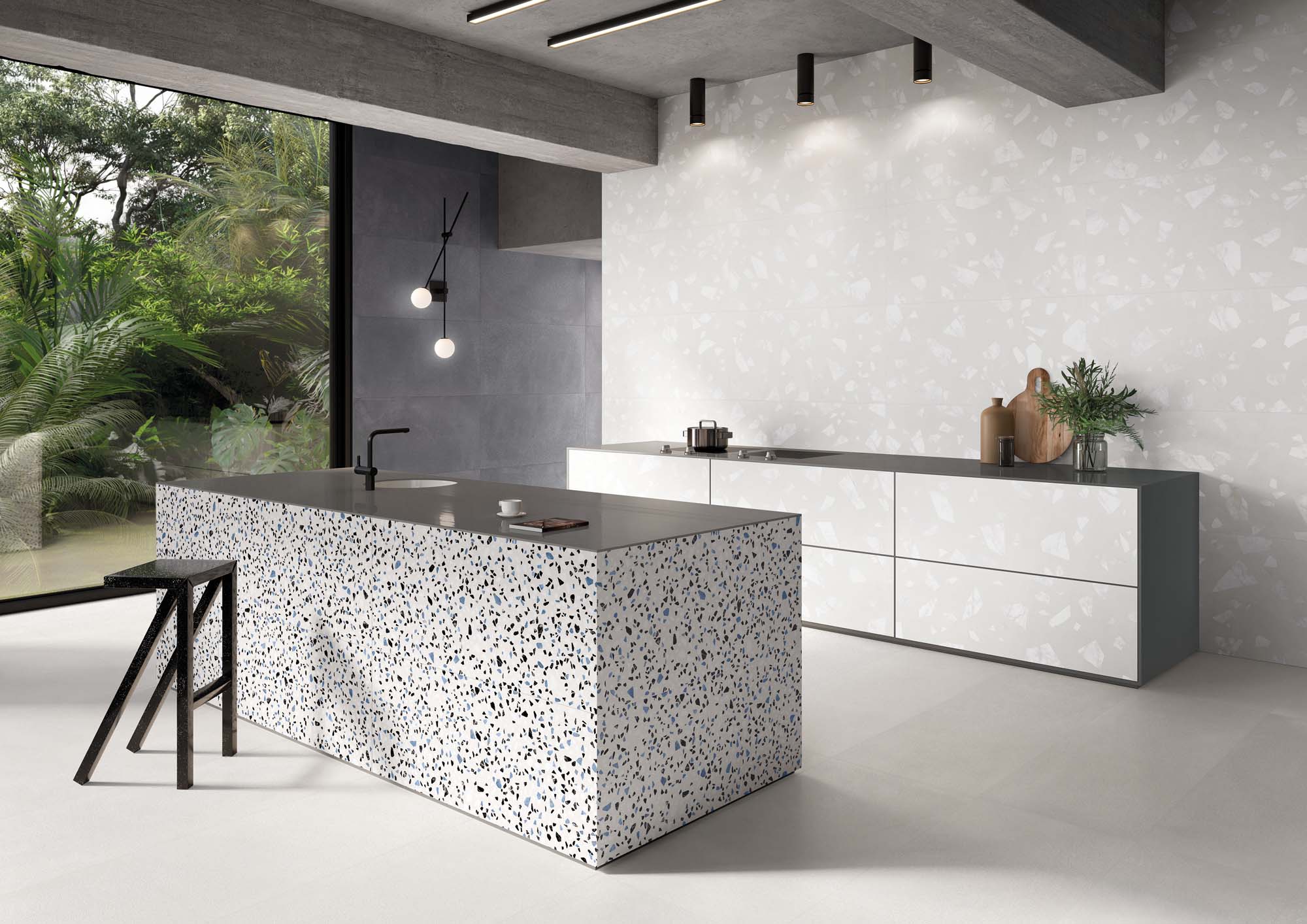 Pared down to cuboid structures, this kitchen is a vision of minimalist chic. Its surfacing of terrazzo-inspired tiles from the Ergon Medley collection softens the clinical look by adding a dash of colour and pattern to vertical surfaces. Using tiles instead of poured or pre-cast terrazzo make vertical applications much easier and also create more predictable patterning, crucial when terrazzo is applied to a large surface area.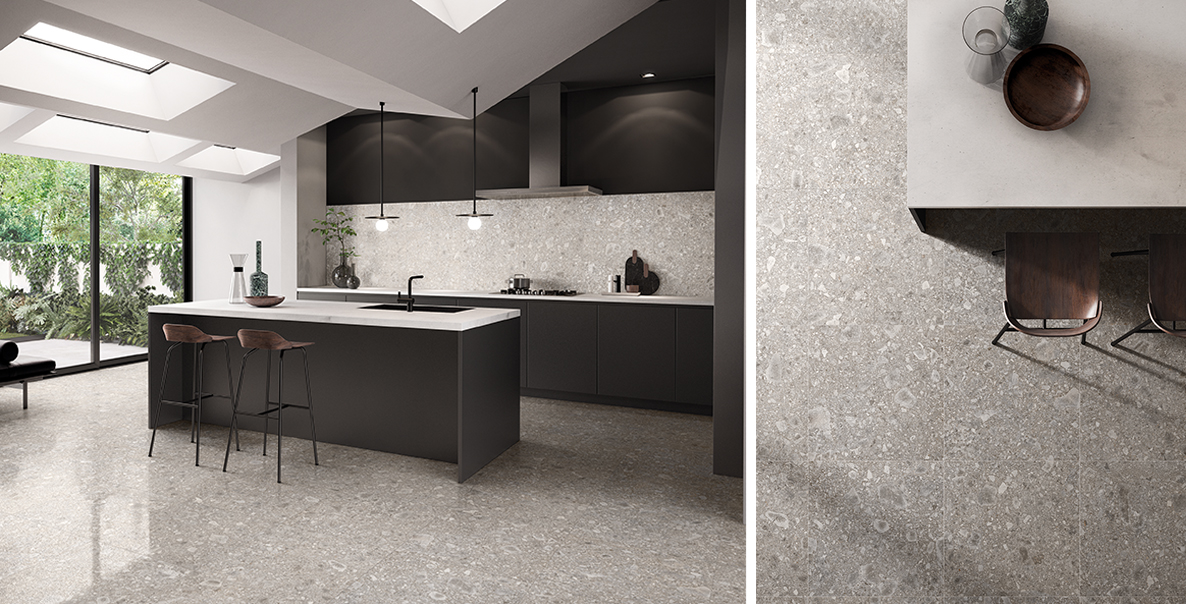 If you prefer your terrazzo looks more sophisticated, look to the Ceppo di Gre stone- inspired tiles of the Ergon Lombarda collection, used on the floor of this kitchen. The precious Ceppo di Gre stone is prized for its pattern of broken mineral fragments set in rock, that creates surfaces rich in character and depth.
Bathroom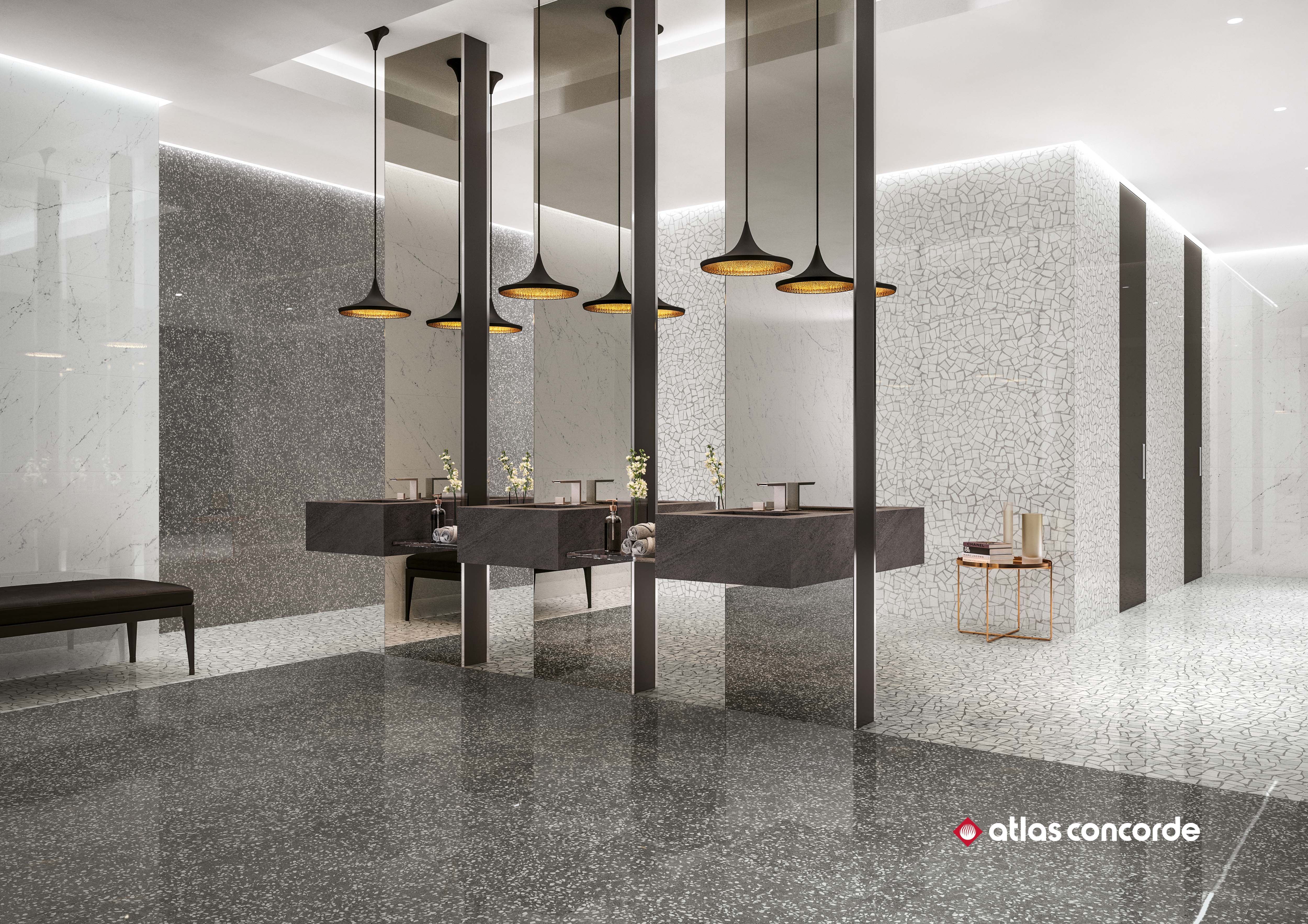 The elegance of Venetian terrazzo is brought into this public restroom through the terrazzo-inspired tiles of the Atlas Concorde Marvel Gems collection. Zoned by light and dark colour tones, the space is also made to look visually larger with its glossy finishing, a tip that can be applied to your domestic bathroom too!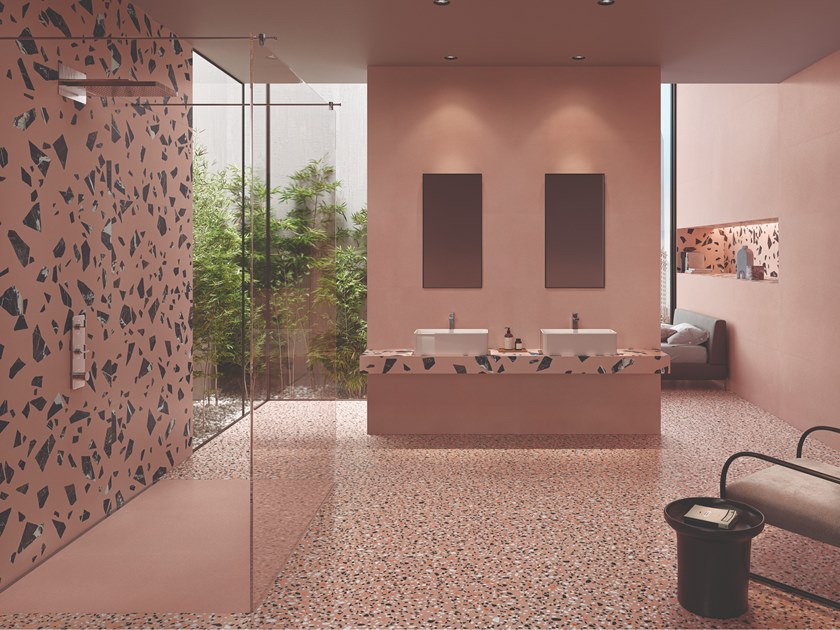 The confetti-like pattern of the Ergon Medley terrazzo-inspired tiles prevents the pink colour palette of this bathroom from looking too baby-ish or feminine. The oversized pattern of Rock and the smaller fragments of Classic are balanced with the 'plain' surfaces of Minimal to conjure up a pretty space that isn't too over the top.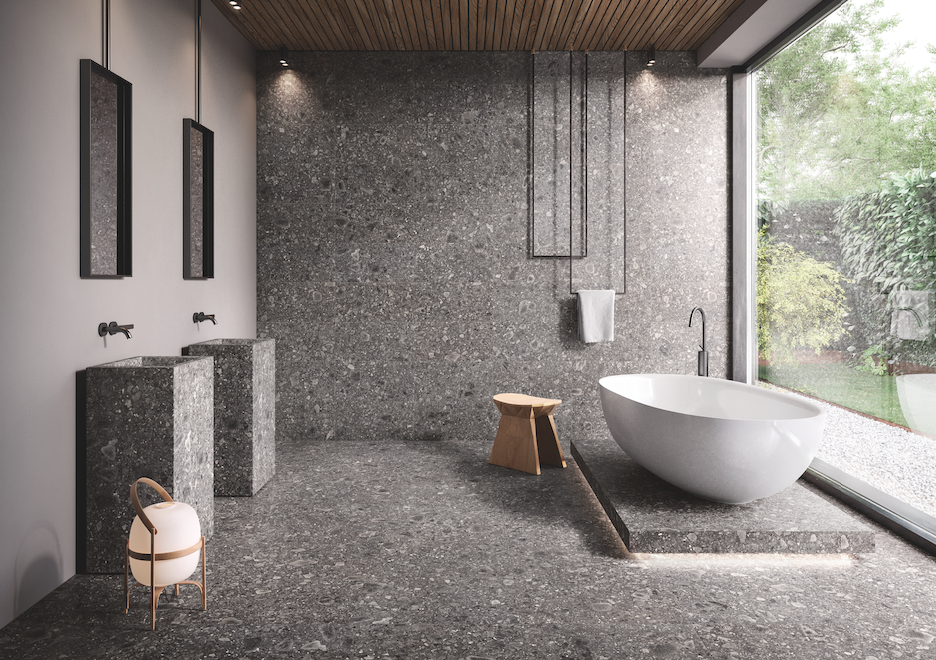 The distinctive pattern of Ceppo di Gre, a prestigious stone used for some of Milan's best known buildings, renders an effect similar to that of terrazzo as it is composed of broken mineral fragments set in rock. Clad almost entirely in tiles inspired by Ceppo di Gre, from the Ergon Lombarda collection, this bathroom displays a sense of luxury that is also contemporary to the core.
Find out more about the tiles featured above at riceLAB. Visits to riceLAB are strictly by appointment only and limited to four people per group. We encourage guests to make their tile selections online at www.rice-fields.com before coming down to minimise their time spent at riceLAB. Make an appointment by emailing us here or by calling 6692 1199. riceLAB is at 213 Henderson Road 01.03 Singapore 159553. RICE is open from Mondays to Fridays 10am to 7pm, and Saturdays from 10am to 6pm.
Get the European tiles you love at great prices! Browse the Tile Me You Love RICE range on our website in the Materials tab, using the filter Tell Me You Love RICE.