02.09.20
Explore the tiles used in two elegant homes by T_Studio Architects
Tiles
From the looks of their oeuvre of work to date, young architecture firm T_Studio Architects has a knack of creating inviting spaces which beckon with their cosy and spacious interiors drawn up with clean contemporary lines. Founded in 2017 by architects Tan Tze Wei and Lee Zhi Jie, the practice was founded on three design principles: to craft, to delight, and to be purposeful. In addition to function and style, the founders also make sure the spaces delight their users, by adding thoughtful details through their sensitivity to the occupants' lifestyle and habits.
Never loud or trendy, T_Studio's work projects a timeless appeal through a design language of clean flowing lines and a quiet colour palette influenced by calming organic hues. "Colour, texture and tactility play a big part in our design and selection of materials. We use tiles very often in our projects as we can easily find the hues that fit our earthy colour schemes, and tiles are easy to maintain," explains Tze Wei.
For homeowners selecting tiles, Tze Wei has these tips to share. "It is important for the end users to touch and feel the tiles during the selection process as the same tile design could come in natural, honed or rough textures. Sometimes we choose tiles with the same hue but in different sizes to create visual richness but still maintain a clean, uncluttered look."
We explore two of their recent projects, an apartment at Holt Road and a semi-detached house at Jalan Kemuning, to explore how tiles were used to fulfil the duo's design intent.
Apartment at Holt Road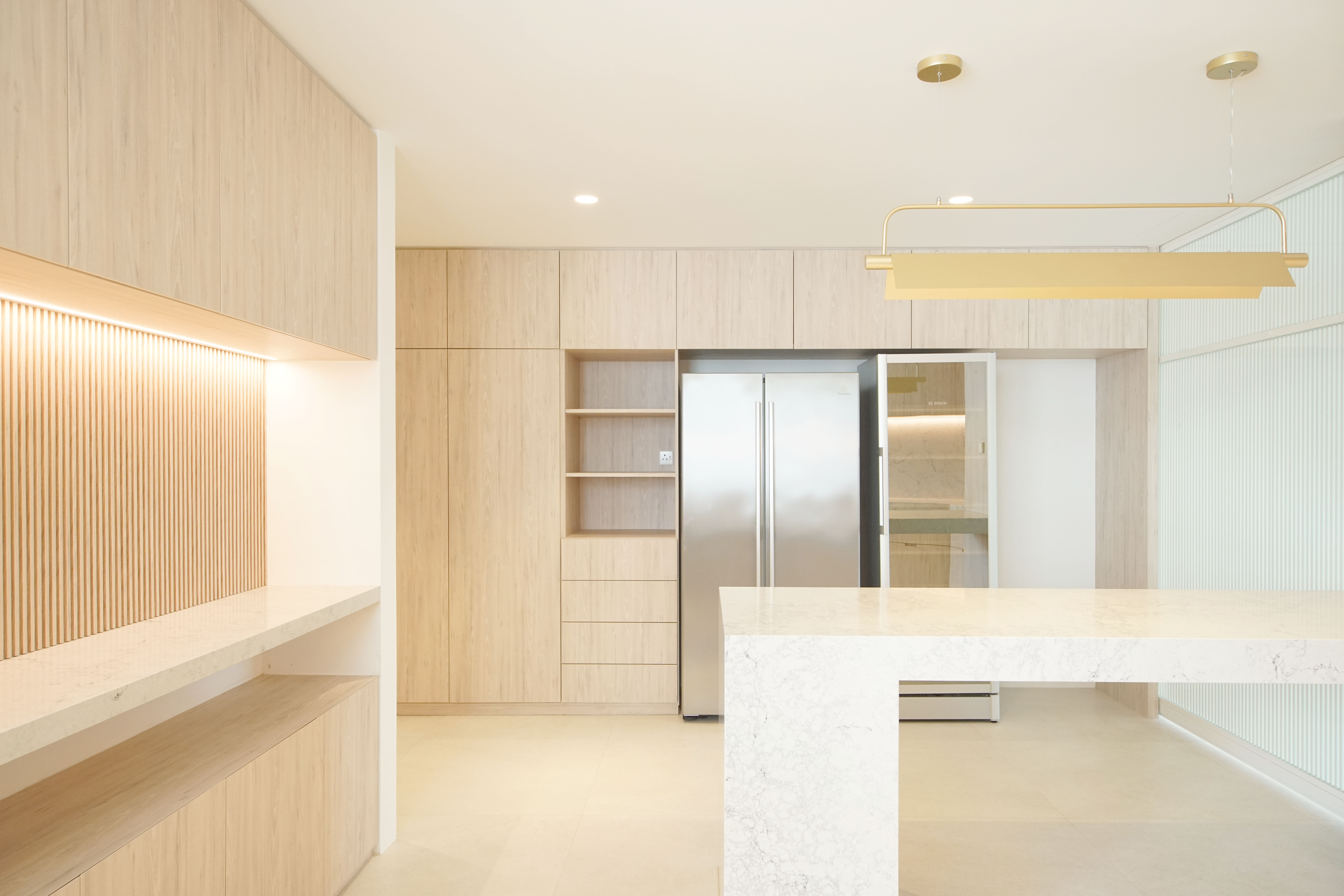 T_Studio Architects designed this 1,380sq ft apartment at Holt Road with the intention of opening up the spaces for the homeowner who loves to entertain at home. The sweep of limestone-inspired Blustyle Yosemite tiles on the floor throughout the living, dining and kitchen areas creates a visual flow of space that fits perfectly with the apartment's light colour palette. "We chose materials with a similar earthy hue but with different textures and sizes to add to the richness of materiality, such as the light Birch-look laminate to match the 90cm by 90cm Yosemite Lake tiles with honed texture," says Tze Wei.
The main design feature is the 2.3m-wide slatted sliding metal screen that separates the kitchen and dining area to keep the cooking fumes out, and in doing so becomes a beautiful backdrop to the dining area.
For all the bathrooms, which echo the design theme of the common spaces, the architects chose Ergon Stone Project tiles in White Falda for flooring. The subtle grain of the stone brings a sense of warmth to the pale colours of the space, such as the light beige solid surfacing of the vanity and washbasin. Stone Project is a collection they use often, as Tze Wei explains, for its muted colour which is also rich in texture, as it fits in very well with their design direction.
Semi-Detached house at Jalan Kemuning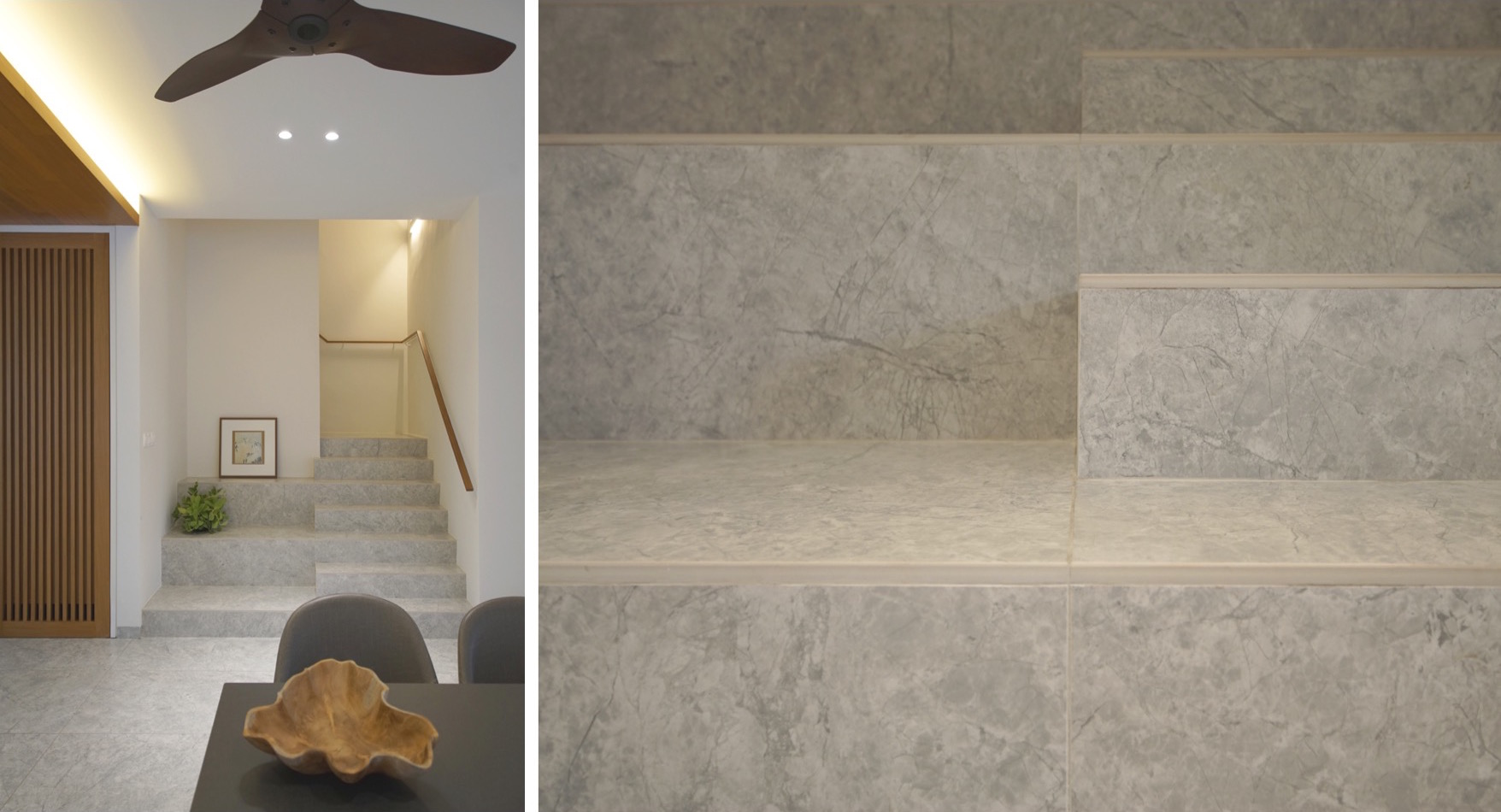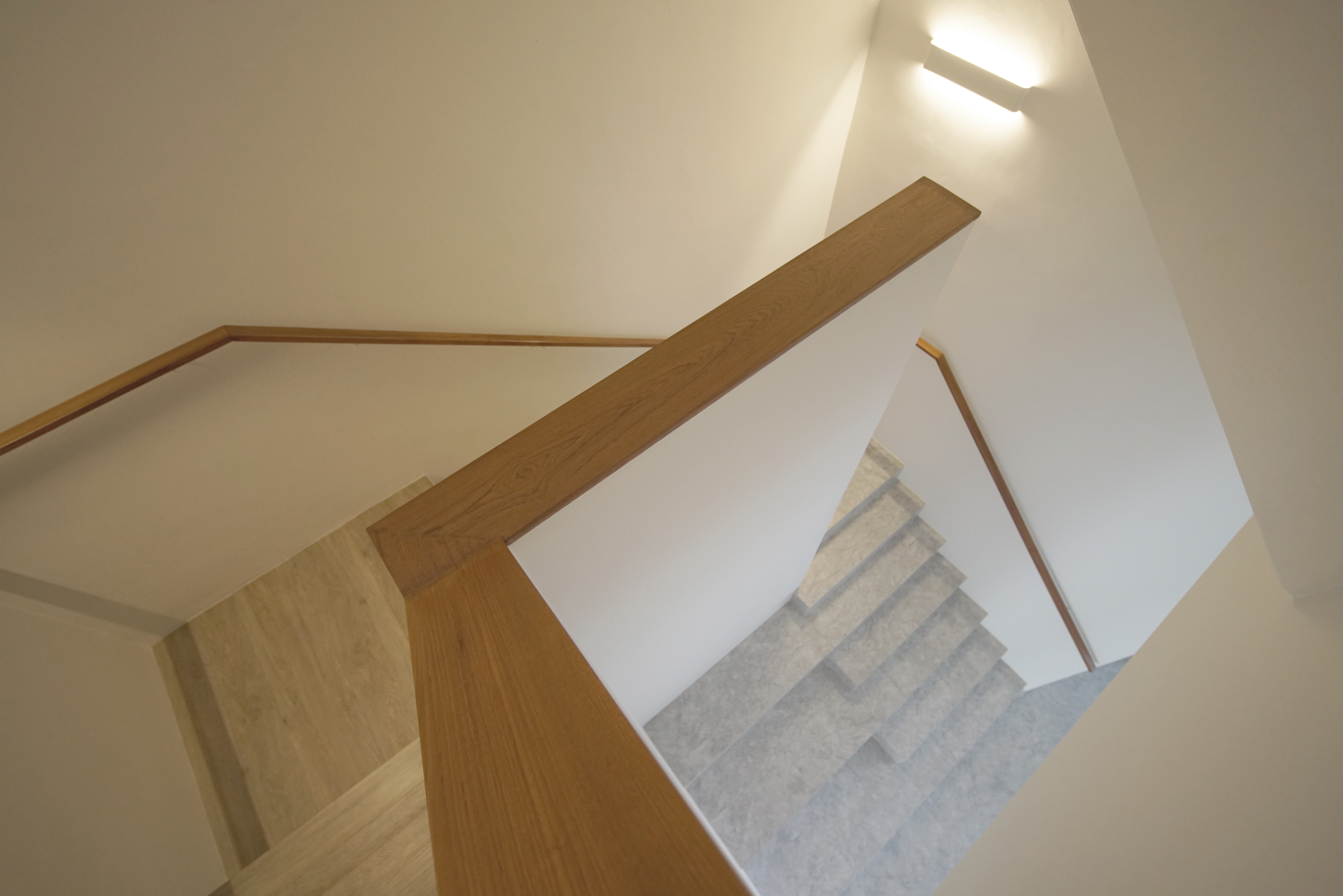 In this Addition & Alterations project, Tze Wei and Zhi Jie transformed a three-storey nondescript semi-detached house in the Sembawang area into a contemporary dwelling tailored for the three-generation family. In addition to bringing daylight into the living, dining and kitchen areas through the introduction of an internal courtyard, the interior and exterior finishes were also updated to reflect a clean minimalist identity for the 3,000sq ft home.
Internally, the staircase became the focal point of the home's design. The original finishing and balustrade were stripped away and replaced with vinyl flooring in a light oak-inspired hue, with simple wooden handrails running alongside. On the ground floor, the stair treads have been incorporated into a seating and display area at the side which makes clever use of otherwise leftover space. Cladding this area with the same Champion
These grey tones were also echoed in the family's powder room, which features the dark Ergon Tr3nd Black Wood timber-inspired tiles on one wall, and Ergon Stone Project Grey Falda Nat stone-inspired tiles for the flooring and opposite wall. Carrying the subtle patterning of timber and stone respectively, the tile designs and laying pattern help in making the compact space feel visually larger.
All photos: T_Studio Architects
Find out more about the tiles featured above at riceLAB. Visits to riceLAB are strictly by appointment only and limited to four people per group. We encourage guests to make their tile selections online at www.rice-fields.com before coming down to minimise their time spent at riceLAB. Make an appointment by emailing us here or by calling 6692 1199. riceLAB is at 213 Henderson Road 01.03 Singapore 159553. RICE is open from Mondays to Fridays 10am to 7pm, and Saturdays from 10am to 6pm.
Get the European tiles you love at great prices! Browse the Tile Me You Love RICE range on our website in the Materials tab, using the filter Tell Me You Love RICE.