28.03.18
Marble-inspired tiles are even better than the real thing – the proof is in these five impressive interiors
Tiles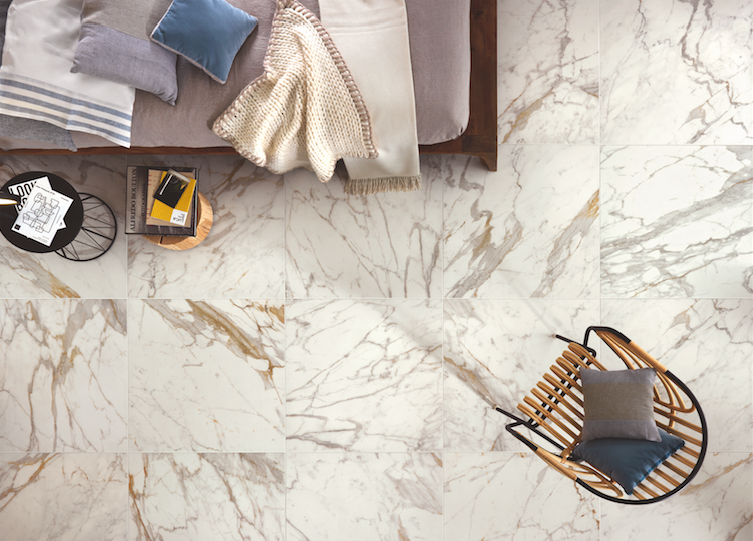 Marble has always been associated with luxury and luxurious interiors. However, marble comes in many grades, and it is definitely not always the case that marble-inspired tiles are inferior substitutes to the real material. Now, in-the-know designers and homeowners are turning to marble-inspired tiles to achieve upscale looks for interiors, and especially in bathrooms. In fact, the following pictures are definite proof of how fabulous they can look in any area of your home!
Look 1 - Luxury with a Twist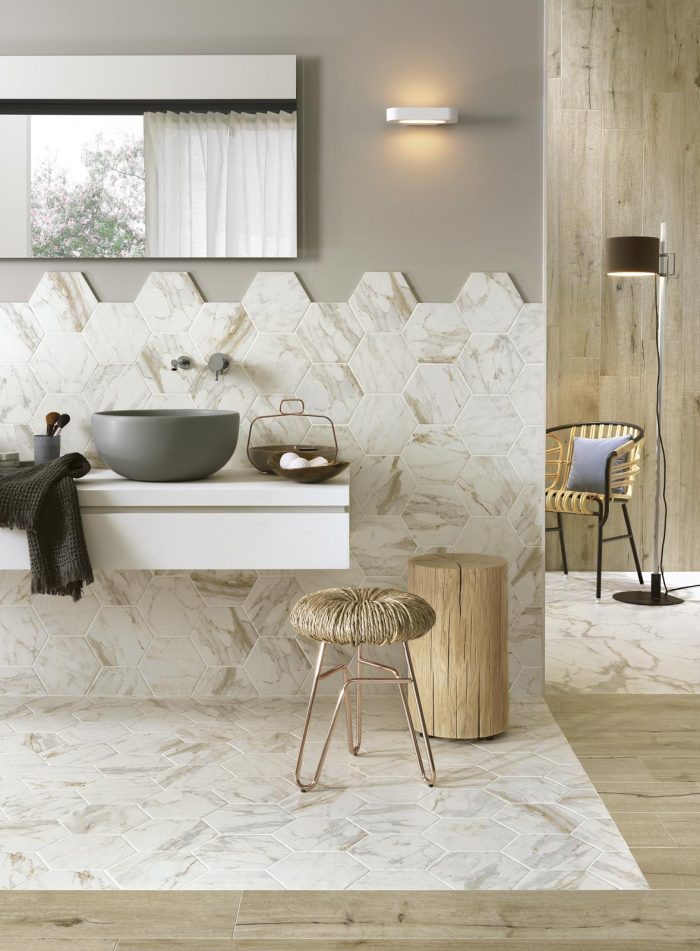 Marble, being a natural stone, is porous and can be stained by water and chemicals. It also has to be sealed for waterproofing, which makes it slippery and potentially dangerous when soap and water come into contact with its surface. This is where marble-inspired tiles come in – not only can they be textured for a safer non-slip surface, there are also plenty of designs to choose from. The Bistrot range of marble-inspired porcelain tiles from Italian company Ragno is available in the latest hexagon shapes, in addition to the conventional shapes and sizes.

Look 2 - Sleek and Glossy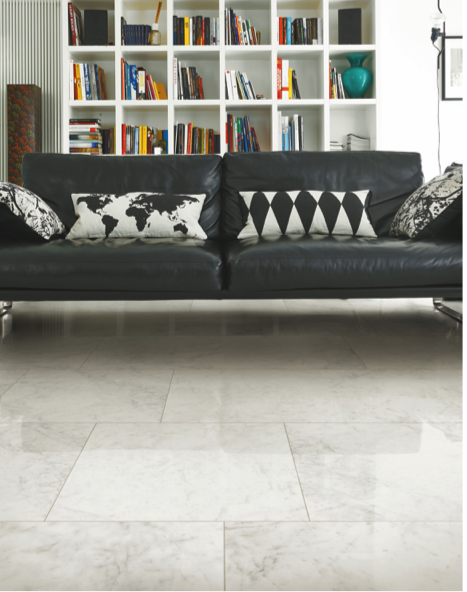 This is the beautifully glossy 'marble' flooring we are all familiar with. The difference is that this floor features marble-inspired tiles from Italian company Cotto Italia instead, laid in a staggered fashion to add design detail. With tiles, you have greater predictability of marble veining as compared with natural stone, so you can get the look you want, with less wastage. Tile sizes in this range even go up to 60cm by 120cm.

Look 3 - Contemporary Stone Looks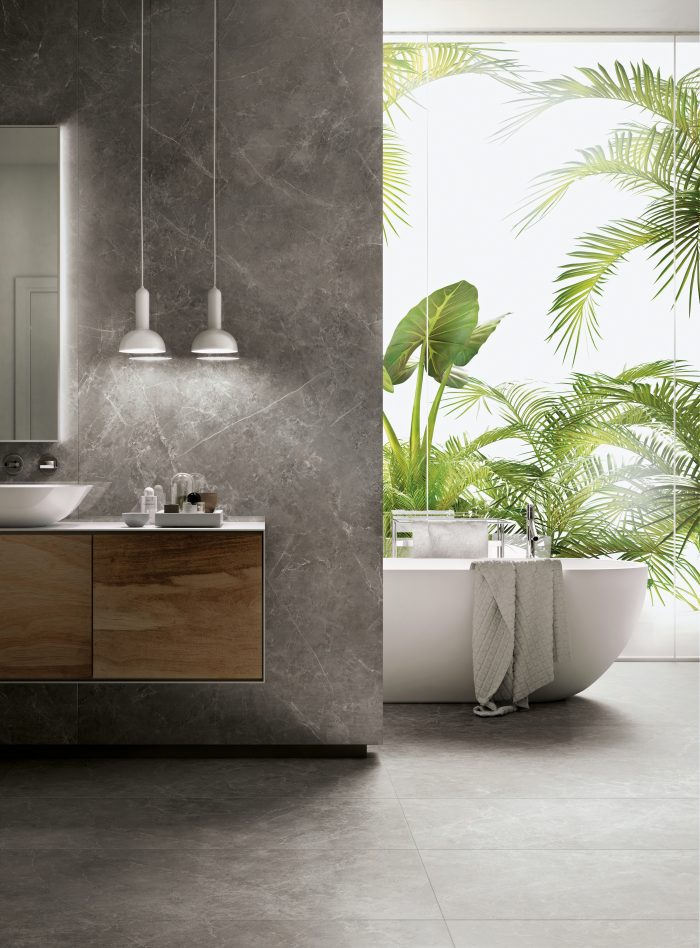 White or beige marble are usually ubiquitous choices for bathroom walls and floors. How about grey marble, which suggests a more modern and urban appeal? This Sandy Grey marble-inspired porcelain tile from the Trilogy range by Italian company Panaria sport a very subtle vein pattern that makes it look great on walls and floors. Plus they don't have to be replaced every few years because of water stains! This slim tile, which is only 5.5mm thick, also comes in large sizes so you can have less grout lines.

Look 4 - Lighted Appeal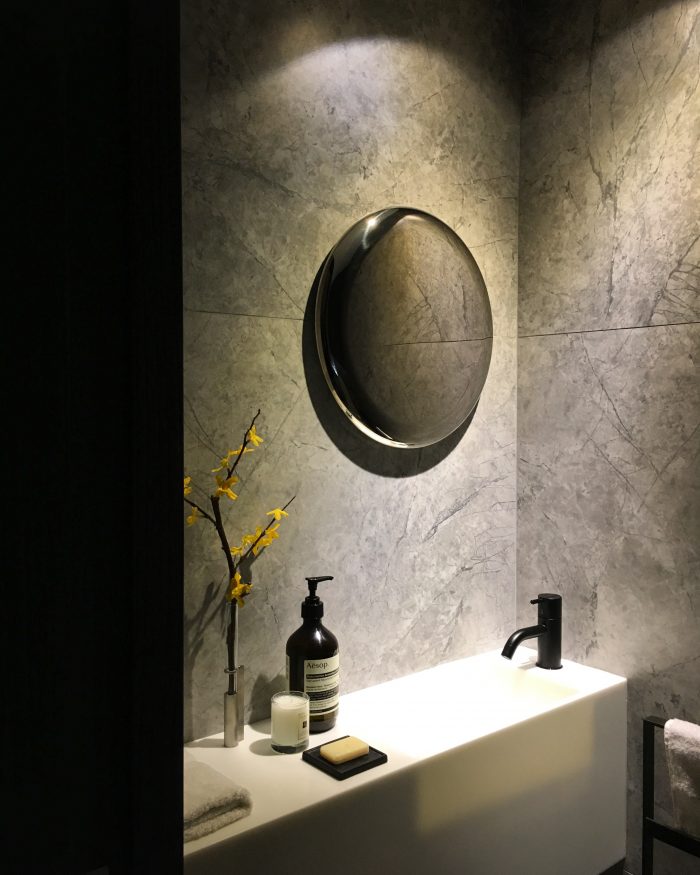 The addition of spotlights in this elegant powder room brings out the beauty of its stone-look walls. The Rosalia series of tiles from Taiwanese company Champion come in honed, natural as well as flame-brushed textures to add realism to your walls. Textured flame-brushed finishes cannot be applied to natural marble, but with tiles, it is absolutely possible.

Look 5 - Stormy & Dramatic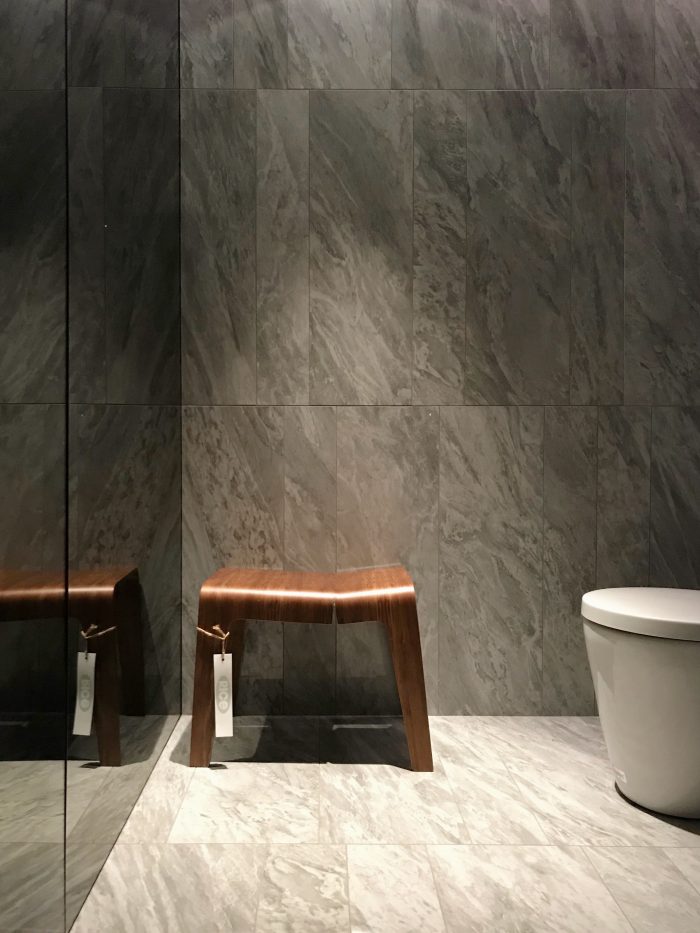 With tiles that resemble marble, you can have your luxurious 'marble' surfaces as well as have fun with laying patterns! The wall and floor of this bathsuite at riceLAB are laid with porcelain tiles of different sizes – a progressive style that not only changes our perception of how tiles can be used, it accentuates the dramatic stormy veining of the 'marble' as well!

The stylish marble-inspired tiles featured above are all available at riceLAB. Visit riceLAB to see how they have been applied in living and bathroom spaces. Make an appointment to visit riceLAB and by emailing them here or by calling 6692 1199. riceLAB is at 213 Henderson Road 01.03 Singapore 159553. They are open from Mondays to Fridays 10am to 7pm, and Saturdays from 10am to 6pm.