28.08.23
See how Mutina tiles amp up the decor in Singapore's trendiest locations!
Tiles
Tiles from one of Italy's best-known tile brands Mutina have found homes in some of Singapore's trendiest locations! Known for their artistic collaborations with influential international designers and architects, Mutina tiles are used worldwide in some of the world's most stylish locations. It's no different in Singapore as well. RICE is honoured to be the brand's exclusive distributor in Singapore and we're proud to have supplied Mutina tiles to many newsworthy projects here. See the Mutina collections that were used to inject colour and youthful energy into the spaces occupied by some of our favourite brands.
Mutina Mattonelle Margherita by Nathalie Du Pasquier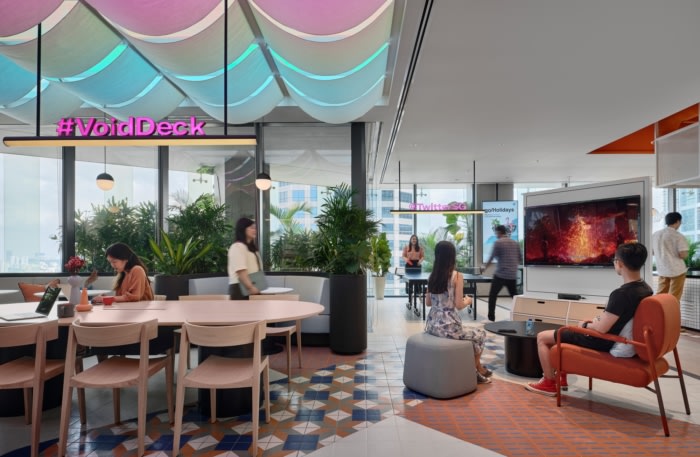 Tiles from Mutina Mattonelle Margherita by Nathalie Du Pasquier were perfect for channeling the look Twitter (now known as X) was after for their Singapore office, also the social media company's Asia Pacific headquarters.
A celebration of colour and visual pattern, the Mattonelle Margherita collection features 41 patterns designed by hand, including 27 graphics and six plain elements in the 20.5cm by 20.5cm size, and 6 patterns and 2 plain elements in the 10.1cm by 20.5cm size. The modular size was made for experimentation, and design firm Woods Bagot went to town with it, using various tile designs in the pantry, cafe, office and discussion areas of Twitter to reflect the rich multi-culturalism and vibrant cityscape of Singapore. "It was important the design language represents Twitter as a youthful and responsive organisation which embraces change and encourages conversation," says Rosie Oliver, Studio lead of Woods Bagot Singapore.

Mutina DIN by Konstantin Grcic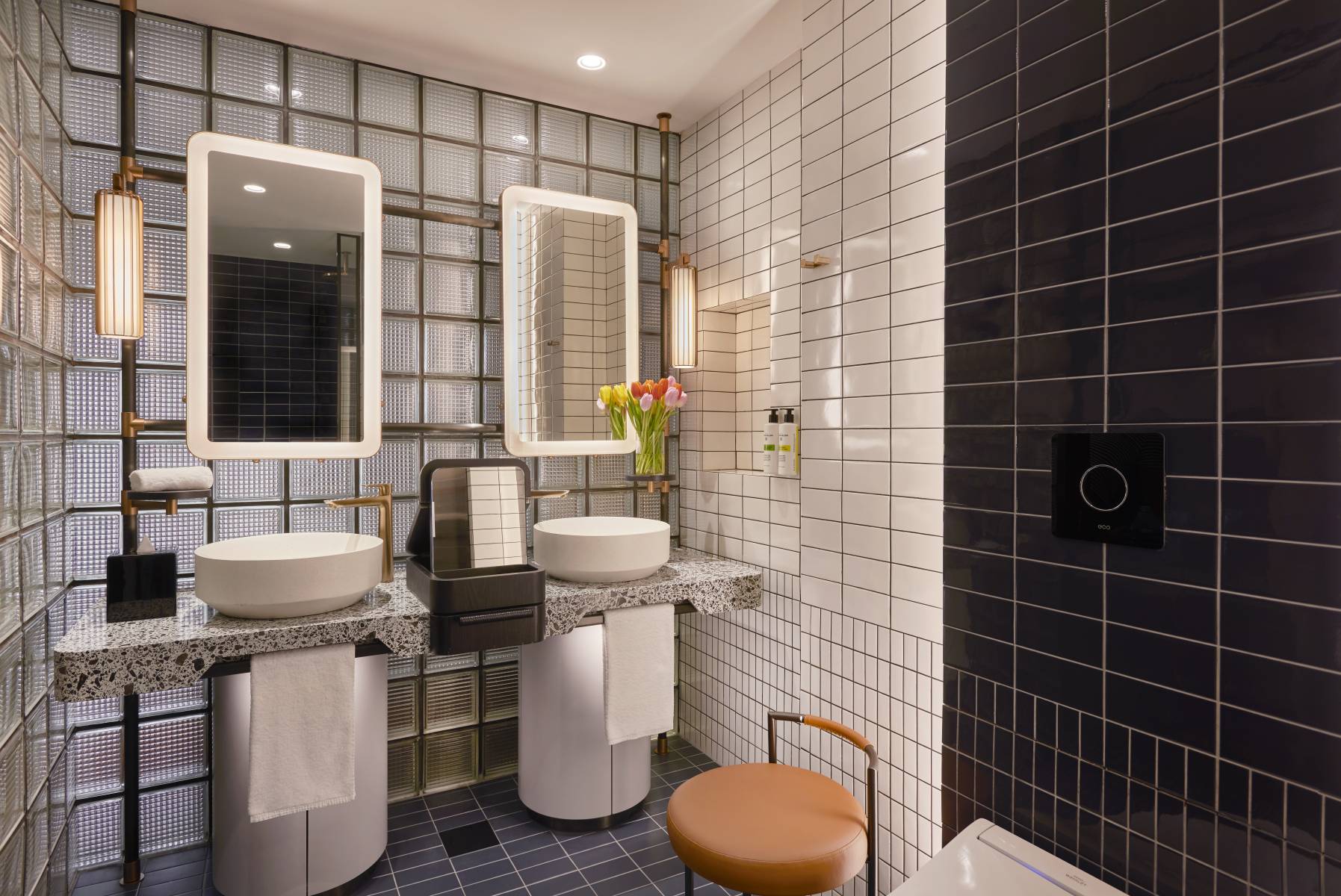 The Pullman brand is known in the hospitality industry for its upscale design-centric personality for young well-heeled travellers. For the new Pullman Singapore located along Orchard Road, the hotel designers turned to Mutina DIN for the guest bathrooms.
Designer Konstantin Grcic conceived DIN as a modern mosaic, with all pieces fitting into the same grid. The collection comprises four elements in squares (15cm by 15cm and 7.4cm by 7.4cm), and rectangles (7.4cm by 15cm, and 3.6cm by 7.4cm) in eight colours and two finishes of matte and glossy. The bathrooms at the Pullman plays with different finishes and the classic contrast of black and white for a smartly tailored look that is also trendy and current.

Mutina Azulej by Patricia Urquiola
The Mutina Azulej collection by prolific designer Patricia Urquiola may be a decade old, but this popular collection has become a designer favourite for its unique stylish patterns which can be combined in many ways. Produced as 20cm by 20cm tiles, the 10 designs are interpretations of familiar nostalgic patterns on ancient majolica, and are available in three colour tones. The different establishments below – a chic office pantry, a Cantonese restaurant, and a futuristic hotel, demonstrate just how versatile this collection is.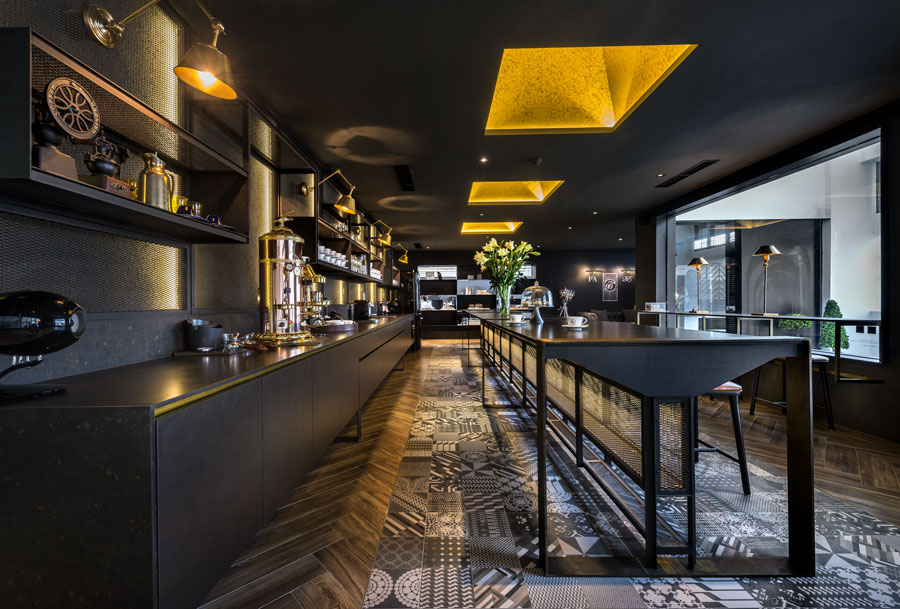 A patchwork of Azulej tiles is laid out like a carpet rug in the elegant office pantry of award-winning architectural firm Park + Associates to anchor a long communal table. The tiles lend a homely rustic touch to the dark sophisticated space which could pass off as a swanky bar.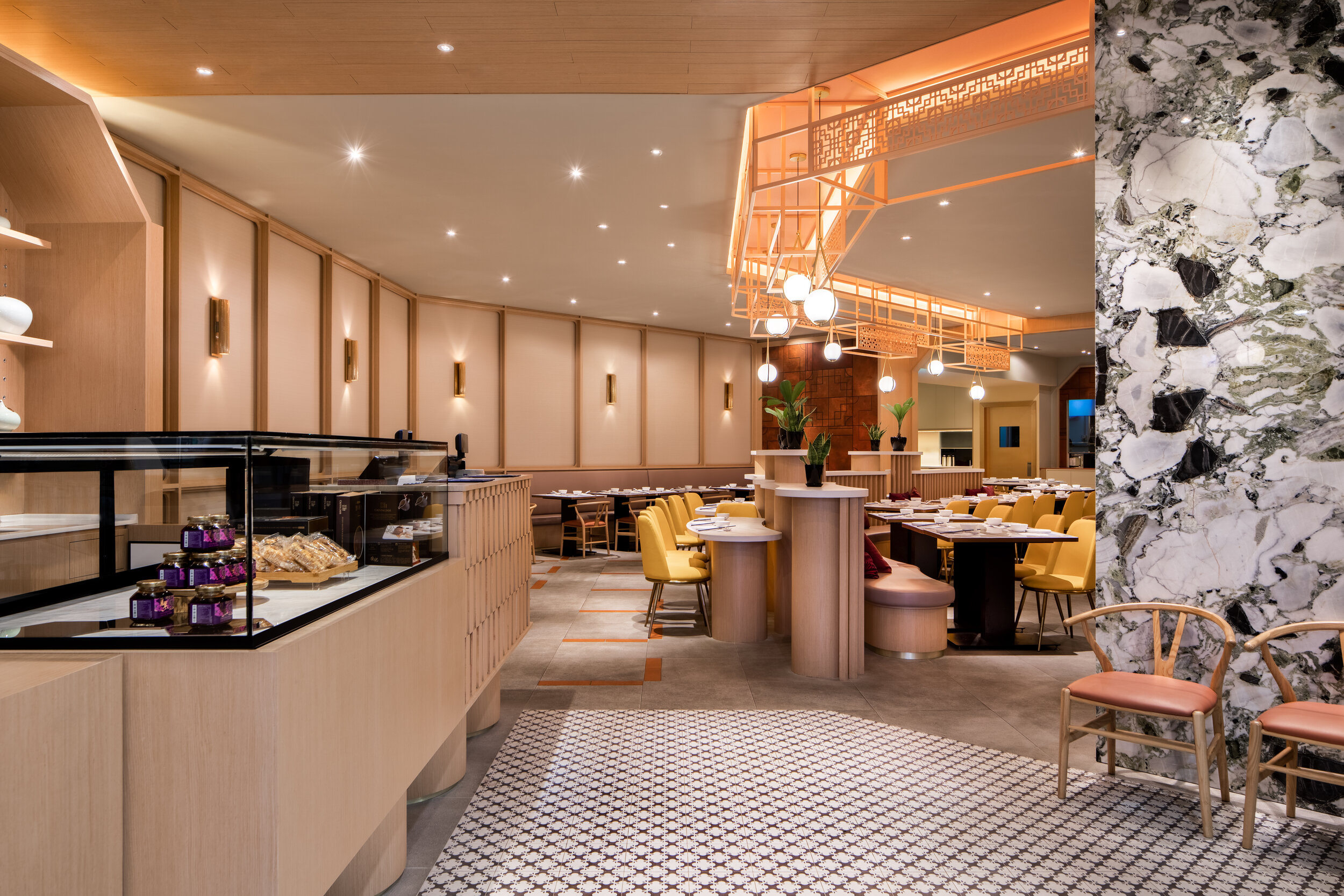 The Great World City branch of Crystal Jade, a favourite Cantonese restaurant chain, has been transformed into a more contemporary and casual dining concept. Azulej tiles were used on the flooring at the entrance and functions in the same way as an entrance rug would in a residence, as a soft welcoming presence leading into the warm and inviting space.

Boasting high-tech features such as guest-service robots and contactless check-in, Yotel Orchard was designed by DP Architects to have a sleek futuristic appeal in keeping with its corporate image and colours, but still have a link to its Asian location. Cue the Azulej tiles with their modern-traditional patterns that hint at that of Peranakan tiles. The tiles were used on corridor flooring as well as inside the lifts in a checkerboard pattern that blends the classic with the contemporary.
Photo credits: courtesy of respective designers and locations
Visits to riceLAB are strictly by appointment only. To minimise your time spent at riceLAB, we encourage you to make your tile selections online at www.rice-fields.com before coming down. Make an appointment by emailing us here or by calling 66921199. riceLAB is at 213 Henderson Road 01.03 Singapore 159553. RICE is open from Mondays to Saturdays from 9am to 6pm.
Make your tile choices even more sustainable! Look for tiles certified by the Singapore Green Building Council and Singapore Green Labelling Scheme on our website, using the filter Singapore Green Labels on the Materials tab.
Keywords
decorative tiles, Mutina Mattonelle Margherita, Mutina DIN, Mutina Azulej, restaurant design, hotel design, commercial design