24.10.23
These latest tile collections from Cersaie 2023 are setting new directions for interiors!
Tiles
Cersaie might not be as glamorous as that other big design fair held annually in Milan Italy, but it is in no way less important in the world of interiors. The International Exhibition of Ceramic Tiles and Bathroom Furnishings, Cersaie takes place in Bologna every year in September. This is where major players in the ceramic tile industry showcase their latest designs and technical innovations in material surfacing, and is a crucial indicator of interior trends to come for both residential and commercial spaces. The decorative possibilities of tiles go hand-in-hand with manufacturing capabilities, and every year, the bar on both fronts gets pushed even higher. As always, the RICE team was at Cersaie to discover the trends and bring the best back to our customers. Explore some of the best of the latest collections below!
New Classic
The Colosseum in ancient Rome was built with travertine, and even in modern times, travertine, with its signature pitted texture and light hues, is popular for its charming rustic appeal. In contemporary interiors, travertine brings a cosy feel to clean minimalist spaces. This year, many major tile companies are rebooting this classic material to create beautiful spaces brimming with warmth and welcome. New Classic is a travertine-inspired tile collection that takes the elegance of the material and interprets it in tile form, eliminating the problems associated with using the stone such as staining and etching due to its porosity. This collection also brings the material to new decorative heights, with a three-dimensional finish called Lines, and a Weave pattern that is great for dressing up small spaces such as corridors or to use as tile rugs. The New Classic stone-inspired tile collection is available in five sizes, three finishes of Natural, Soft Touch and Honed, and in three colours of White, Beige and Taupe. A 20mm-thick option is also available for outdoor use.
Glace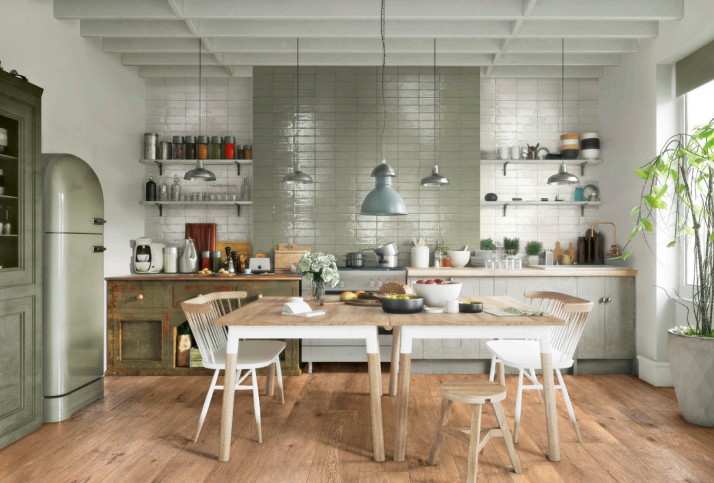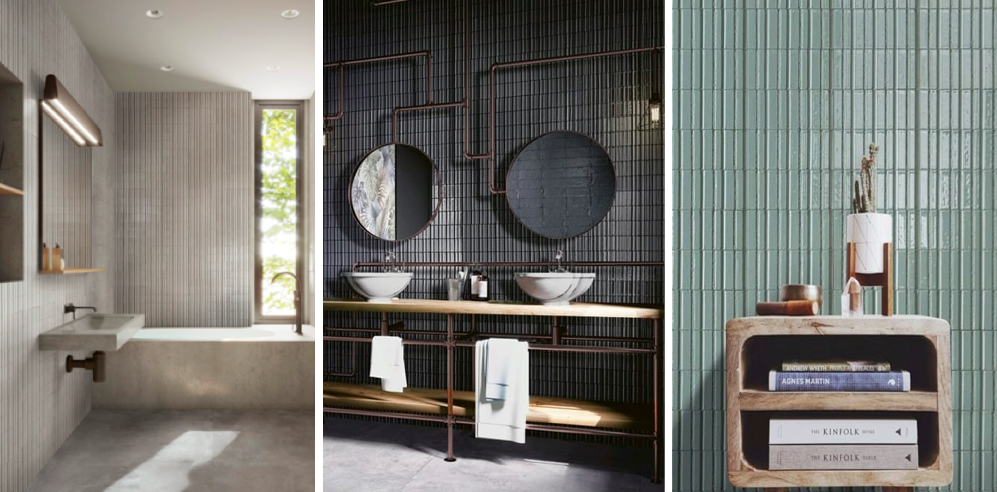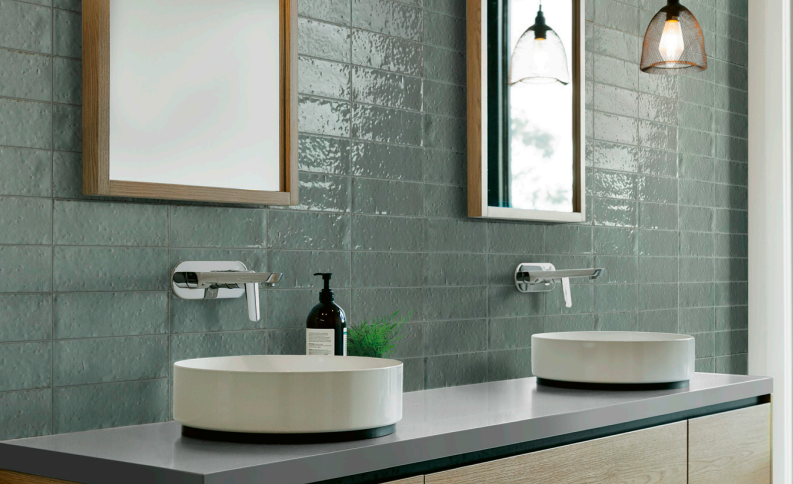 Following the success of Zellige tile collections such as Look and Gleeze, Glace introduces more options for tiles with artisan aesthetic qualities. Glace tiles come in a 7.5cm by 20cm size and go further in capturing the characteristics of handcrafted ceramics, with its gaps in the glaze, uneven surfaces and irregular edges. Their shiny glassy surfaces have great tactile appeal and create mesmerising surfaces that captivate. A three-dimensional version called Raye, in the same size, feature ribbed sections and alternate glossy and matte glazes for truly dynamic surfaces. All tiles are available in five natural milky hues and a deep blue to create beautiful compositions with each other.
Era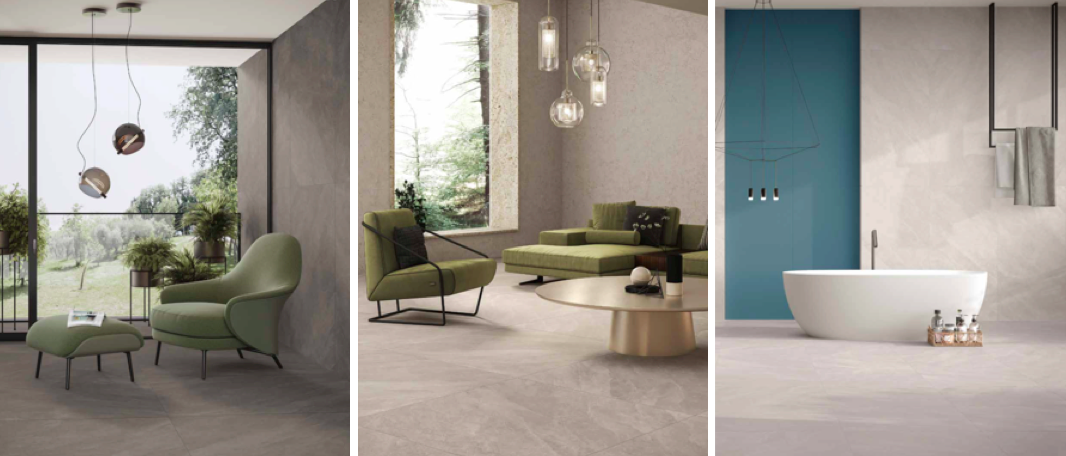 Be impressed with the most delicate and elegant version of slate with the Era stone-inspired tile collection. Boasting subtle veining, cloud-like effects and a harmonious play of light and shadow, Era is available in six organic colours to complement every interior design style. The tiles come in four sizes, a 20mm version for outdoor spaces, and also boast anti-bacterial qualities.
Mapierre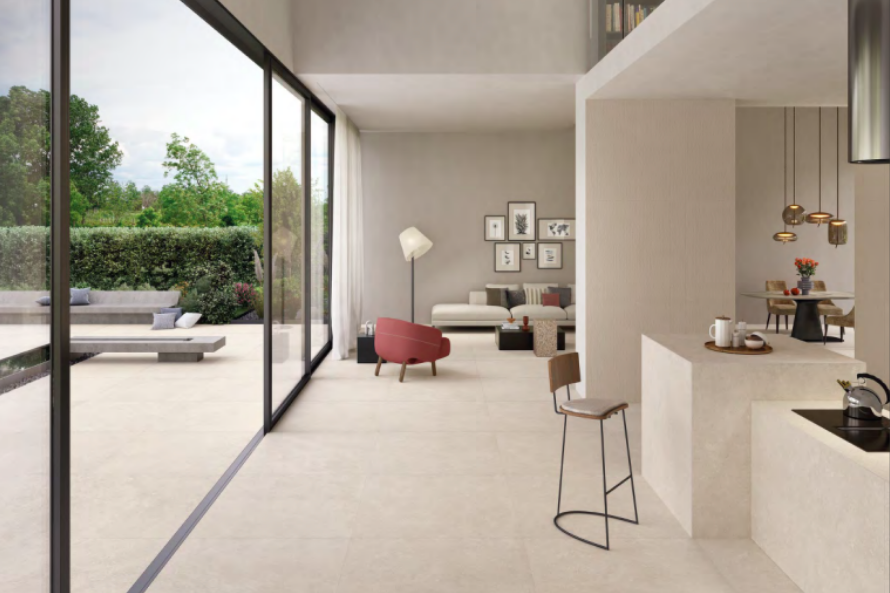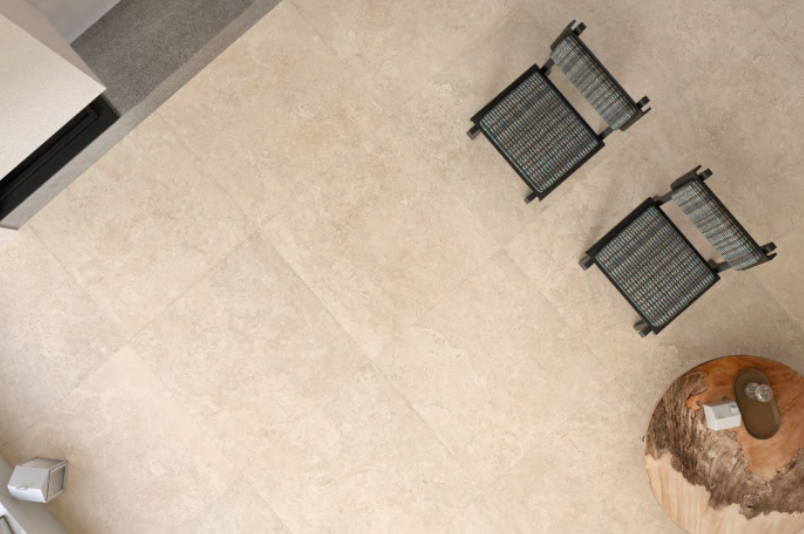 The Mapierre collection is inspired by another timeless stone used since ancient times, the Pierre de Bourgogne (stone of Burgundy) found in Burgundy, France. This limestone is rich in detail, displaying a variety of veining patterns and even fossil inclusions. Colours are wide-ranging, from creams to deep ochre. The Mapierre stone-inspired collection boasts three variants to bring the stone into contemporary spaces. The Ancienne pattern sticks close to the original stone, with its timeworn finish and elegance evocative of French chateaus. The Ligne version is finished with three-dimensional lines, ideal on panels and walls for clean streamlined spaces. The Noble finish is the most subtle of the three, with its discreet and even tones providing a neutral and versatile canvas to any modern space. All tiles are available in a variety of sizes and in five natural colours ranging from light beige to dark brown. A decorative option, Opus Spaccatella, provides the look of split stone with its 'broken' irregular edges, and is available in two sizes of 20cm by 20cm, and 20cm by 30cm. A 20mm-thick version is also available so you can continue the beauty of this heritage tile into your outdoor spaces as well.
Photo credits: All images from their respective brands
Make an appointment to visit riceLAB to find out more about these brand new collections!
Visits to riceLAB are strictly by appointment only. To minimise your time spent at riceLAB, we encourage you to make your tile selections online at www.rice-fields.com before coming down. Make an appointment by emailing us here or by calling 66921199. riceLAB is at 213 Henderson Road 01.03 Singapore 159553. RICE is open from Mondays to Saturdays from 9am to 6pm.
Make your tile choices even more sustainable! Look for tiles certified by the Singapore Green Building Council and Singapore Green Labelling Scheme on our website, using the filter Singapore Green Labels on the Materials tab.
Keywords
New Classic, Glace, Era, Mapierre, stone-inspired, Zellige tiles, Cersaie