16.09.20
Trend alert! Fall in love with the handmade artisanal look of these tiles
Tiles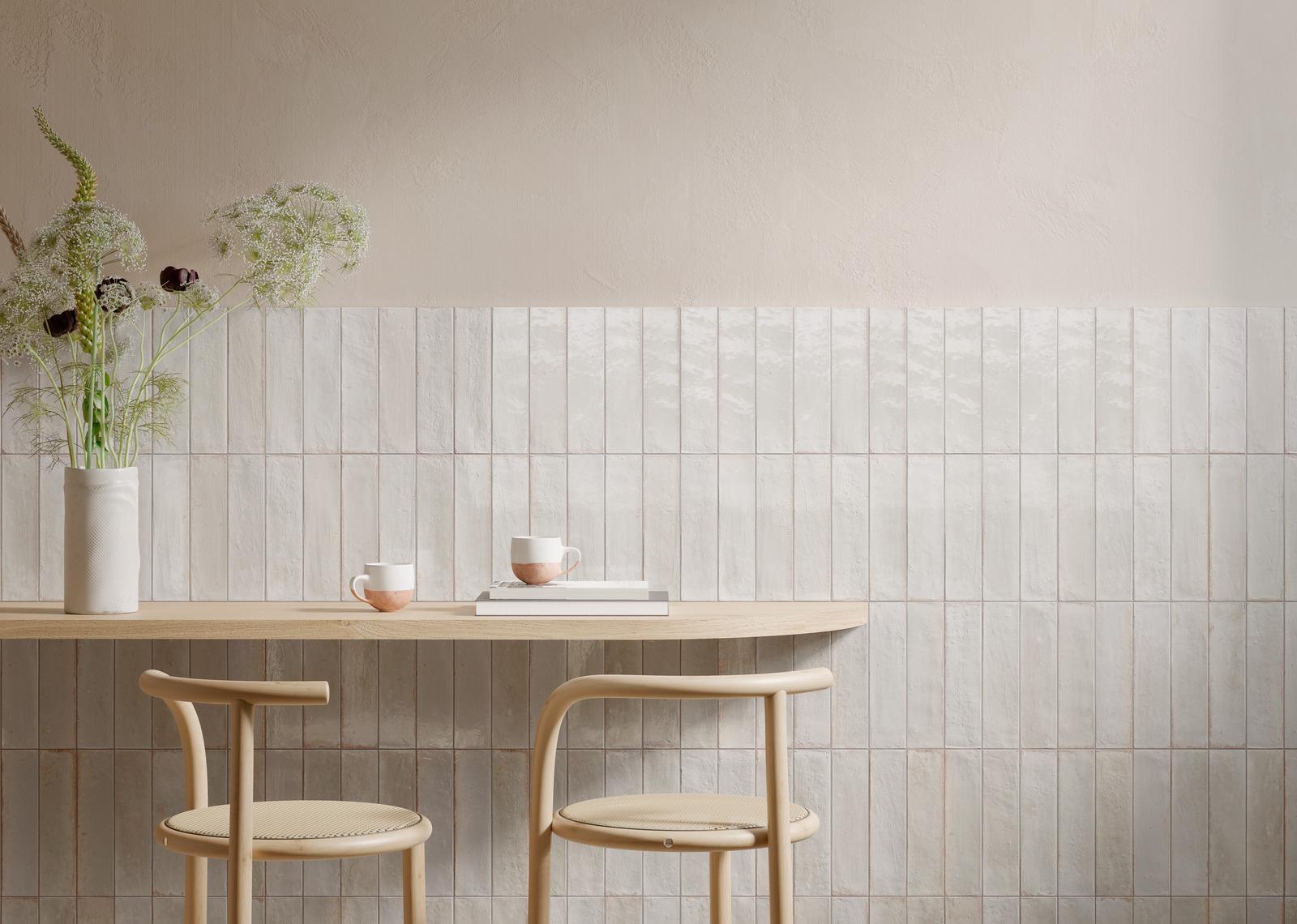 Ragno used advanced manufacturing technology to create tile collections such as Look, which makes an emotional connection with its handcrafted looks.
In this age of identical mass manufactured items, it is the artisan and handmade that stands out. We like tiles for their consistency and predictability, such that we are able to envision the final outcome of a tiled surface before installation. However new tiles have emerged that have captured our attention for the opposite qualities – their unconformity. Sporting surfaces that are one-of-a-kind, just like handmade items, they express an artisanal appeal and charm that shine amongst a sea of same-ness. It's time to step out of the box and explore the rich tonal variations and vibrancy these tile collections bring to a space!
Ragno Look
Shining, shimmering surfaces with rich tones and tactility. This is the effect wrought by the glossy Ragno Look collection of 6cm by 24cm brick-shape porcelain stoneware tiles that are each unlike the other. Celebrating the tradition of ceramics and giving it a contemporary face, Look is available in seven deep and bright colours. Look is part of the Ragno Storie family, which features tile collections with a hand-crafted aesthetic inspired by various cultures and history.
Ragno Melange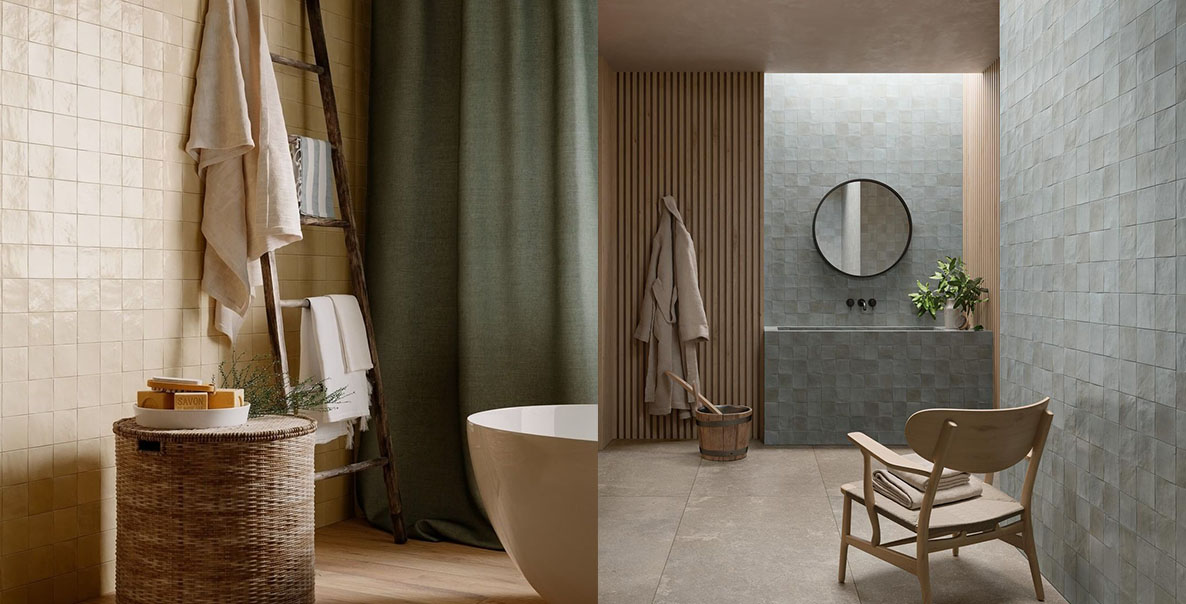 The renowned decorative traditions of the Berbers, who live in North African countries such as Morocco, Tunisia and Algeria, give the Ragno Melange collection of tiles its jewelled tones and hand-worked look. The 10cm by 10cm tiles are available in nine colours in a glossy finish that plays up the unique tonal variation of each tile. Ragno Melange is also part of the Ragno Storie family of tiles which fuse tradition with technology.
Mutina Pico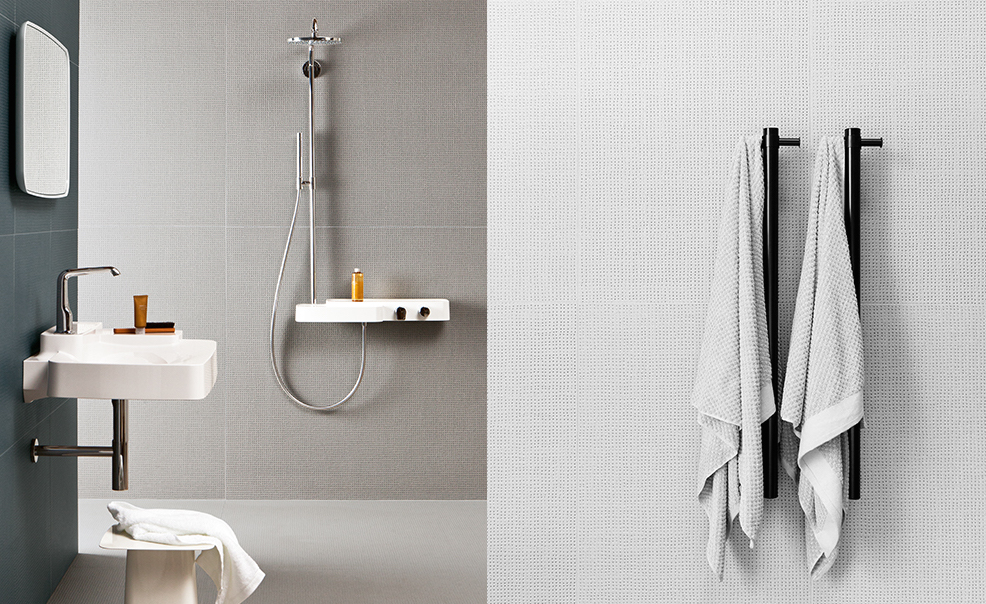 In the Mutina Pico collection, what gives the unglazed porcelain stoneware tiles their honest organic feel is the pattern of either sunken dots or elevated dots. These simple indented patterns draw attention to the material of the tile and give it a warmth and homeliness that also has great style and versatility. Red and blue are the only colours that adorn the tiles, either dotted in the hollows or as a base colour. Pico is designed by Ronan and Erwan Bouroullec.
Mutina Lane
The Mutina Lane collection by Barber & Osgerby encapsulates and expresses the essence of London's architecture and built landscape, in tile form. In the shape of bricks, the 7.9cm by 16cm tiles evoke a feeling of exposed brickwork with organic textures that arise from the glazed porcelain stoneware body. The designers have devised various tile compositions, each made up of different coloured and shaded tiles, to best bring out the essence of Lane. Base features five colour palettes; Mono mixes black and white tones; and Poly is the most dynamic of all, with contrasting as well as complementary hues.
Find out more about the tiles featured above at riceLAB. Visits to riceLAB are strictly by appointment only and limited to four people per group. We encourage guests to make their tile selections online at www.rice-fields.com before coming down to minimise their time spent at riceLAB. Make an appointment by emailing us here or by calling 6692 1199. riceLAB is at 213 Henderson Road 01.03 Singapore 159553. RICE is open from Mondays to Fridays 10am to 7pm, and Saturdays from 10am to 6pm.
Get the European tiles you love at great prices! Browse the Tile Me You Love RICE range on our website in the Materials tab, using the filter Tell Me You Love RICE.