15.11.22
Timber flooring so real you can't believe they're tiles. See for yourself here!
Travel, Tiles
We love timber flooring for the warmth and cosiness it brings to our homes. It is also a key element in many of our favourite design themes, such as Scandinavian or Japandi looks. What we don't fancy is the maintenance involved, as natural timber flooring is easily scuffed by furniture or when heavy or sharp items are dragged across it. In a sunny spot, wood might also bleach over time resulting in uneven tones across your floor. Special care must also be taken while cleaning, and spills have to be wiped up immediately before they stain the porous material. Prevent all these problems with timber-inspired tiles. If you haven't explored this option, you might be surprised at the huge variety of tiles that don't just look like wood, they sport the texture of organic woodgrain as well. Brands are continuously evolving the design possibilities of timber-inspired tiles, so there's always something new to meet changing interior trends. Here are some of the latest outstanding examples!

Ancona

Ancona captures the spirit and nuances of the mighty oak, and sets the timber-inspired design in the form of tile strips measuring 7.5cm by 20cm. This format can in laid in many ways, including the popular herringbone and bricklaying style for flooring that mimics parquet. Available in two cool hues of white and grey, and three warm tones, the tiles also come in chevron shapes, which can be used to evoke the warmth and glamour of the 1970s.
Forest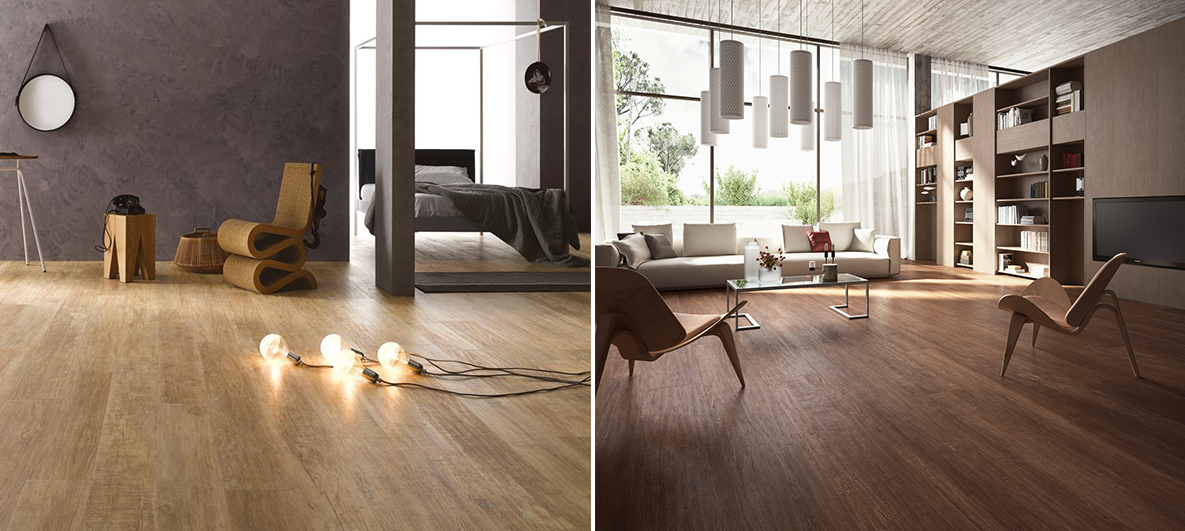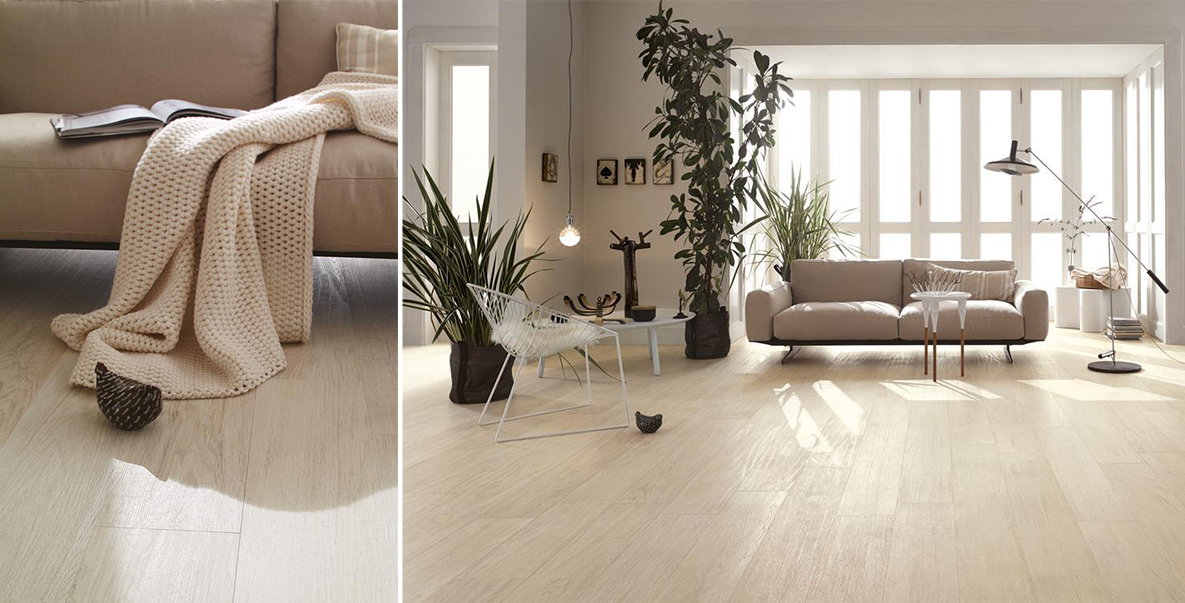 Imagine a continuous sweep of timber flooring that looks almost seamless. The size of the Forest timber-inspired tile slabs, which range from 120cm to 300cm in length, gives interiors a truly luxurious feel with its space-enhancing qualities. The Kerlite material is only 5.5mm thick, but yet is robust and boasts textures typical of naturally aged hand-planed wood. Forest tiles also have a crucial anti-bacterial quality and are available in three colours of Maple, Walnut and Oak.
Jurupa
The silky smooth planed surfaces of the Jurupa timber-inspired tiles express a measure of modern sophistication that is perfect for contemporary decor. The elegant woodgrains come in five neutral shades and two sizes, with a choice of Natural and Grip finishes. An outdoor version is also available.
Mutina Pico Bois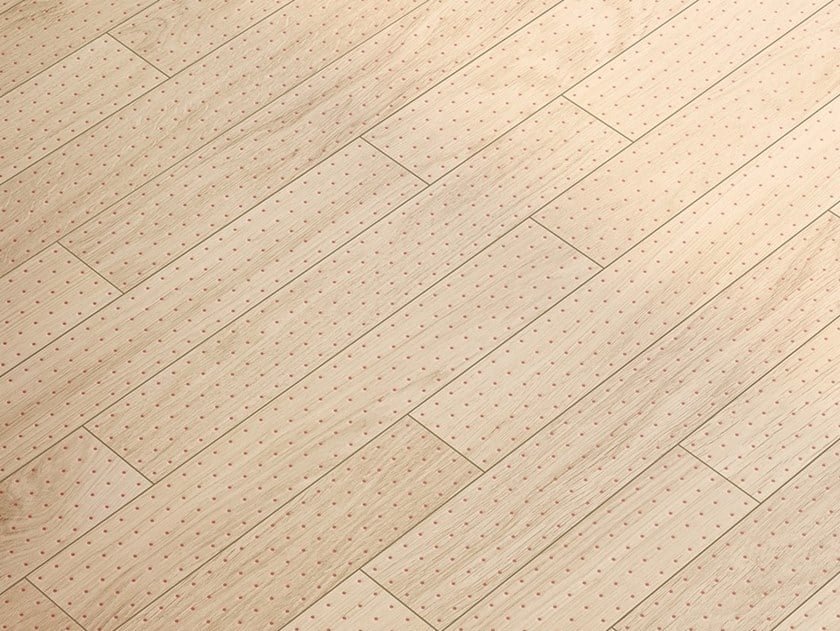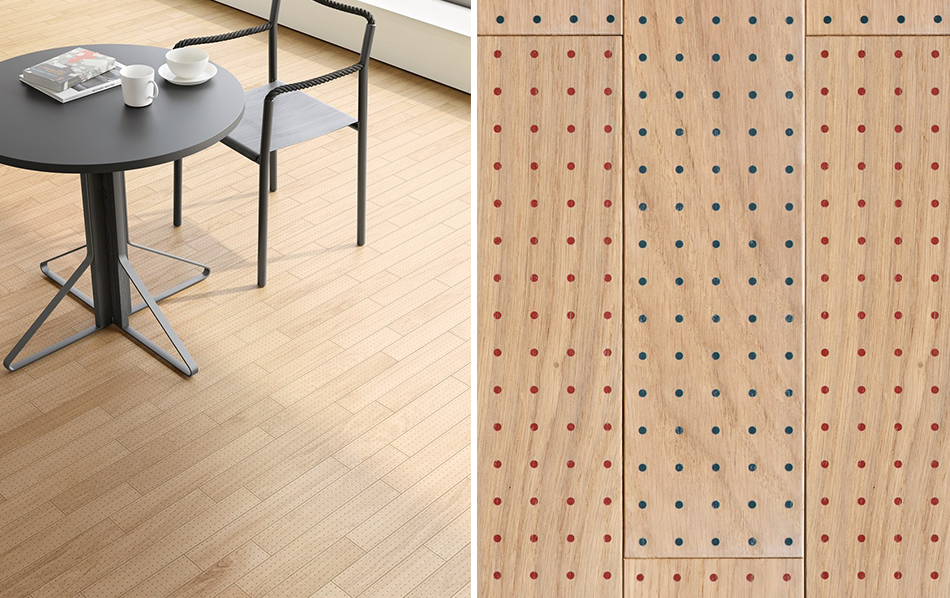 On the flipside, Mutina Pico Bois is actual timber flooring that display elements of tile design. Designers Rowan and Ewan Bouroullec took the decorative element of the (raised and) sunken dots of their classic Mutina Pico tiles, and embossed it on timber planks of European oak for tile company Mutina's first parquet floor option. The 'hammered' pattern, emphasised by blue and red dots, lends the 7cm by 49cm wood planks an intriguing and unique juxtaposition of patterns.
Visits to riceLAB are strictly by appointment only. To minimise their time spent at riceLAB, we encourage guests to make their tile selections online at www.rice-fields.com before coming down. Make an appointment by emailing us here or by calling 66921199. riceLAB is at 213 Henderson Road 01.03 Singapore 159553. RICE is open from Mondays to Saturdays from 9am to 6pm.
Make your tile choices even more sustainable! Look for tiles certified by the Singapore Green Building Council and Singapore Green Labelling Scheme on our website, using the filter Singapore Green Labels on the Materials tab.
Keywords
timber-inspired, Ancona, Forest, Jurupa, Mutina Pico, Mutina Pico Bois,