17.07.19
Concrete-inspired tiles can create more than industrial looks. Check out your many options here!
Tiles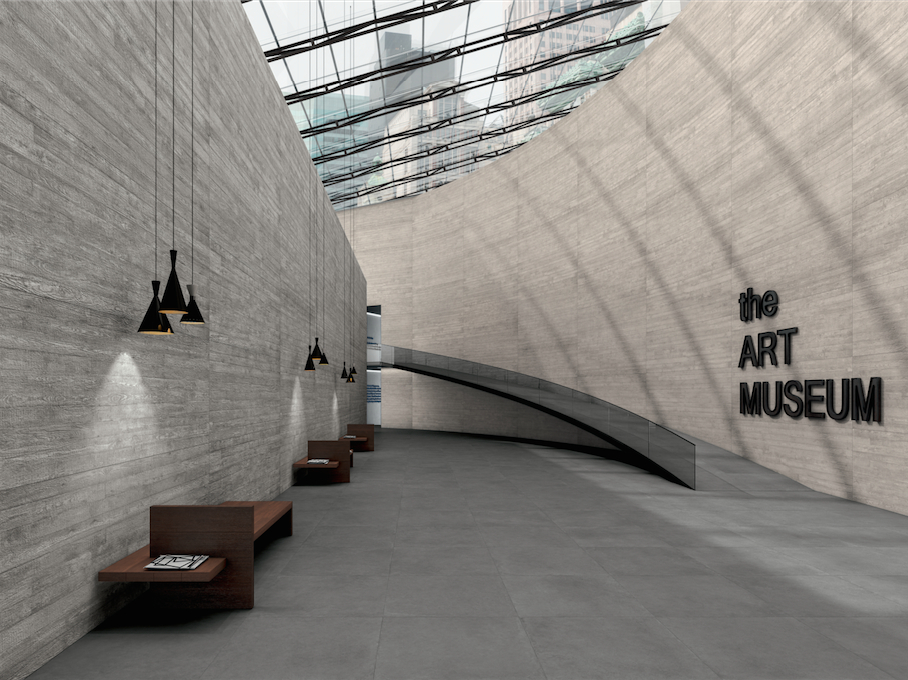 Concrete equals industrial decor, right? While bare concrete might be synonymous with the cool gritty style of warehouses and no-frills industrial-style interiors, they can conjure up other looks too! This is thanks to the use of concrete-inspired tiles instead of actual concrete, which provide a whole new world of possibilities for décor. Besides their easy installation and wide variety of designs, tiles are also a more practical choice as compared to the actual material.
Concrete is porous and stains easily, is slippery when wet, and might chip and crack due to external forces and temperature changes respectively. Tiles, on the other hand, are hardier and more durable, easy to maintain, have slip-resistance, and come in more than that one default shade of grey. Some concrete-inspired tiles also feature various textures and patterns which add a further dimension to their design. Explore the many faces of concrete-inspired tiles through these inspiring interiors!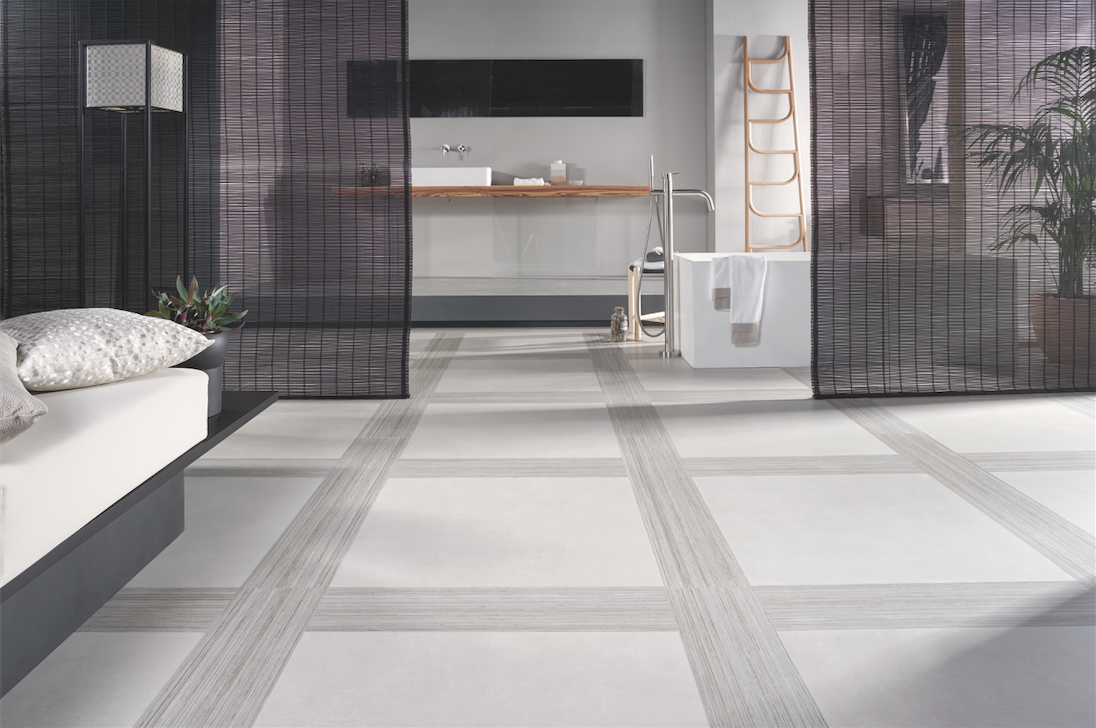 Concrete can be used to create formal but still contemporary looks, as seen in this collage of light-coloured concrete-inspired Concept Mist tiles bordered by Essenza Classic strip tiles in a darker shade. Both tiles are from Azuvi.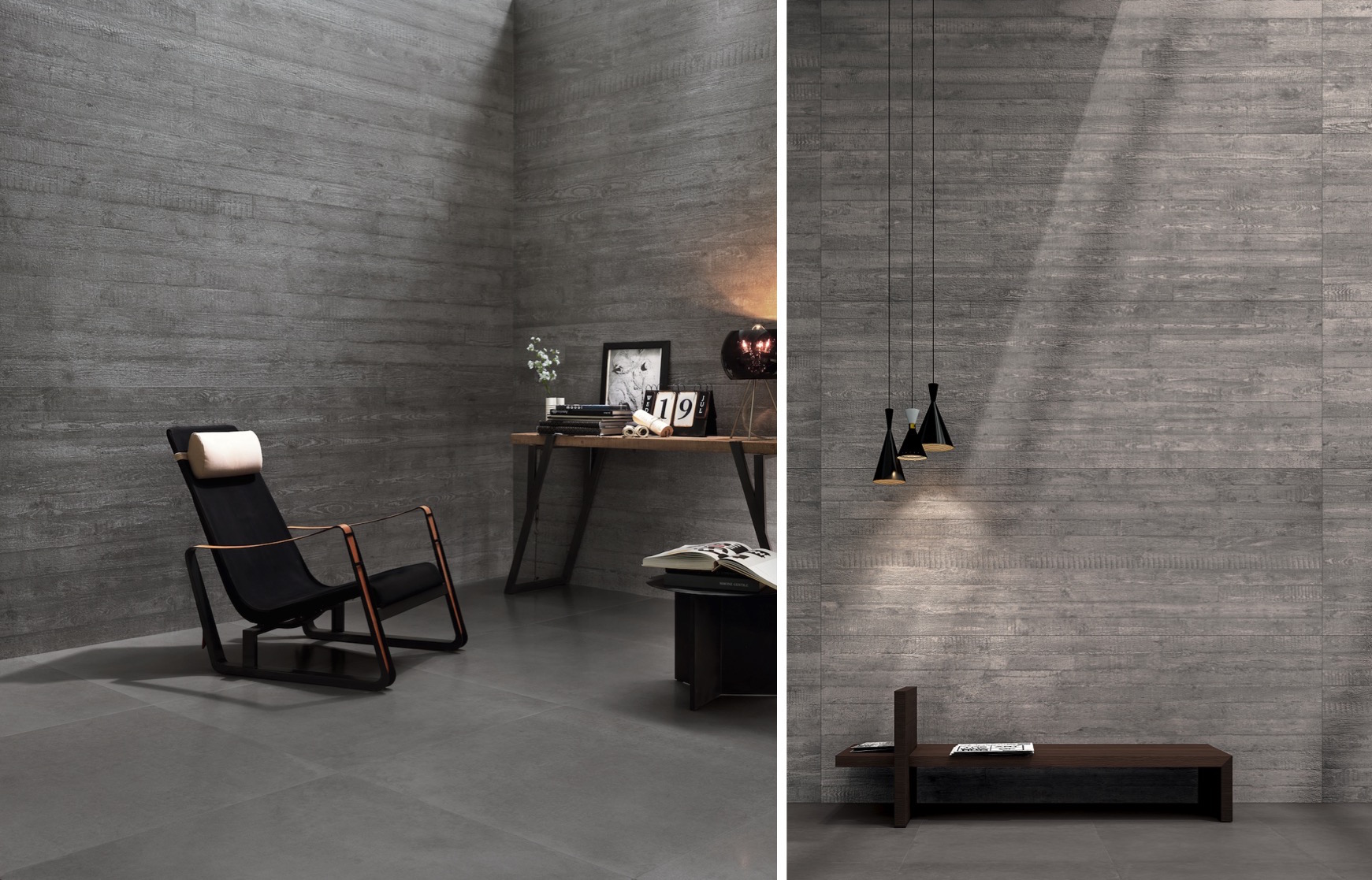 Echoing the imprints left by traditional woodslate formwork on concrete are the Cement Project tiles by Cotto D'Este. The result are surfaces that recall the spirit of Brutalist architecture.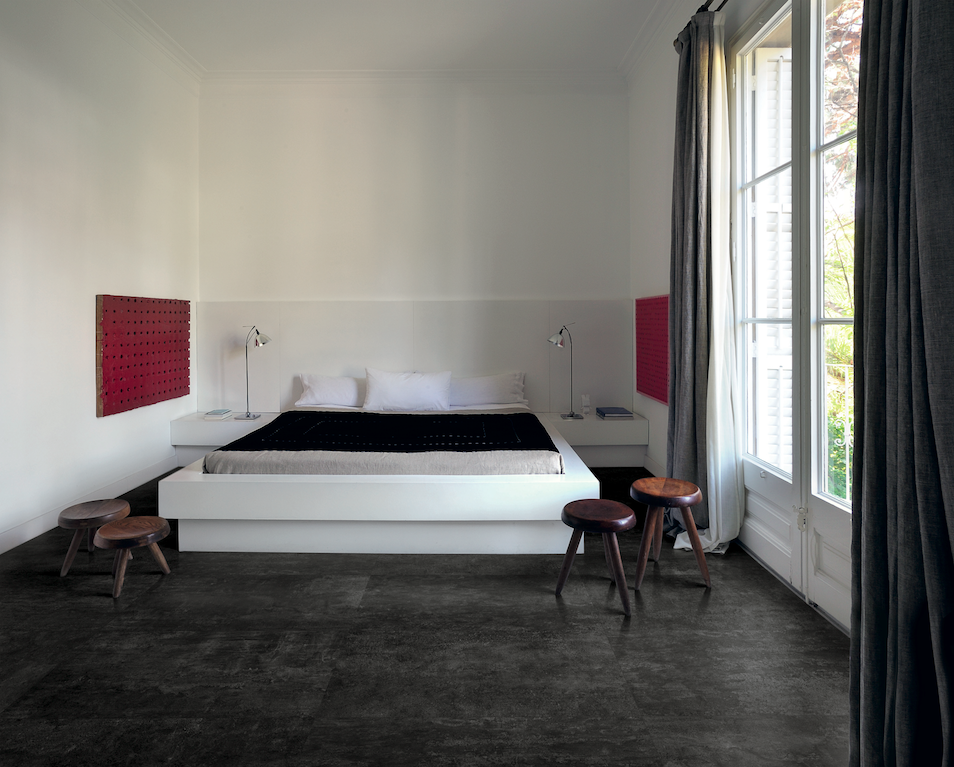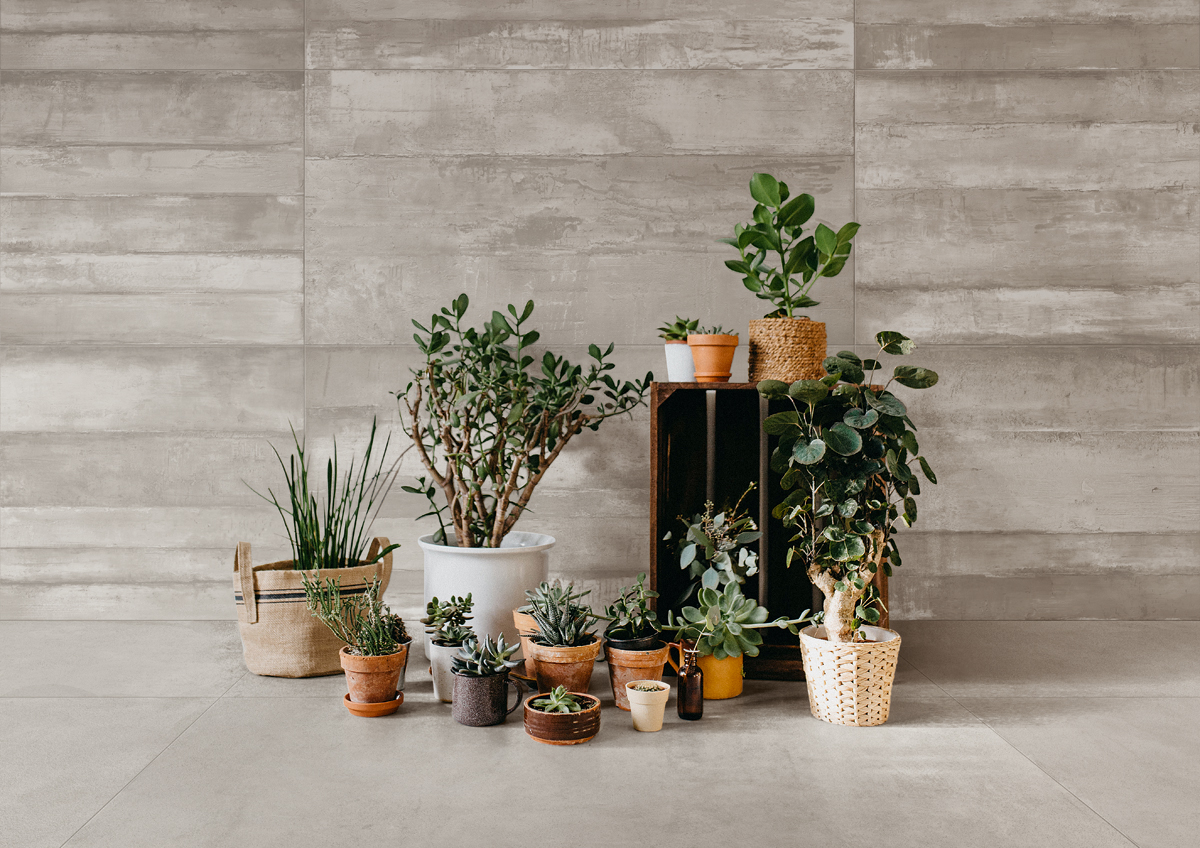 Partnered with plants in earthy terracotta pots, Leonardo Ceramica's soft concrete-inspired Moon tiles, with a timber-plank like pattern, take on a rustic feel.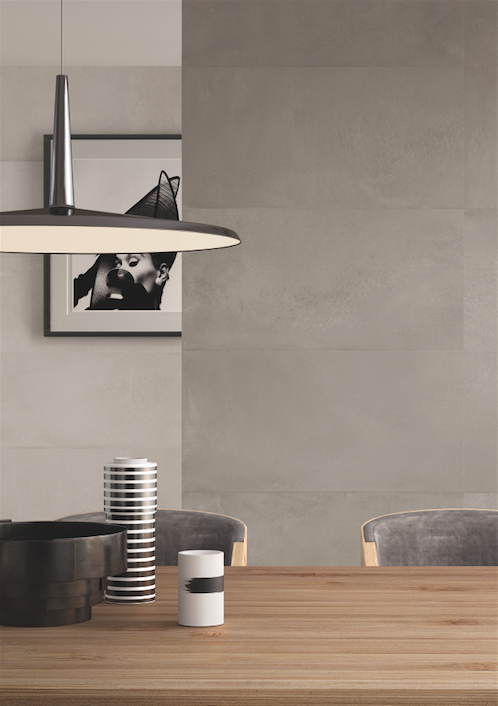 Conjuring a look of cool elegance are these matte Grey (background) and Smoke (foreground) concrete-inspired tiles from the Tr3nd Concrete collection by Ergon.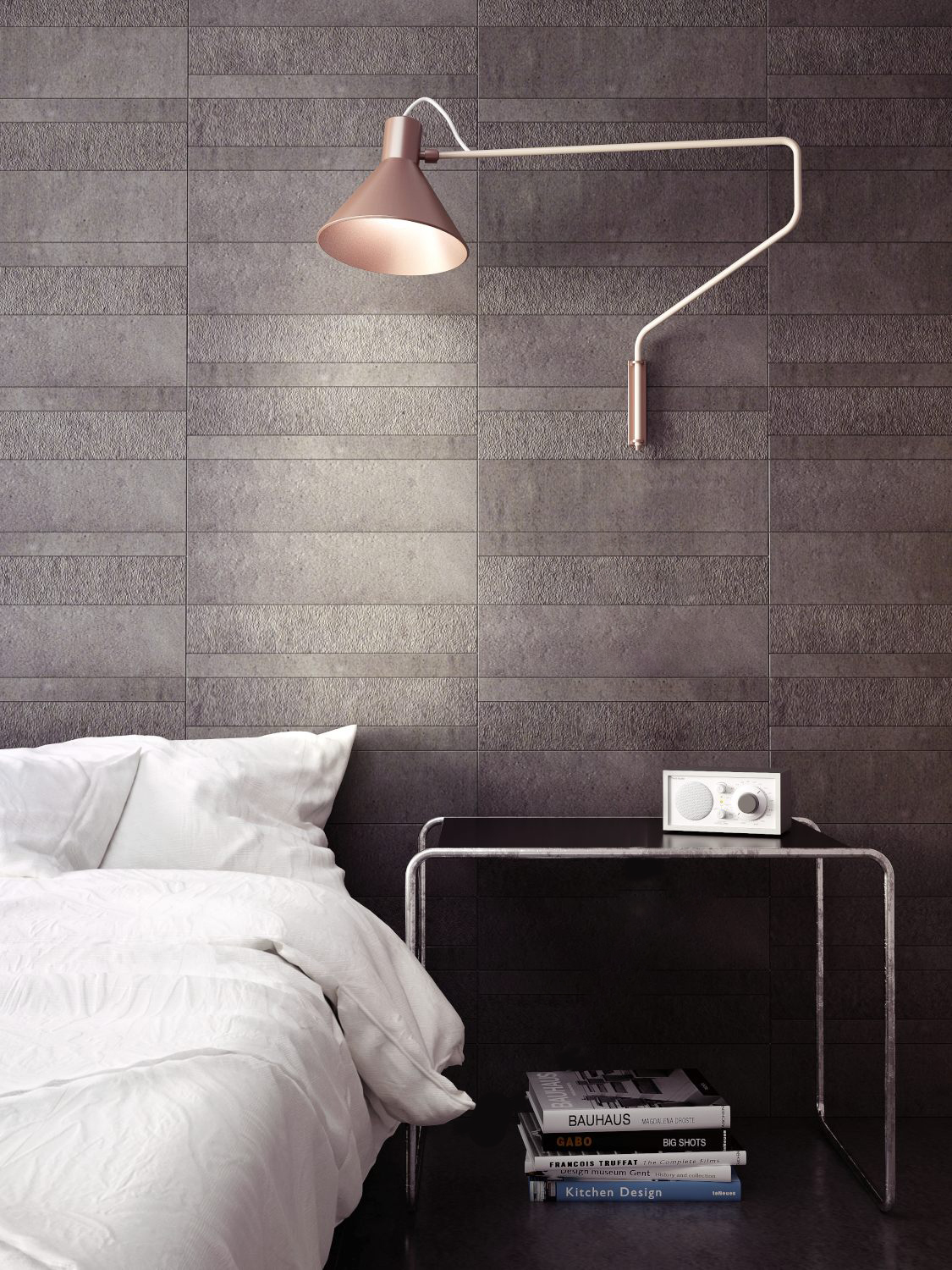 Even 'concrete' walls like this one can bring warmth and cosiness to a bedroom. This is due to the tactility of the tiles, from the Concrete collection by Gigacer.

The Industry Oxyde Light Strutt tile from Refin's Design Industry collection layers a diamond grid pattern over a concrete-inspired design for a stylish variation. It's used in this home to differentiate the concrete-inspired tiles of the indoors and outdoors.

Use concrete-inspired tiles such as the greige (grey-beige) Smoke tiles from Panaria's Glance collection to create a soft and neutral canvas that will look fabulous in any space at home.
See these featured tiles and more concrete-inspired designs at riceLAB. Make an appointment by emailing us here or by calling 6692 1199. riceLAB is at 213 Henderson Road 01.03 Singapore 159553. RICE is open from Mondays to Fridays 10am to 7pm, and Saturdays from 10am to 6pm.