03.07.19
Why do our business partners love working with RICE? Find out from them here!
Tiles
Just like no man is an island, no business can thrive without a good network of trusted partners. RICE has been exceptionally fortunate, through our 18-year history, to have encountered design professionals, business associates and benefactors who have each contributed immensely to the growth of the company. We are grateful for these valued partnerships, which have accompanied us all the way from our groundbreaking container showroom in Kallang in 2001, to our RICE flagship in Henderson Industrial Park in 2014, which continues till today. We spoke to some of our associates-turned-friends about their first impressions of the company, our continuing relationship, and their future wishes for RICE.
Angelena Chan, founder, Index Design
Prolific designer Angelena Chan's relationship with RICE started when founder Terry Tan asked her to design RICE's first showroom at Kallang. Angelena (known as Angie) had started Index Design, an interior design practice, in 1994. Thanks to Terry's brainwave, and Angie's gumption, this partnership led to the birth of the container architecture concept for the RICE showroom, which was ground-breaking for its time. When the company decided to expand and launch a new concept at their new showroom at Eng Watt Street in 2011, Angie was again called on to help. This time, she created a series of colonial-chic 'hotel suites' in which to showcase RICE tiles in.
"Terry and Alan are extremely creative, passionate, and warm people, and they have brought this sincerity into the way they do business as well," says Angie of the two RICE directors. Using shipping containers to house their first tile showroom was a "paradigm shift to selling tiles" at that time. RICE's personal approach to customer service, with its selection of well-presented tiles is another reason why Angie has also become a long-time customer of RICE for her many residential and commercial projects. Looking to the future, she hopes that RICE will never lose sight of their passion in all that they do, and that success will always follow them.
KL Chua, the former managing director of Mapei Far East
A 36-year veteran of the building construction industry, 63-year-old Mr Chua remembers his first encounter with Terry. He met Terry at Cersaie in 2012, the annual international tile fair in Bologna Italy. "Without notice, Terry popped into the Mapei booth and requested for space and technical advice to work out the cost submission for a project. He worked relentlessly for a few hours at our booth, and after that eventually secured the project. My respect for his professionalism was further enhanced after this incident," recalls Mr Chua. He was then the managing director of Mapei in Singapore (its Asia Pacific base), a post he held from 2002 till his retirement in 2018. Mapei is a leader in the production of adhesives, sealants and chemical products for the building industry.
Before that meeting, Mr Chua visited the RICE office and showroom at Eng Watt Street and remembers being impressed with the number of well-known tile manufacturers they represented. He continues to be impressed, and says, "RICE offers a comprehensive range of tiles that cater to both project and retail customers. Their products are trendsetters and are regularly updated. Their staff is young, energetic, well-trained, and very motivated." On the occasion of RICE 18th anniversary, he wishes "continuous business growth and profitability for many years ahead and best of health and happiness to all RICE management and staff."
Mike Ho, Midas Land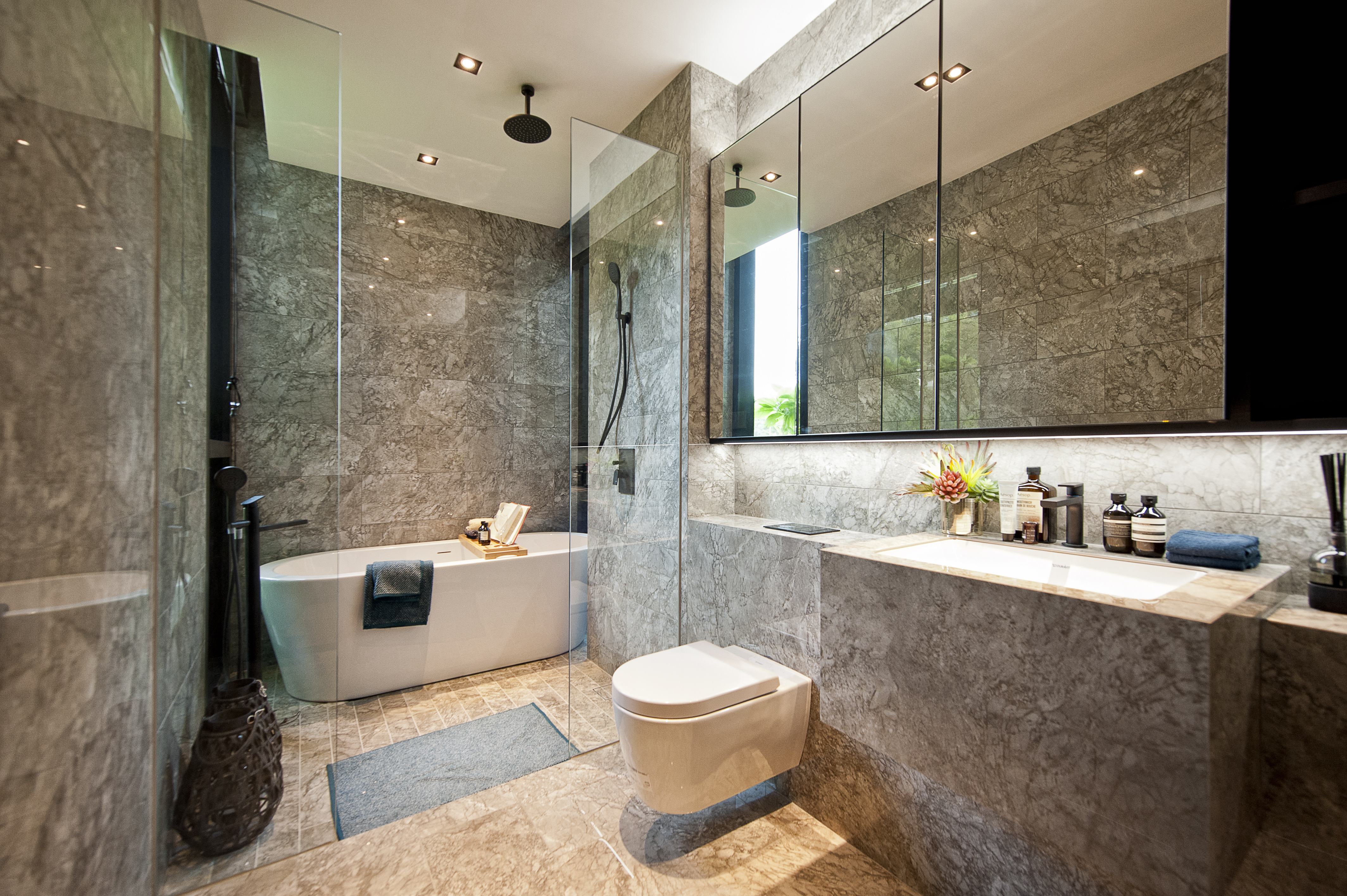 Mike Ho's 13-year relationship with RICE started from when he was a homeowner looking for tiles for his own home, to becoming a property developer and using tiles from RICE for his projects. When Mike was redeveloping his own detached house at Cable Road, he visited RICE's Eng Watt showroom and was taken by "how elegant it was to have the entire bathroom laid with Carrera-marble-inspired tiles and how far technology had come to make stone and tile virtually indistinguishable." This project, by ip:li Architects, went on to win the President's Design Award for Design of the Year in 2011.
To him, RICE isn't just a tile supplier but a design partner, "they know their products very well and are able to add value by suggesting various design combinations for different spaces," he says. Mike then continued to work with RICE on other property projects, such as a pair of semi-detached homes in Brockhampton Drive, the revamp of his family business Spring Court Restaurant, and most recently, the development of luxury condominium Jervois Prive. As much as Mike was part of our success story, RICE is also proud to be part of the growth of Midas Land, Mike's property development arm.
Chew Kok Keene, principal architect, KA Associates
RICE might have scaled up in size and operations over the years but architect Chew Kok Keene of KA Associates still feels the personal touch in our customer service when he visits the RICE showroom. He first visited RICE at our Eng Watt Street showroom in 2006. "The initial impression that is still vivid is that the company was and still is very personal. Their staff is attentive and make you feel at home. They can also explain the technical aspects of the tiles, to steer customers towards making a good decision."
Over the years, Kok Keene has used RICE tiles in many residential projects designed by his boutique architectural practice. He appreciates that "there is a care in deciding which products to bring in. The bosses travel in search of the latest tiles and there are frequent new additions which adds to my palette for design."
Being a loyal customer of RICE, he has also seen how the company has been proactive in improving the tile selection experience, especially through the use of technology. "It's such a wonderful experience being able to scan the tile samples and seeing relevant images on a computer screen. It has made appreciating and selecting products a joy. My wish for RICE is that they will continue to be there for architects and designers and to become even more relevant in the future with their forward thinking approach."
Find out for yourself why our partners love us by visiting riceLAB. Make an appointment by emailing us here or by calling 6692 1199. riceLAB is at 213 Henderson Road 01.03 Singapore 159553. RICE is open from Mondays to Fridays 10am to 7pm, and Saturdays from 10am to 6pm.