21.04.21
8 fabulous living room flooring choices for your dream home
Tiles
For a change, the decorative tiles of Mutina Chymia put art on the floor instead of on the walls of this living space.
When you start putting together the lookbook for your new home, make sure flooring is front and centre. Your living room floor is particularly important. Covering arguably the largest surface area in your home, and the first space guests see after the welcome mat at the door, the flooring of your living space should harmonise with your furnishings and present a cohesive decor concept. There are many flooring options available, and our advice is to keep it simple.
For flooring that is easy to maintain and available in the largest variety of designs, choose tiles. Porcelain stoneware tiles in particular, are extremely durable and easy to clean. Plus they come in a plethora of designs such as patterns of stone, timber, and marble, as well as solid colours and decorative options. The eight inspirational living rooms that follow show the versatility of tiled flooring and how it can help you build a space that truly sings!
The three-dimensional effect of the timber-inspired Panaria Borealis tiles enhances the welcoming ambience of this living room. Inhabited by clean Scandinavian-style furnishings and pastel colours, the space exudes a cheery contemporary style that is cosy and comfortable. Panaria Borealis tiles also sport anti-microbial properties which inhibit the growth of bacteria on their surfaces.

This modern rustic space features the Ragno Eterna stone-inspired tiles on the floor providing subtle patterns evocative of seashells. With its Mediterranean vibe, the coolness of the flooring contrasts and complements with furnishings made with natural materials such as rattan and wood for that boho resort appeal. The tiles' CleanOut anti-bacterial protection promises a healthier and fresher environment.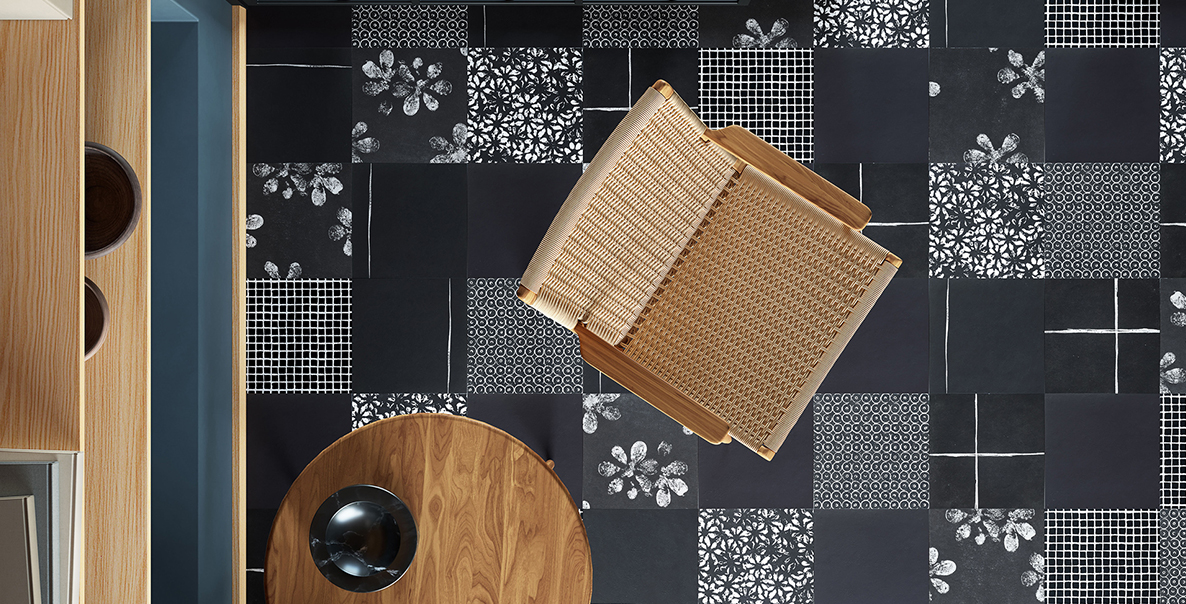 A stylish living room gets an unexpected decorative edge with the Mutina Chymia tiles on the floor. The black-base tiles, with a random mix of white patterns as well as marks inspired by sculpture and art, anchor the space as well. The dark canvas allows the wood of the furniture to stand out even more brightly.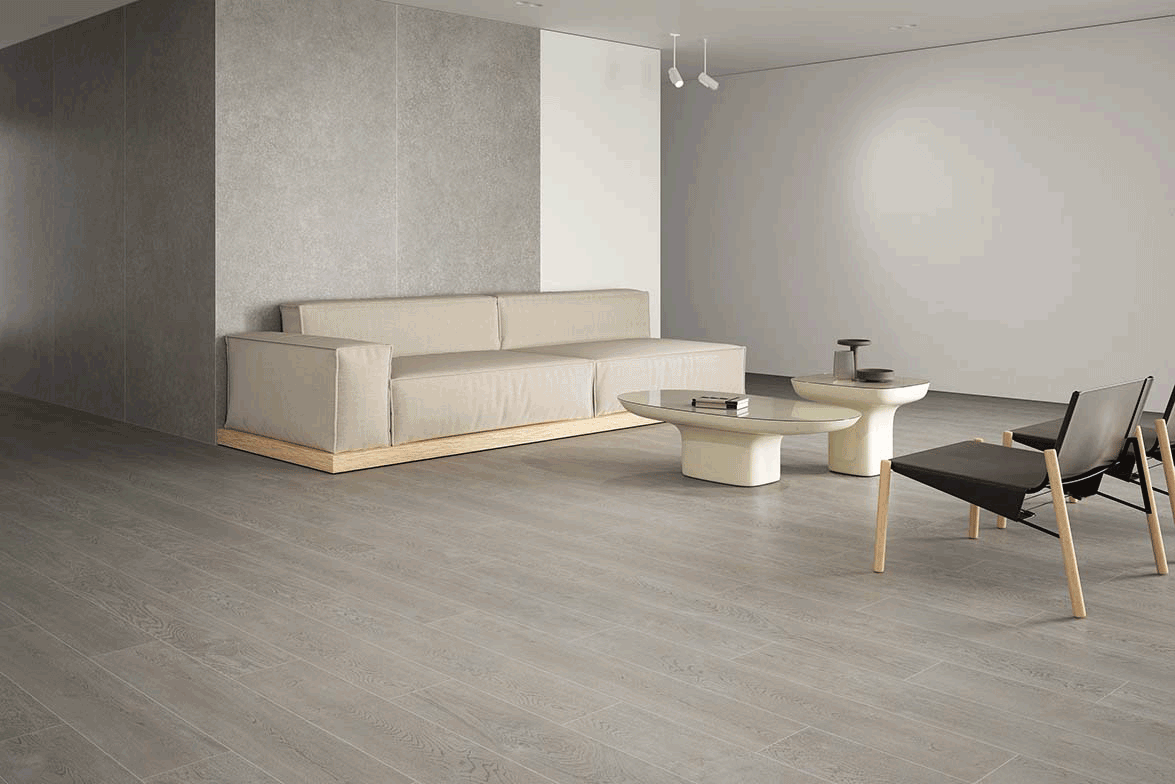 When you want the texture of woodgrain for a monochrome space, you can turn to grey-tone tiles such as those of the timber-inspired Azuvi Woodcode collection. In this set of images, the tiles are used on the floor of an elegant and simple living room in keeping with the soothing grey colour palette of the decor. Using timber-inspired tiles instead of natural timber allows you to select woodgrain patterns that come in many more colours and tones than what is organically available.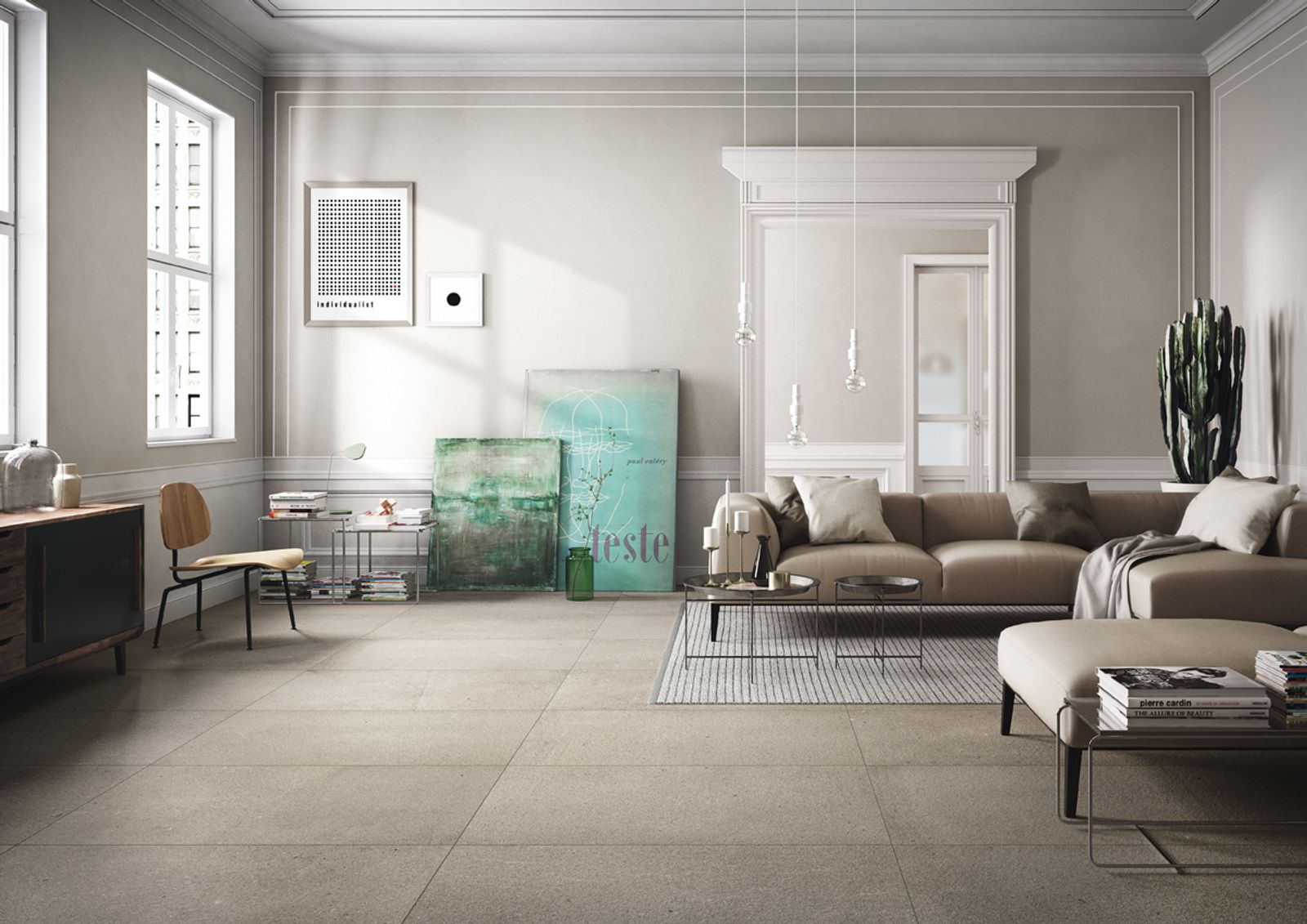 This airy living space looks even larger with the soft grey-on-grey tones of its flooring, walls and furniture. Pops of turquoise add energy to the space. The stone-inspired Imola Sicily flooring tiles were inspired by the soft porous sedimentary tiles used widely for some of Sicily's most celebrated architecture. Use them in your own home to add European flair.

Exotic and exclusive materials express a luxurious quality thanks to their unique characteristics. As such, the Imola Brixstone stone-inspired tiles in this space pairs well with the cushy vibes of the plush suede-like sofa, marble side table and brass accents to produce a modern brand of luxury. Featuring light and dark shading and a rugged pattern, the tiles of the Imola Brixstone collection were inspired by the limestone found in the Appalachian Mountains of North America.

If you find just plain white tile flooring too pedestrian, consider the Mutina Chymia tile in Teorema White. Mixed randomly, the 30cm by 30cm square tiles printed with hand-drawn black ink lines form a landscape much like a patterned rug. The graphic pattern made by the lines follows no formula and takes on a fresh character of its own in every space.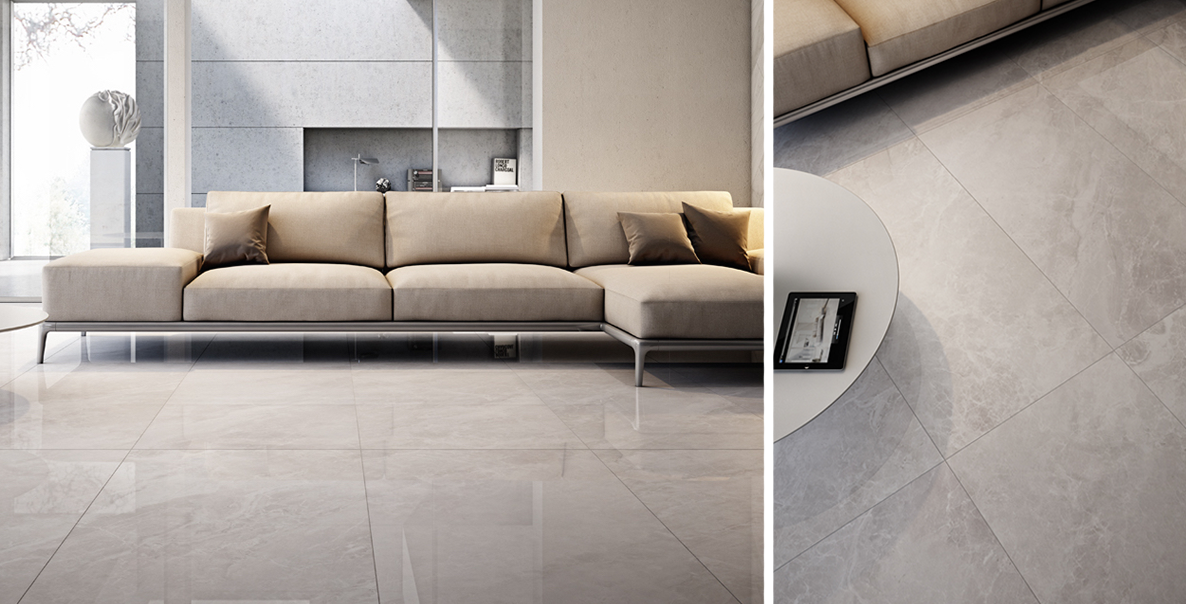 The marble-inspired tile flooring from Lafaenza I Marmi is the perfect accompaniment to the sleek low-slung Italian sofa in this contemporary yet seductive living room. The glamour and classicism of marble and onyx is celebrated in the I Marmi tiles, with their distinctive veining.
Find out more about the featured tiles at riceLAB. Visits to riceLAB are strictly by appointment only and limited to four people per group. We encourage guests to make their tile selections online at www.rice-fields.com before coming down to minimise their time spent at riceLAB. Make an appointment by emailing us here or by calling 6692 1199. riceLAB is at 213 Henderson Road 01.03 Singapore 159553. RICE is open from Mondays to Fridays 10am to 7pm, and Saturdays from 10am to 6pm.
Get the European tiles you love at great prices! Browse the Tile Me You Love RICE range on our website in the Materials tab, using the filter Tell Me You Love RICE.