04.05.22
Your search for stylish bathroom tiles ends here! Get inspired by these new tile designs
Tiles
Bathrooms are important spaces for relaxation at home. It is where a soak in the tub or the rinsing from a shower can wash all your stresses away at the end of a work day. Some people do their best thinking in their bathroom! It should be a space that you want and look forward to spending time in, so it pays to invest time and effort into creating a beautiful, welcoming sanctuary. We round up the latest tile designs that will help you do just that. Check out the inspiration below!
For a quiet, minimalist retreat
The use of plain-coloured square tiles for bathrooms has been a hot trend in recent years. Not just any square tile though, the latest iterations sport evolved colours and finishes, such as the ultra-matte and tatami-textured surfaces of the Regolotto collection. The 15cm by 15cm tiles come in nine beautiful pastel hues that have a quiet and minimalist appeal. Pair them with coloured grouting, to create a different look!
For refined industrial looks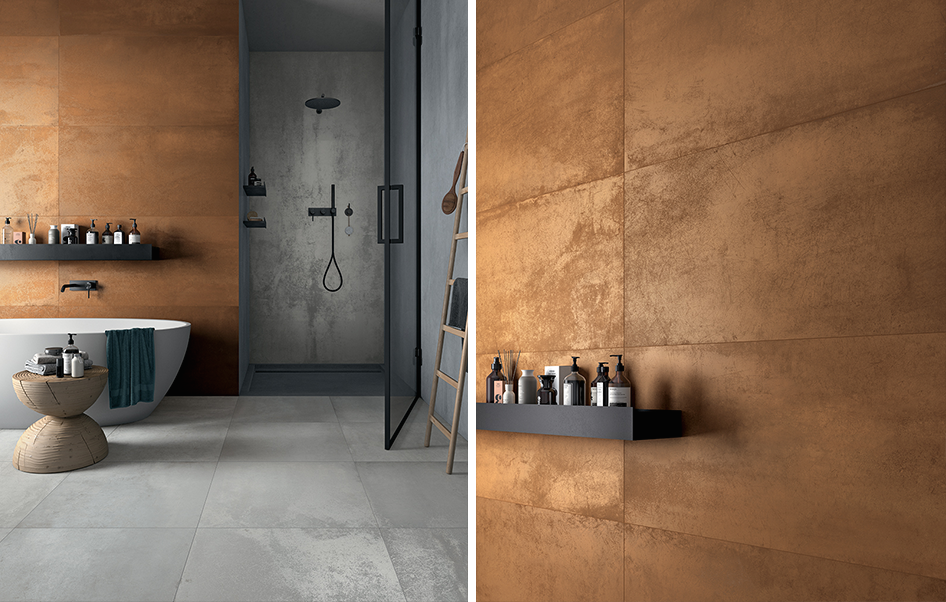 Give your favourite industrial looks a sophisticated update by using the Lemmy metal-inspired tiles in your bathroom! The tile design takes its cue from the marks, scratches and oxidisation of aged metal sheets, but presents them as controlled patterns and textures to give bathroom walls and floors an elegant demeanour. Lemmy tiles are available in a wide range of nine colours, including unusual coral (pictured above), petrol blue, and green, in addition to white and shades of grey. Choose from seven sizes ranging from narrow strips to huge panels, as well as decorative shapes and patterns.
For contemporary elegance

Natural stone can give bathrooms a look of modern elegance, with its natural colours and subtle organic textures. The Oros stone-inspired tile collection can also naturally brighten your space! Modelled after Greek quartzite, the tiles contain microcrystals that reflect light to create surfaces that are never dull. Choose from six colours, and two finishes including Splitstone which provides a texturised 3D surface.
For soothing cocoons
The landmark Sixty tile collection pays tribute to the ancestral primordial nature of earth and clay to create soothing cocoons inspired by nature. The tiles bring the unique qualities of the material to fore, with seven dusky colours and two finishes to choose from. Fondo provides a soft silk feel buffered by anti-slip SilkTech technology. Timbro, on the other hand, features a stamped relief pattern for a more decorative effect.
For breezy resort vibes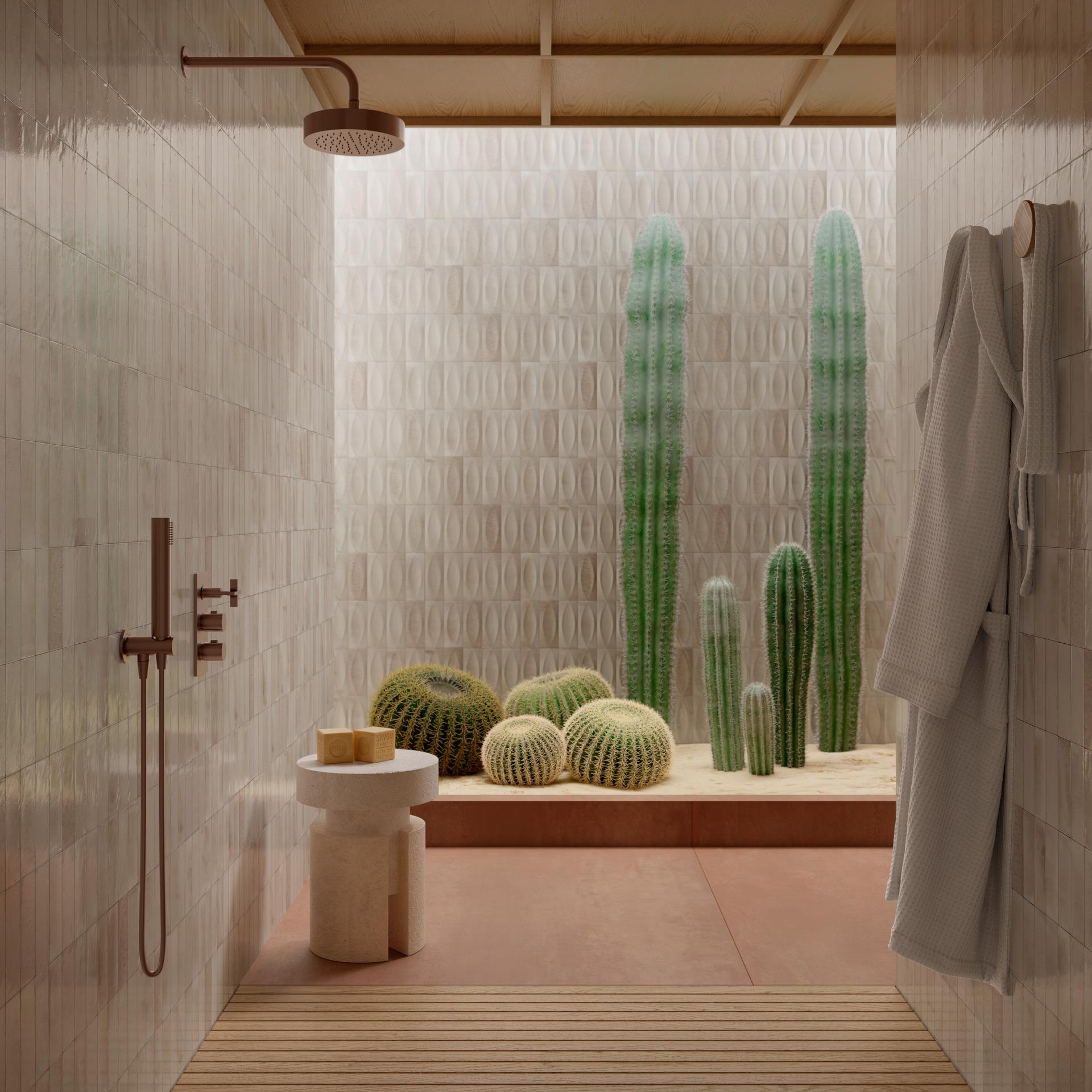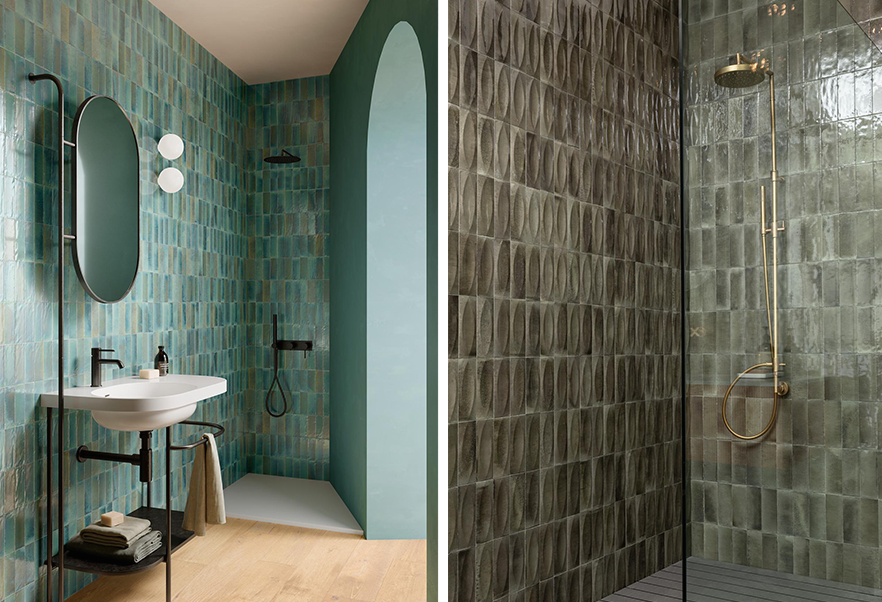 With their seashell-like iridescence, the tiles of the Gleeze collection convey a breezy resort vibe to your bath temple. Available in a variety of sizes, the tiles sport glossy coats with tonal variations that make them appear handmade and unique. Choose from a palette of cool colours such as turquoise and shades of green, subway-tile shapes and square tiles, as well as decorative elements which have concave and convex embossed patterns.
Visits to riceLAB are strictly by appointment only. To minimise their time spent at riceLAB, we encourage guests to make their tile selections online at www.rice-fields.com before coming down. Make an appointment by emailing us here or by calling 66921199. riceLAB is at 213 Henderson Road 01.03 Singapore 159553. RICE is open from Mondays to Saturdays from 9am to 6pm.
Get the European tiles you love at great prices! Browse the Tile Me You Love RICE range on our website in the Materials tab, using the filter Tell Me You Love RICE.
Keywords
bathroom, Regolotto, Lemmy, Oros, Sixty, Gleeze, plain tiles, decorative tiles, metal-inspired, stone-inspired