11.09.19
Tiles can create many styles for bathrooms. Check out these 10 gorgeous looks!
Tiles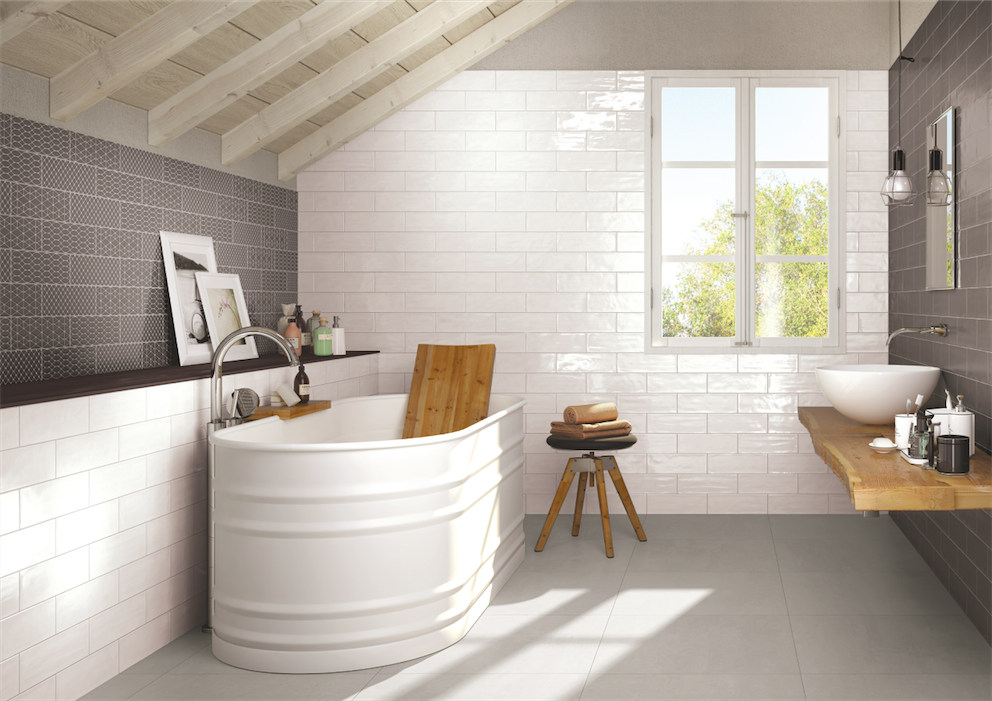 Subway tiles look fabulous in bathrooms, and this bathroom features a combination of such solid-coloured tiles sporting various finishes. The reflective glossy surfaces of some walls add a hint of shine in this sunlit space, while the matte patterned grey wall brings variety to the overall design. Stone-inspired tiled flooring in a lighter shade of grey adds to the tonal texture of the space.

Taken from Mutina
Can you put busy patterns in a small space? The answer is yes, going by how stylish this petite bathroom looks! It sports a graphic pattern at the base of the space to ground it, and lets its solid-coloured walls flow all the way to the top, visually lengthening the space upwards.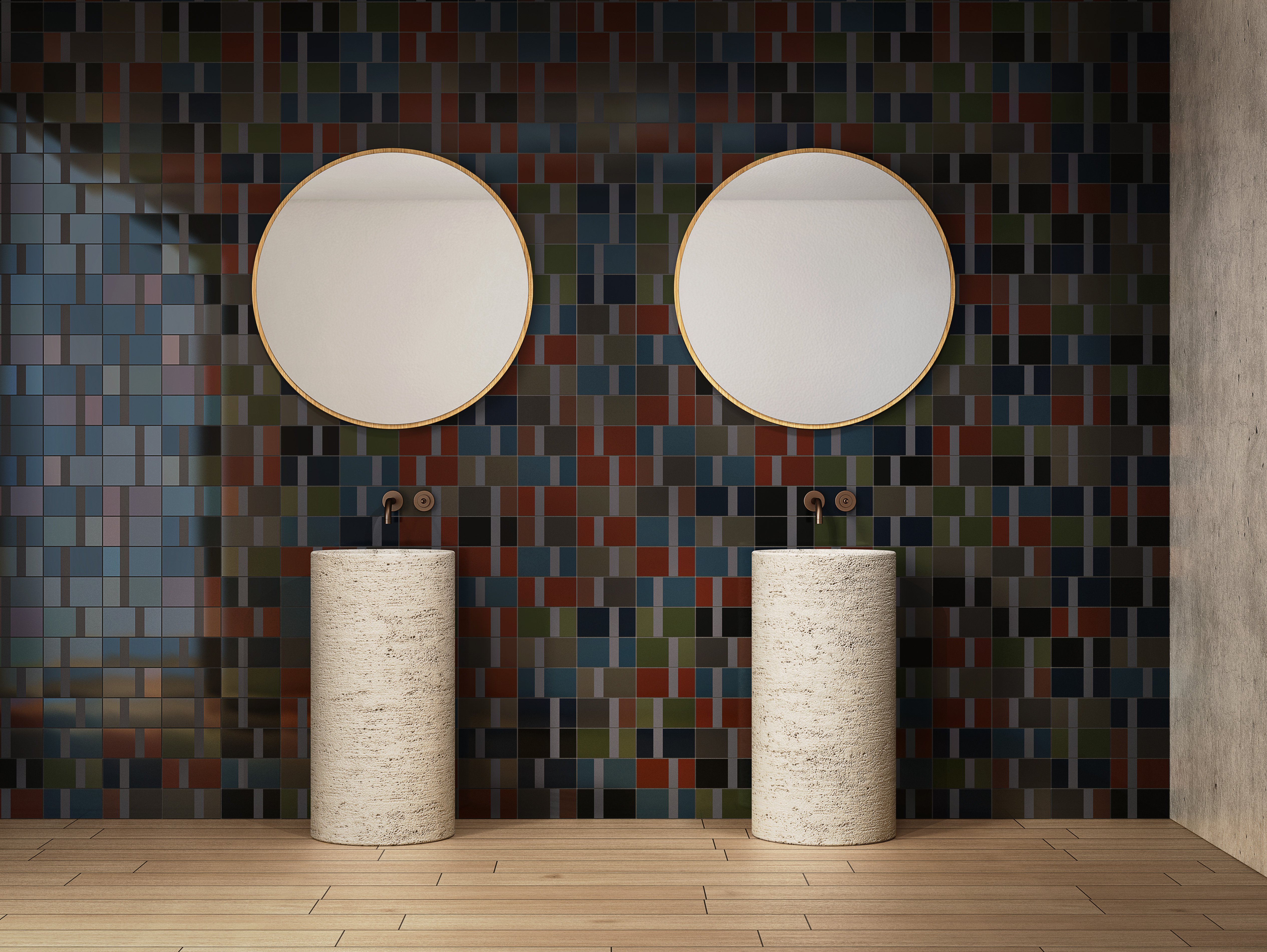 Create a feature wall in your bathroom, much like what you would do for your living space! The busy pattern of the wall tiles is tempered by the dark undertone of its colour. The tiles also build a perfect canvas for a stronger contrast between the lighter-coloured freestanding washbasins and mirrors.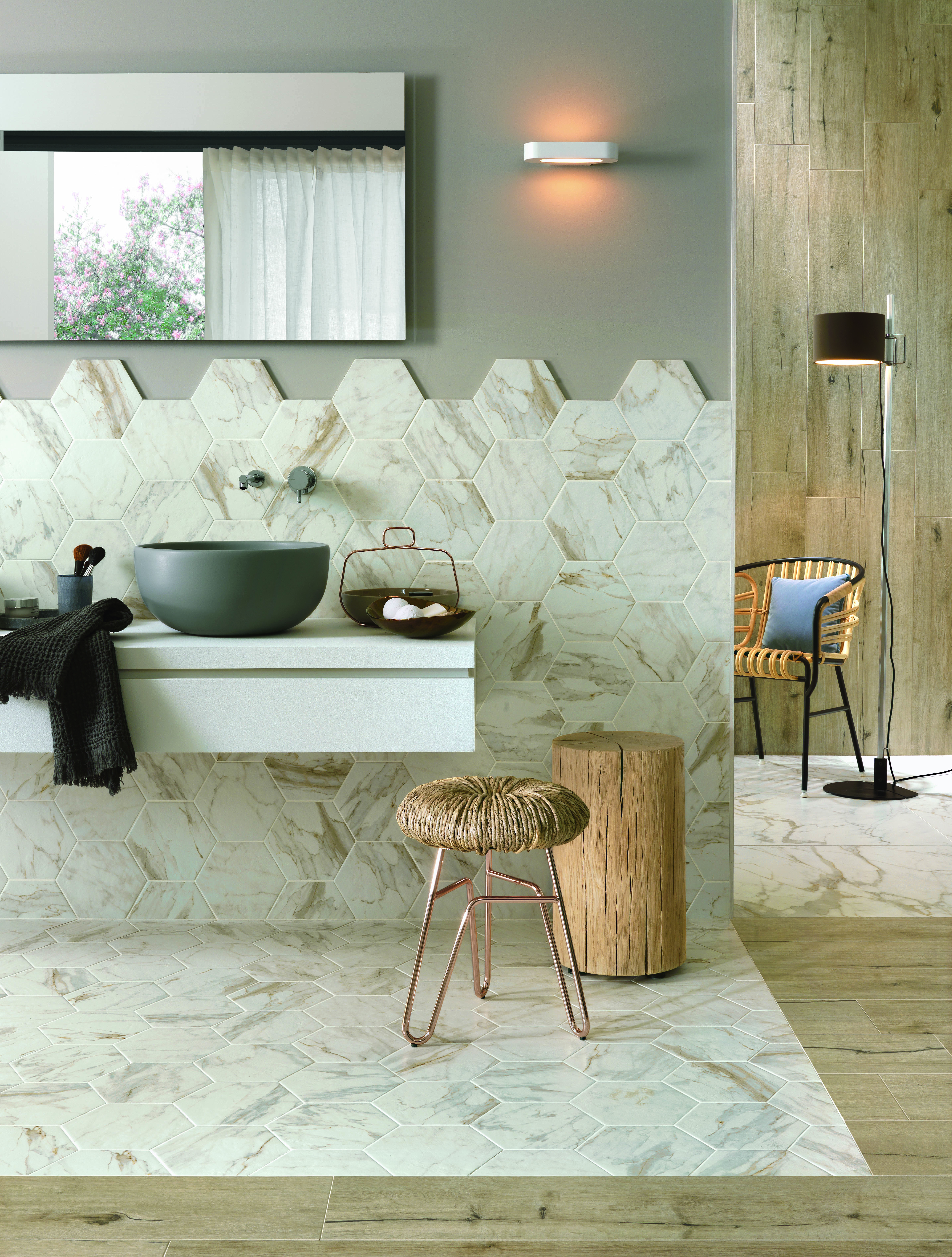 Hexagon-shaped tiles have really come into bathrooms in a big way! Show off their distinctive shape by leaving the edges uncut, as seen in this beautiful bath suite. The gold-tone grains of the marble-inspired tile are echoed in the toasty hues of the timber-inspired tile surfaces, bringing a hint of modern luxury to the space. Using tiles in place of natural materials saves time both in installation as well as maintenance!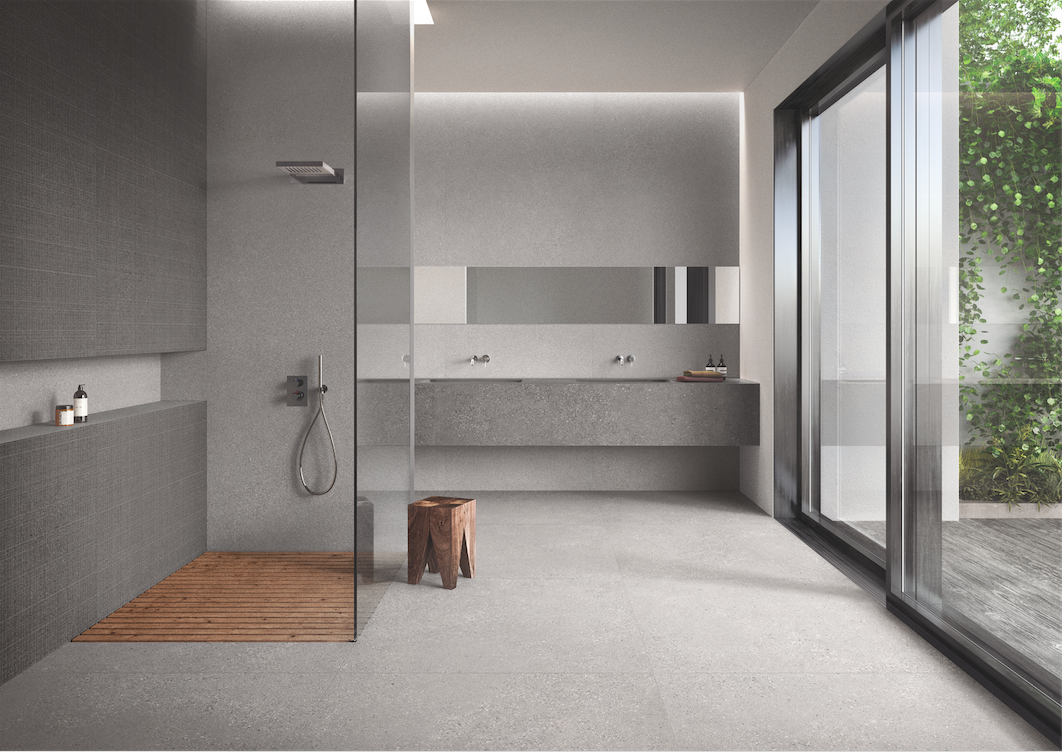 The coolness and stillness of stone has the ability to calm and soothe, great material qualities for a bathroom! The minimalist bathroom featured above uses stone-inspired tiles in three tones of grey to bring a sense of serenity to the space.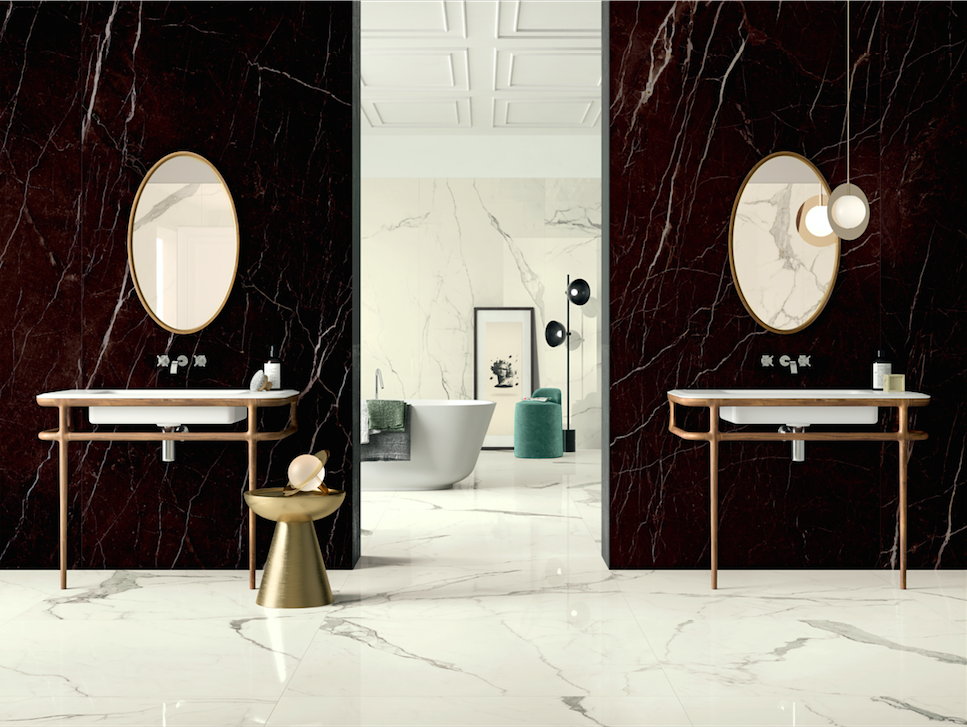 Marble has long been used for bathrooms to inject a premium upscale look. But did you know the natural porous material is actually not suitable for places with high moisture levels, and pose a safety hazard when wet too? Enter marble-inspired tiles, which gives you the luxurious look of marble without the attendant safety and maintenance issues. The bath temple pictured uses symmetry to evoke a feeling of grandeur and tradition, as with the classic black and white colour pairing.

Don't reserve the beauty of timber flooring just for your common areas at home! Now your bathroom can benefit from the warmth timber imparts to a space, with water-resistant timber-inspired tiles replacing the natural material. Create a Scandinavian-style bathroom with timber-inspired tiles in a light but toasty hue, paired with pastel-coloured cabinets, like in the bathroom above. The long and narrow wall hung vanity also helps make the space look bigger.

When done right, dark, almost black bathrooms can look amazingly inviting. The trick is to add texture to the inky surfaces, such as in the timber-inspired tile flooring of this bathroom. The charcoal-coloured tile walls also carry a hint of texture. Bath fixtures and a bathtub with clean graceful profiles enhance the elegance of the room.

Sometimes all you need is one amazing tile design to make a bathroom sing. The bathroom above is completely clad with the same slim tile in a soothing blue-grey tone. On closer inspection, the tiles feature flecks of colour that help prevent the surface from appearing too flat, and that is also helped by the sunlight from above. While this treatment might not work for all colours, it does with this dusky non-confrontational hue that projects a smart contemporary appeal.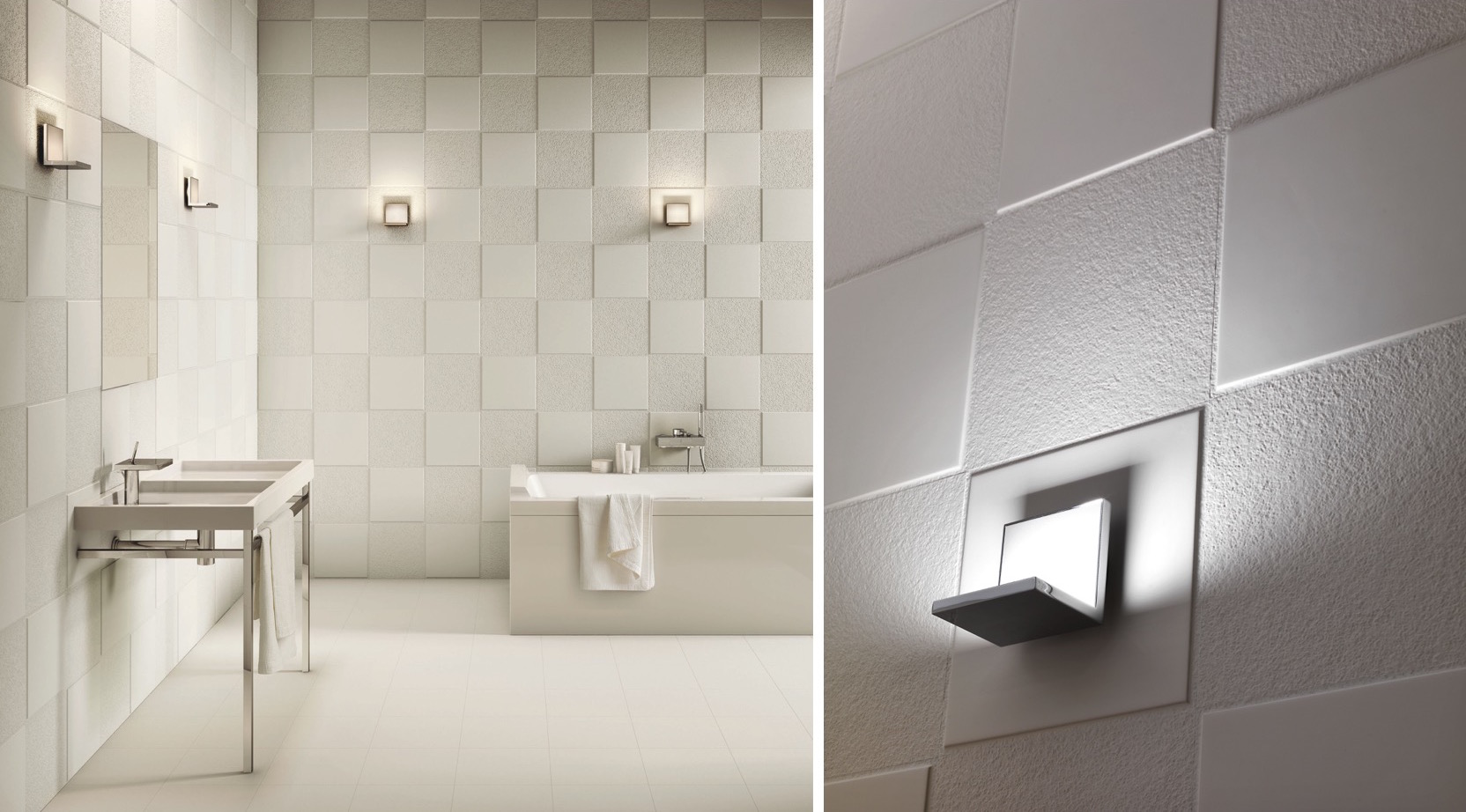 An all-white bathroom doesn't have to look boring. Besides adding visual interest to your walls through patterned or embossed tiles (pictured above), consider what you can do with lighting as well. In this bathroom, the wall-mounted lamps don't just provide functional illumination in the space, they are design features echoing the square shapes of the tiles; as are the glow of light they emit. This tile collection also comes with various structures to create an infinite amount of looks.
See all the featured tiles, and gather more inspiration for your bathroom at riceLAB. Make an appointment by emailing us here or by calling 6692 1199. riceLAB is at 213 Henderson Road 01.03 Singapore 159553. RICE is open from Mondays to Fridays 10am to 7pm, and Saturdays from 10am to 6pm.