15.04.20
Cooking more during this stay at home period? Here's some kitchen inspiration you will love
Tiles
This stunning minimalist kitchen features two variants of Cotto d'Este's Vanity Bianco Luce tiles – the matte Touch surface on the floor, and the Glossy surface on the wall. Dark Brown tiles clad the gorgeous island in the centre.
The kitchen, where delicious meals are churned out and often shared, is often the place where everyone gathers at when at home. As a place where food is prepared, keeping the kitchen clean is important to keep the whole family healthy! So make sure it is always spick and span to ensure there are no leftover crumbs pests such as lizards and ants can feed on, and nothing for mould to grow on. We recommend using tiles for kitchen surfaces, as these durable materials are non-porous and very easy to clean. Now, tiles can even enhance the hygiene of your kitchen all day long, with anti-bacterial agents such as Silver ions integrated within the tiles itself! Read on to discover the tiles you can use for easy maintenance and great style.
With Cotto d'Este's Vanity collection of large format marble-inspired tiles, a kitchen can be gorgeously luxurious and still bear the effects of frequent use, as seen in this kitchen. The contrast of both Glossy and Touch [matte] surfaces, in highly contrasting colours of white and dark brown, to create a look of ultimate luxury. At only 6.5mm-thick, these Kerlite porcelain stoneware slabs, also known as slim tiles, go up to a size of 120cm by 260cm. This gives them greater realism in depicting the beautiful natural veining of large marble slabs.
This tile collection is also part of the Protect range by Panaria [Cotto d'Este's parent company]. The Microban technology used for the tiles is fired permanently into the material at extremely high temperatures to eliminate 99.9% of bacteria on the surface 24 hours a day; and which never wears off.
This kitchen does modern rustic right with the pairing of textured wood cabinet fronts and Panaria Horizon tiles for its backsplash. A marble worktop gives the space a touch of refinement. The porcelain stone-inspired tiles of Panaria's Horizon collection was inspired by how light changes throughout the day, and consists of five light-to-dark hues in a variety of sizes and shapes. Besides being easy to clean, this backsplash is also repelling bacterial growth 24/7, being part of the Panaria Protect range integrated with anti-microbial Microban technology.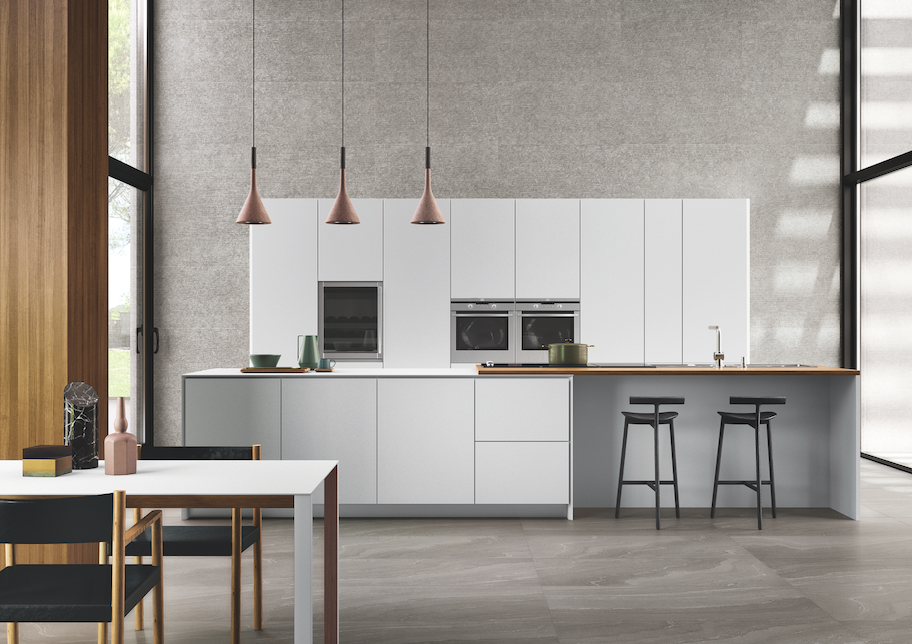 Without the use of tiles, it would be near impossible to enjoy the reassuring natural beauty of stone looks in indoor spaces such as kitchens. Ergon Stonetalk stone-look tiles, in various patterns inspired by the ways stone can be treated, are used on the walls and floor of this high-ceilinged space to provide layers of pattern and texture. The result is a minimalist space that also expresses a timeless contemporary style.

For cooks who love colour, the Mutina Diarama tile collection is great for creating a kitchen brimming with cheerful vibes. Concocted by colour maestro Hella Jongerius, the tiles of Diarama are the results of the unexpected combination of different-coloured glazes and coloured clay bases.

Stone-inspired tile flooring makes a great neutral canvas for most decor themes, especially in open-concept spaces such as this compact home. Using the same Edilcuoghi Collectiva tile flooring for the living area and the kitchen makes the chic space look visually larger by not emphasising the differnet zones.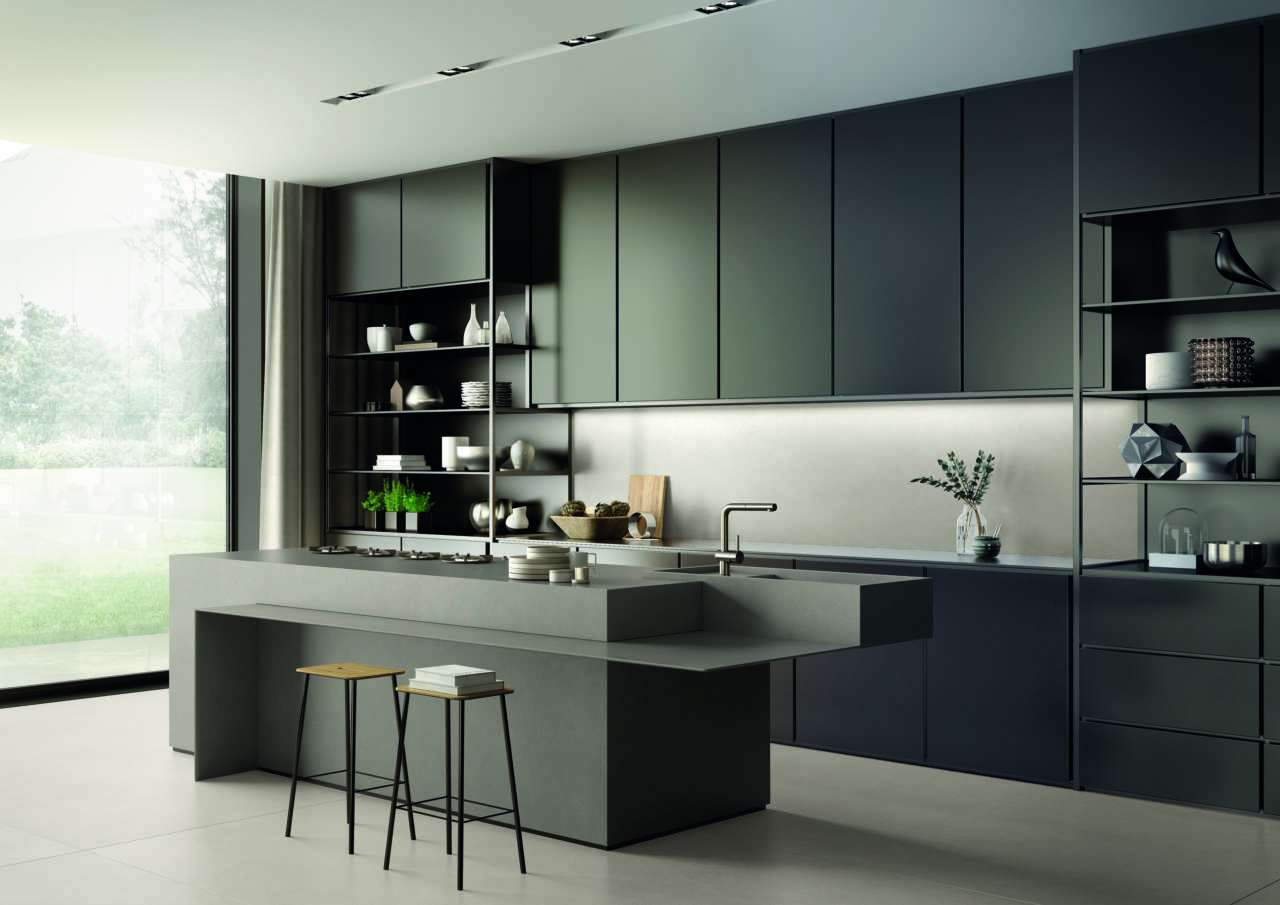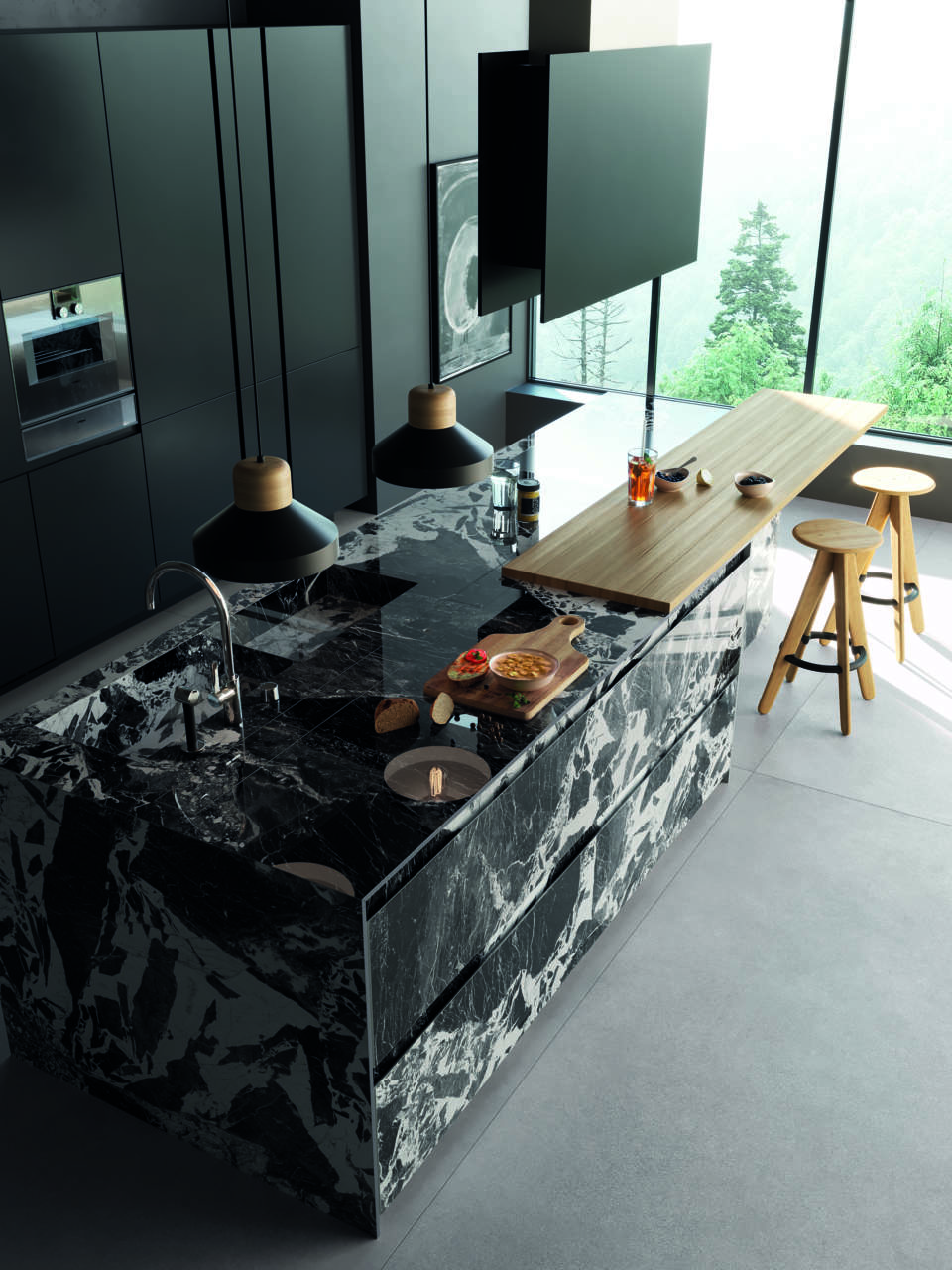 These are impressive-looking kitchens, but did you notice that part of their appeal lies in their luxuriously seamless surfaces? Surprisingly, they're not created with natural materials such as large slabs of marble [which would be prohibitively expensive] or concrete poured on site, but tiles! Available in sizes of up to 162cm by 324cm, the large format slim tiles used in the pictured kitchens from Emilgroup's Level collection come in thicknesses of 6.5mm and 12mm, making them easy to lay over existing flooring. Choose from solid white, as well as designs inspired by marble, stone, and concrete. Fewer grout lines on surfaces also means fewer places for bacteria to settle and thrive, and makes surfaces easier to clean as well.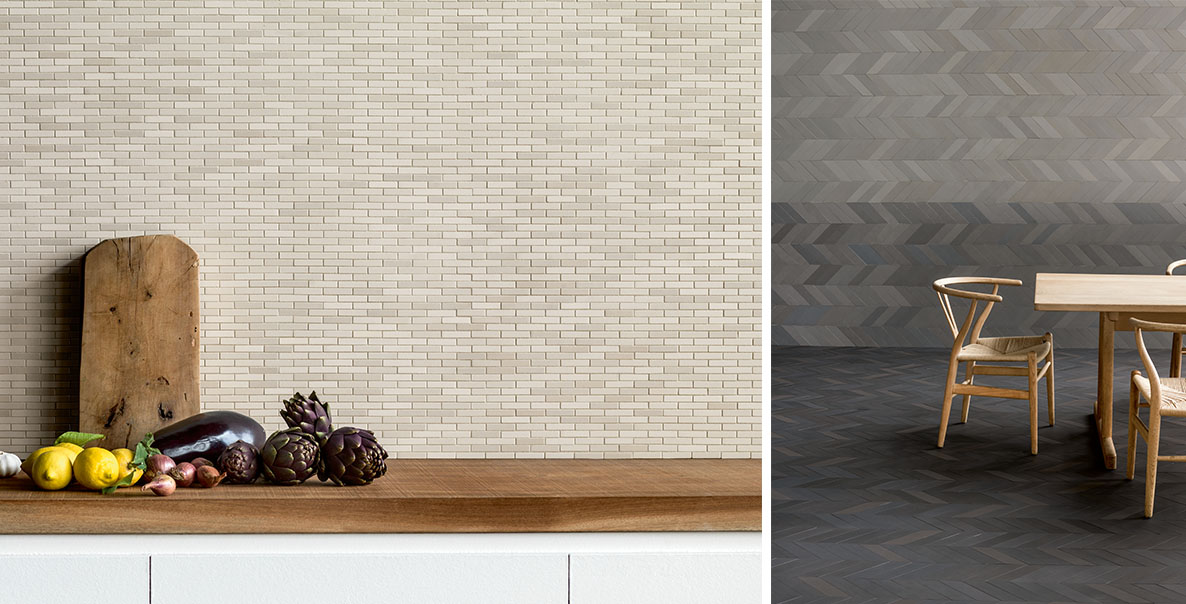 We love the modern farmhouse look of this kitchen which features organic clay tones but in the format of a smart contemporary mosaic of small rectangular pieces. The picture on the left uses the chevron-shaped tile for the walls and floor. The Mutina Mews collection by Barber & Osgerby was inspired by the natural and built landscape of London, an expresses a subtle vintage appeal. The six base colours with names such as Chalk, Fog, Pigeon, Lead, Ink and Soot provide clues to the inspiration of the colour palette.

If you wonder why the materials used for the flooring, backsplash and counter go together so perfectly in this fabulous-looking kitchen, well that's because they're all from the same Ergon Tr3nd tile collection. Comprising concrete-, wood-, and Majolica-inspired tiles with similar hues, Tr3nd takes the guesswork out of choosing tiles for the various surfaces of your kitchen, wondering if they'll go together. Pairing textures such as matte and gloss, plus patterns such as woodgrain, concrete and Majolica will also ensure a lively appeal.
Find out more about the tiles featured above at riceLAB by emailing us here, or call 6692 1199. RICE is temporarily closed due to the circuit breaker. Our team is still operational and contactable by phone and email during our temporary business hours of Monday to Friday, 9am to 6pm. Please continue to visit our website to make your material selections.
Get the European tiles you love at great prices! Browse the Tile Me You Love RICE range on our website in the Materials tab, using the filter Tile Me You Love RICE.