20.11.19
We answer the 5 burning questions you've always had on tiles!
Tiles
The concrete-inspired Panaria Glance collection creates a hardwearing and water-resistant floor for this industrial-style kitchen.
There are many questions that arise when we are thinking of which materials to use to create our dream home. Being water-resistant and durable, tiles are ubiquitous in every home, but before using tiles, it's natural to want to know more about them – such as how to use them, where to use them and how much they cost. We did an informal poll and asked homeowners what they would like most to know about tiles, and this list of questions came up again and again. Here are your top 5 questions on tiles – answered by us!
1. How do tiles compare in cost and function to materials such as timber laminate and concrete screed flooring?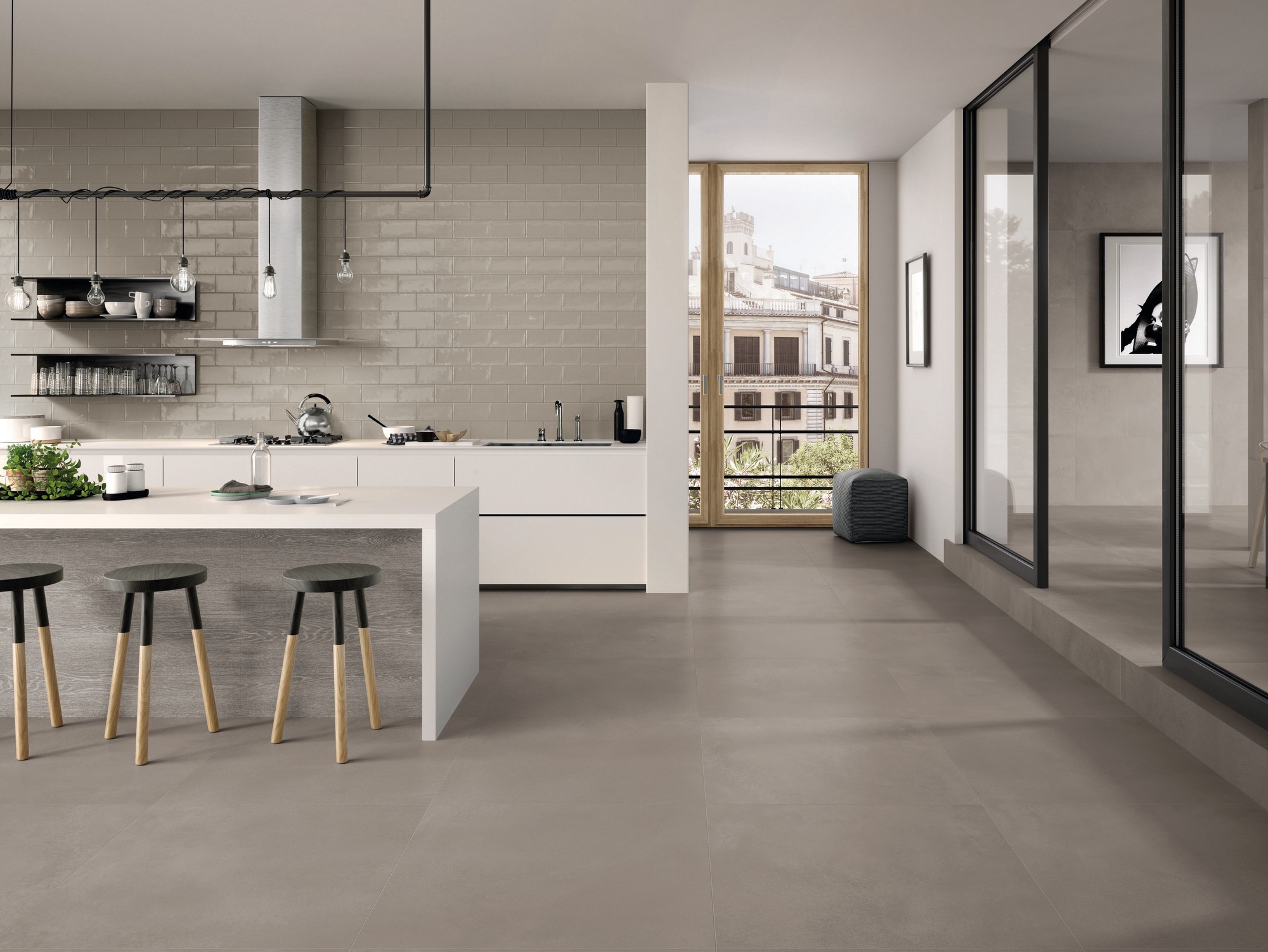 Substitute raw concrete flooring with concrete-inspired tiles such as these ones from Ergon TR3ND for a more even finish and greater durability
The most popular flooring choices for local homeowners seem to be tiles, timber laminate and concrete screed. These materials create perennially popular looks such as Scandinavian and industrial themes, and are more economical compared to natural materials such as timber, marble or stone; but they vary in terms of durability and cost. Don't take materials at face value. The most affordable option now might not be so in the long run if it needs replacing sooner. Let's do a comparison of these materials.
Doing a tiled floor, especially with porcelain tiles, might be more expensive compared to using timber laminate and concrete screed. But other factors such as quality and life span of the materials need to be considered as well. Concrete screed is used to prepare and level the floor for the laying of tiles, so you save the most money by not using any further surfacing material. However the resulting look is not predictable as it depends on the skill of the workman. As concrete flooring is porous, it has to be sealed with epoxy resin to resist water and stains and this coating will have to be reapplied over time. Even then, the flooring is susceptible to cracks due to temperature changes, and also chips and marks caused by impact from heavy or sharp objects.
Timber laminate flooring is not made of real timber but consists of a thin decorative top layer that looks like timber fused onto a core material. This flooring has a certain resistance to scratches, but don't stand up too well to long term wear and tear, especially in high traffic areas.
The look of bleached oak is the inspiration behind the Ragno Woodgrace collection of timber-inspired tiles.
Tiles used as flooring is the cheapest water-resistant flooring option around. Like timber laminate flooring, they can be laid over an existing floor and any damaged portion can be easily replaced. But tiles are definitely more durable than concrete screed and compared to timber laminate flooring, they stand up better in terms of wear and tear over time. You can also easily use timber-inspired- and concrete-inspired tiles to replicate the look of timber and concrete floors respectively, so why not have both style and durability with tiles?
2. Why are some tiles more expensive than others?
With their high density and extremely low water absorption rate, porcelain stoneware tiles such as the marble-look Ragno Bistrot tiles are more stain-resistant and easier to clean than ceramic tiles.
There are two broad categories of tiles, homogenous porcelain tiles and ceramic tiles, which are made under different conditions, and hence differ in quality and price. RICE largely distributes homogenous porcelain tiles, which are more expensive than ceramic tiles due to their superior qualities in liquid resistance, absorption, durability and maintenance.
Porcelain tiles, as compared to ceramic tiles, are considered to be the toughest flooring option available on the market. They are hard, dense, and highly resistant to most heavy impact which makes them perfect for commercial use. The density of porcelain makes it highly resistant to liquid penetration as compared to ceramic tiles, meaning liquid stains don't have a chance to penetrate the tile. This attribute makes the maintenance of porcelain tiles much easier as well.
In order to qualify as 'porcelain' by international standards, porcelain tiles must have a water absorption rate of less than one tenth of 1%. The low water absorption rate of porcelain tiles means you can use them for interiors as well as exteriors in all climates. On the other hand, the water absorption rate of ceramic tiles is usually greater than 3%, which means that they are not suitable for exterior applications, and stain or discolour more easily.
3. Why are some tiles more easily scratched than others?
Both ceramic and porcelain tiles are scratch-resistant. However, porcelain tiles are more so as they are made from a denser material and are fired at higher temperatures making them stronger and more durable.
4. Can tiles only be used for wet areas?

The seamless transition from the indoor space to the outdoor balcony of this apartment is made possible with tiles as flooring, in this case, wood-inspired ones from the Panaria Nuance collection.
Tiles are our default choice of surfacing material for wet areas such as bathrooms, kitchens and swimming pools, thanks to the material's water-resistant qualities. But you don't have to confine them to these moisture-laden spaces only. Now, with an immense range of decorative and patterned tiles to choose from, tiles can really be applied anywhere you want them. Get some great ideas for using tiles here!
More homeowners are opting to use tiles as flooring for adjacent indoor living areas and outdoor patios or balconies, or for adjacent bedrooms and bathrooms, to present a look of seamlessness underfoot from one space into the next. This can be seen in the pictures above, which shows the same timber-inspired tile from the Panaria Nuance collection used in the living and balcony areas of this beautiful home.
5. Can we paint over tiles?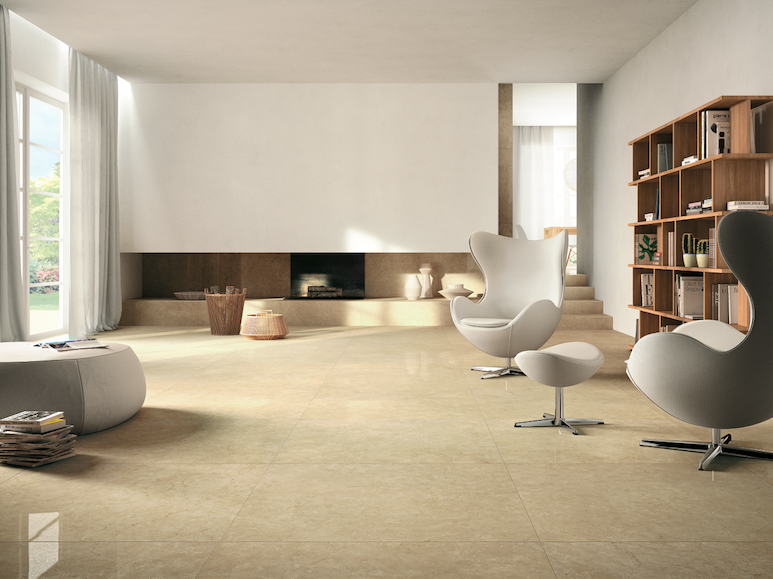 With profiles as thin as 3.5mm, Cotto d'Este's Kerlite slim tiles are reinforced with fibreglass for greater durability at sizes as large as 100cm by 300cm.
The short answer is yes, but painting over tiles is a stop-gap solution that might not look good over time as most paints are not formulated for tiles. A great alternative to painting over old tiles to give a room a fresh look is to overlay the existing surface with slim tiles. Slim tiles come in large sizes, and being only a few mm-thick, they don't add bulk to the surface. You'll also save money as you don't have to hack away the old tiles. Unlike paint, which might peel or flake off over time due to moisture and humidity, your new slim tile surfaces will last a much longer time.
See the featured porcelain stoneware tiles above at riceLAB. Make an appointment to visit riceLAB by emailing us here or by calling 6692 1199. riceLAB is at 213 Henderson Road 01.03 Singapore 159553. RICE is open from Mondays to Fridays 10am to 7pm, and Saturdays from 10am to 6pm.