06.11.19
Try out these 6 new and unexpected ways to use tiles in your home!
Tiles
1. Create a headboard
Bed headboards don't always have to be soft upholstered surfaces. Opt for this easy and stylish way to visually anchor the bed – by using tiles! The tiles of the headboard in this bedroom create a look of modern rusticity together with the timber-inspired tiled flooring. Both tiles come from the St Regis collection by Del Conca, inspired by the texture and grain of the chestnut tree. The BoraBora tile chosen for the headboard sports a visually distinctive character, thanks to the digital print that layers an enlarged pattern of tropical leaves over the woodgrain.
2. Assemble an artistic statement
Consider tiles as a worthy replacement for art pieces, wallcoverings, and even paint, in dressing up those boring white walls. Tiles can easily cover large surface areas, and add texture to flat surfaces as well. The Mutina Puzzle tiles in the office pantry pictured above has a border of blue mosaics for contrast and are spotlighted like a hanging artpiece. Puzzle, designed by Edward Barber and Jay Osgerby, has eight colour families, each comprising six graphic patterns in three colours. The 25cm by 25cm tiles can be laid out in infinite ways to produce delightfully distinctive outcomes every time.
3. Clad cabinet doors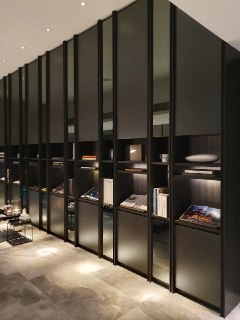 The introduction of slim tiles have created opportunities to use tiles in many more ways around the home. At just 3.5mm to 5mm-thick, it is now possible to even lay them on cabinet doors without adding much weight or thickness to the structure. The flat panels as seen in the picture, taken at hoteLAB on the fourth floor of riceLAB, are actually cabinet doors clad with metal-inspired slim tiles from Laminam for a contemporary take on luxury.
4. Build a washbasin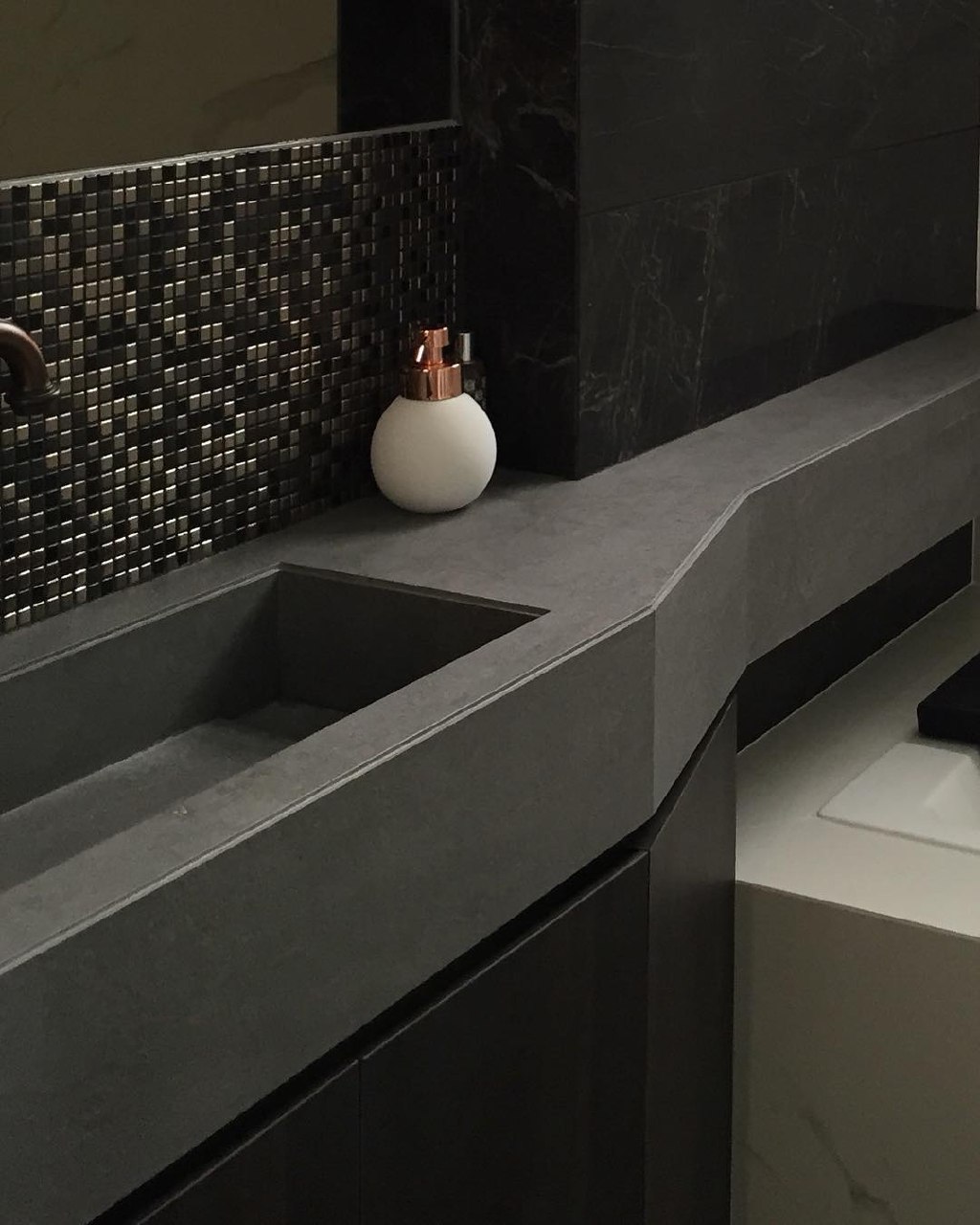 Keen on building a washbasin of your own design? Design firm Box.id Studio created a customised washbasin for this residential bathroom and clad it in Iris FMG Dark Depth concrete-inspired slim tiles from RICE for a durable finish that looks super sleek thanks to the thinness of the tiles. Slim tiles come in a huge variety of designs, inspired by natural materials such as wood, marble, and stone, so don't just use them for walls or floors, they can be used to clad washbasins and bathtubs too!
5. Make your stairs look good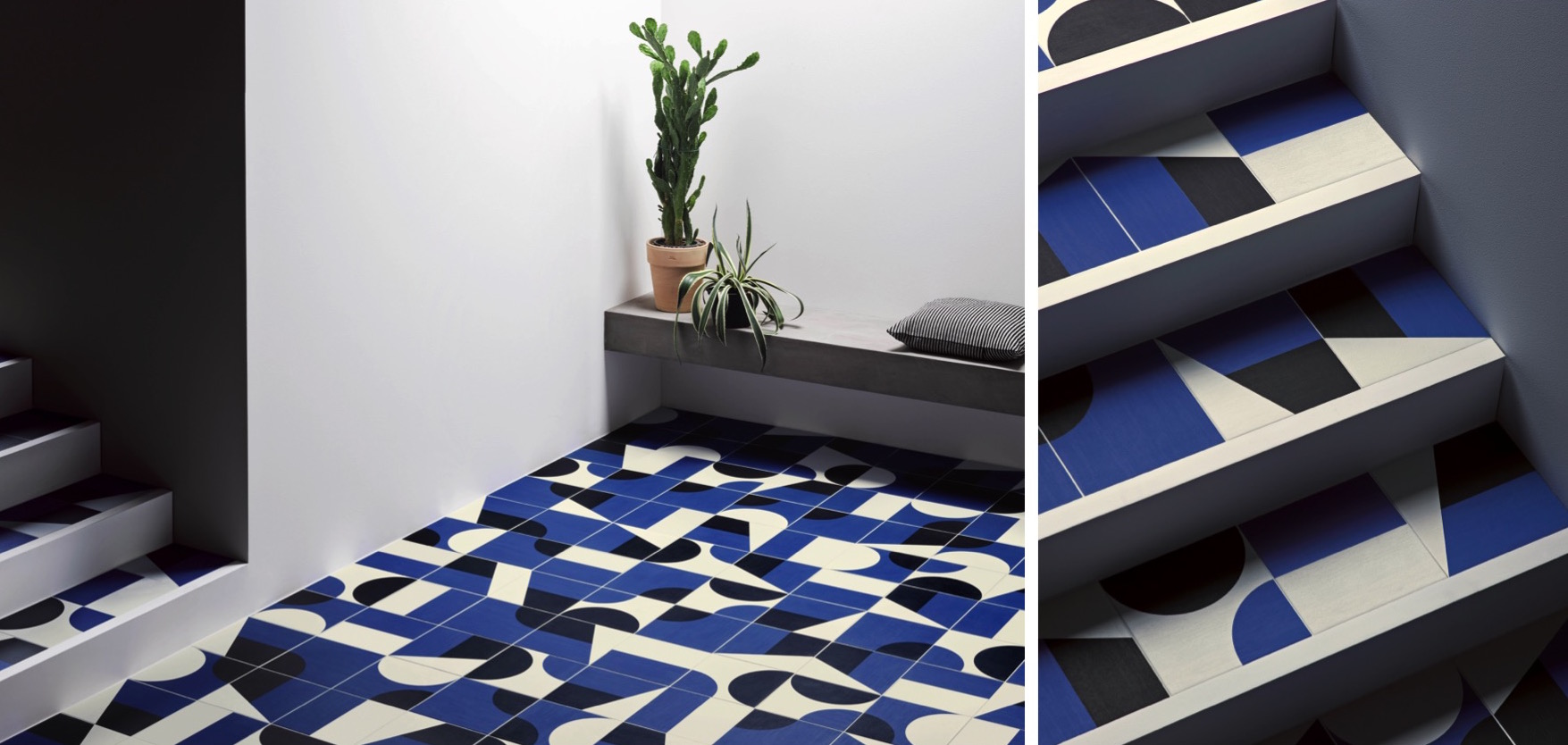 Tiles don't just lend durability to stair treads and make them easy to clean, they can make your staircase look good too! So instead of using plain tiles for your stairs, why not make use of your staircase for creative expression? The Mutina Puzzle tiles are used for the landing as well as the stair treads of this home, adding pattern and colour to this otherwise neglected part of the home. The stair treads are edged in contrasting white for safety.
6. Surface your tables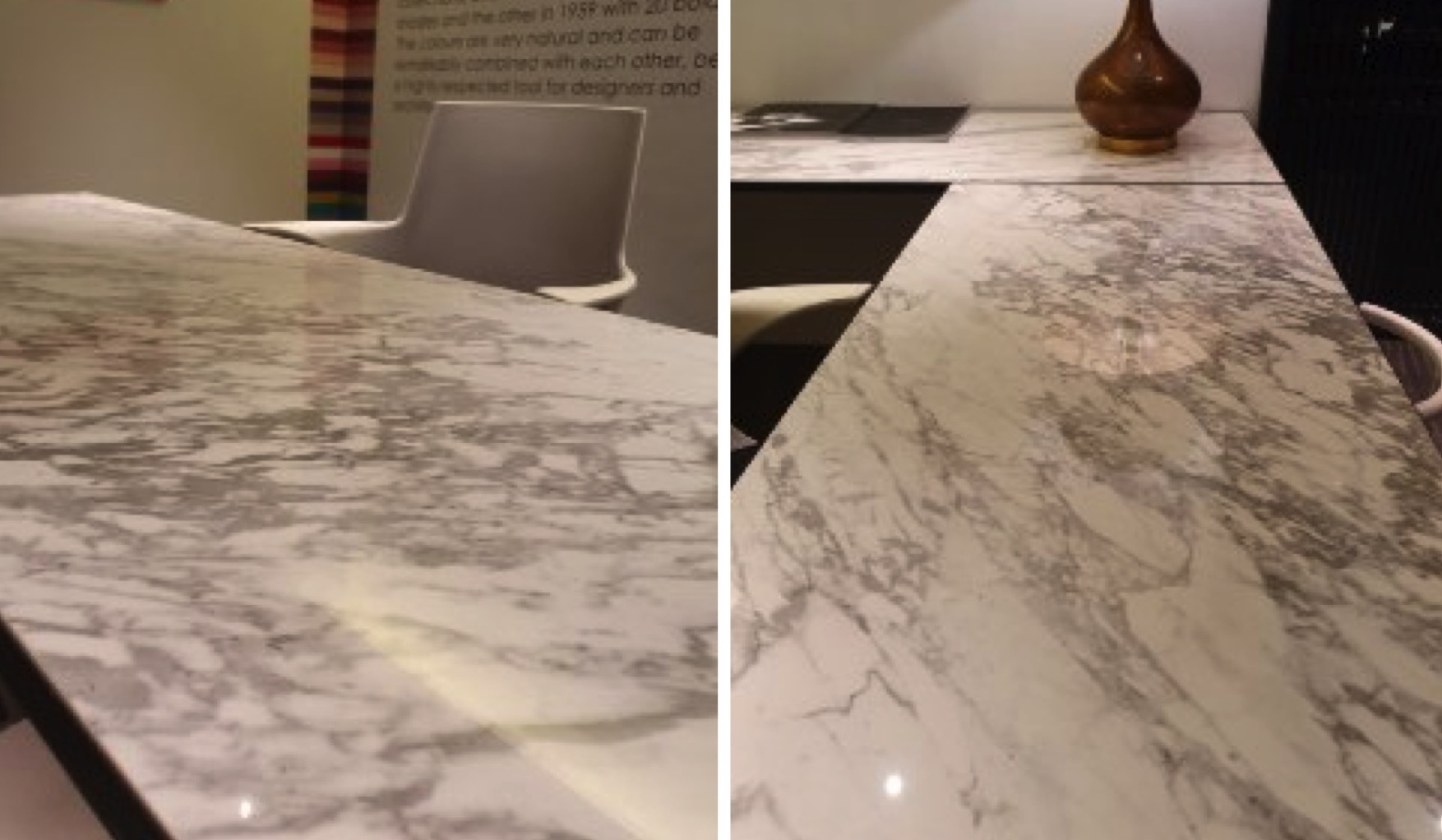 Besides using them on the floor, walls, and cabinet doors, slim tiles are also perfect for table surfaces, such as these ones at hoteLAB. The Atlas Concorde Marvel Pro Statuario slim tiles provide the look of luxurious marble, is more durable yet thinner than the natural material! With sizes as large as 3m by 1m, slim tiles can be cut into customised table sizes for a seamless finish. Adding to designs inspired by natural materials, there are now prints that resemble wallpaper patterns! Slim tiles give you the look you desire without the challenges of handling, installing and maintaining the natural material, especially for large areas.
See the featured tiles at riceLAB. Make an appointment to visit riceLAB by emailing us here or by calling 6692 1199. riceLAB is at 213 Henderson Road 01.03 Singapore 159553. RICE is open from Mondays to Fridays 10am to 7pm, and Saturdays from 10am to 6pm.