06.01.21
The Pantone Color of the Year 2021 gives us an uplifting colour combination we love for our homes!
Tiles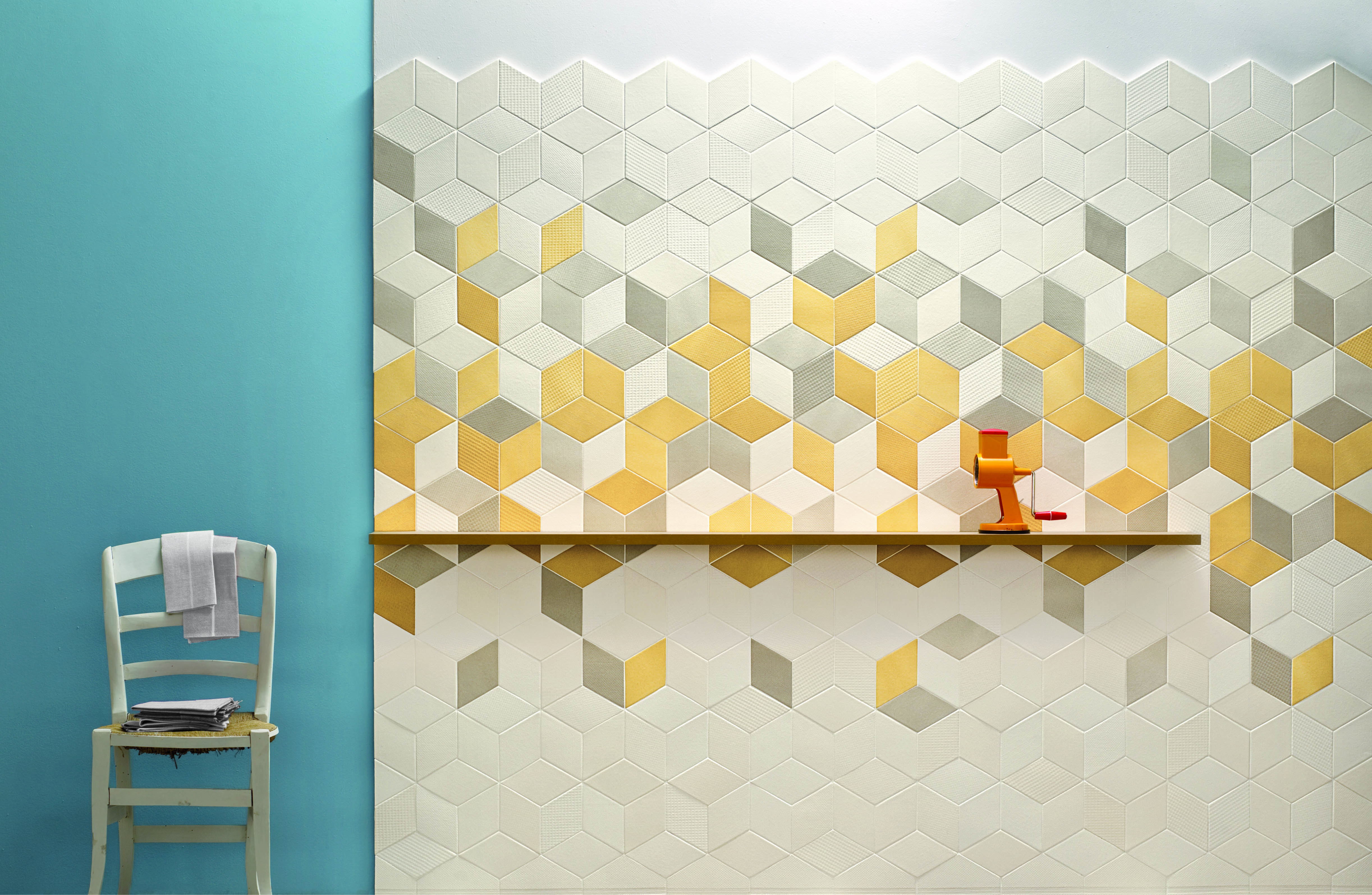 This running design of gray, yellow, and cream Mutina Tex tiles was inspired by textiles, with each tile sporting different textures to recreate the tones of yarn.
There is no light without darkness. It is contrast that highlights both light and dark, good and bad, as a metaphor in life as well as the designer's colour wheel. The Pantone Color Institute has cleverly applied this principle in choosing not one but two [contrasting] colours for their Color of the Year 2021. The US-based organisation scours the world for colour trends in many different industries to arrive at its highly-anticipated decision each year. We reckon, for 2021, one colour just can't do justice to the unusual and unpredictable times we find ourselves in. The chosen two, Pantone Ultimate Gray and Illuminating, reflects the need to be both rooted as well as optimistic this year. Quoting the colour institution, "It's a marriage of color conveying a message of strength and hopefulness that is both enduring and uplifting."
Ultimate Gray is the reassuring tone found on an ancient material, stone, with connotations of stability and assurance. Illuminating is the opposite, a sunny yellow that brings warmth and hope. We will need to draw from the qualities of both these hues in 2021. With powdery, dusty pastels in trend these few years, it is not difficult to embrace grey and yellow in our homes. Grey tiles, in the form of stone- or concrete-inspired looks are a perennial favourite for floors and walls. Their neutrality provides a perfect canvas for many looks. Yellow is usually applied more sparingly, but when it appears against grey, this unconventional colour shines and brightens up the whole space. Get inspiration to bring Ultimate Gray and Illuminating into your home with the looks that follow!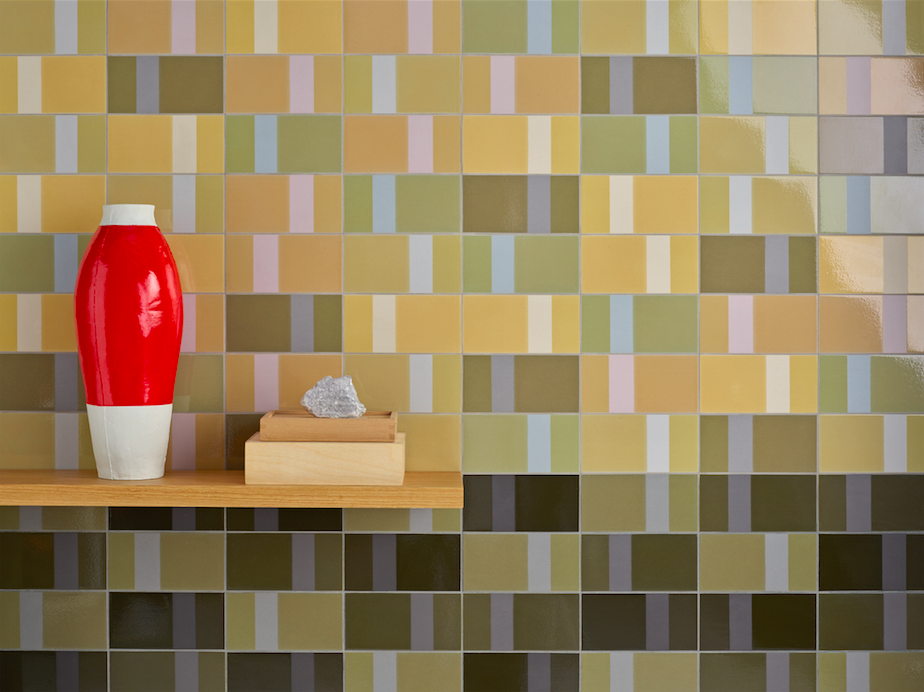 The many nuances of yellow and grey on this wall make it seem like the tiles and colours are constantly shifting. The tile patterns are a result of an experiment by designer Hella Jongerius to see how the same glaze applied on different clay bodies, or different glazes applied on the same clay bodies would appear. These tiles became the Mutina Diarama collection, where each 9.4cm by 18.7cm tile is a unique outcome.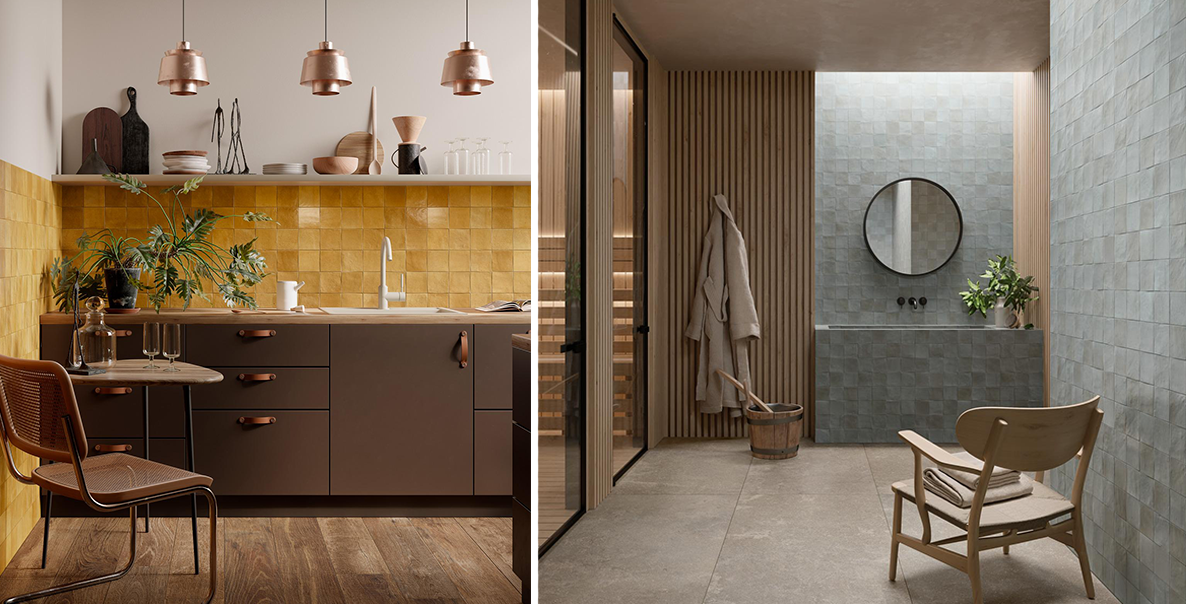 Although they might all be a standard 10cm by 10cm size, there is nothing identical about the tiles in the Ragno Melange collection. Each one is unique, thanks to its handmade look which promises lots of tactility and visual dimension. The tiles are available in eight colours, of which Kaki [pictured left] and Glicine [pictured right] are great to bring Pantone's Illuminating and Ultimate Grey into your home.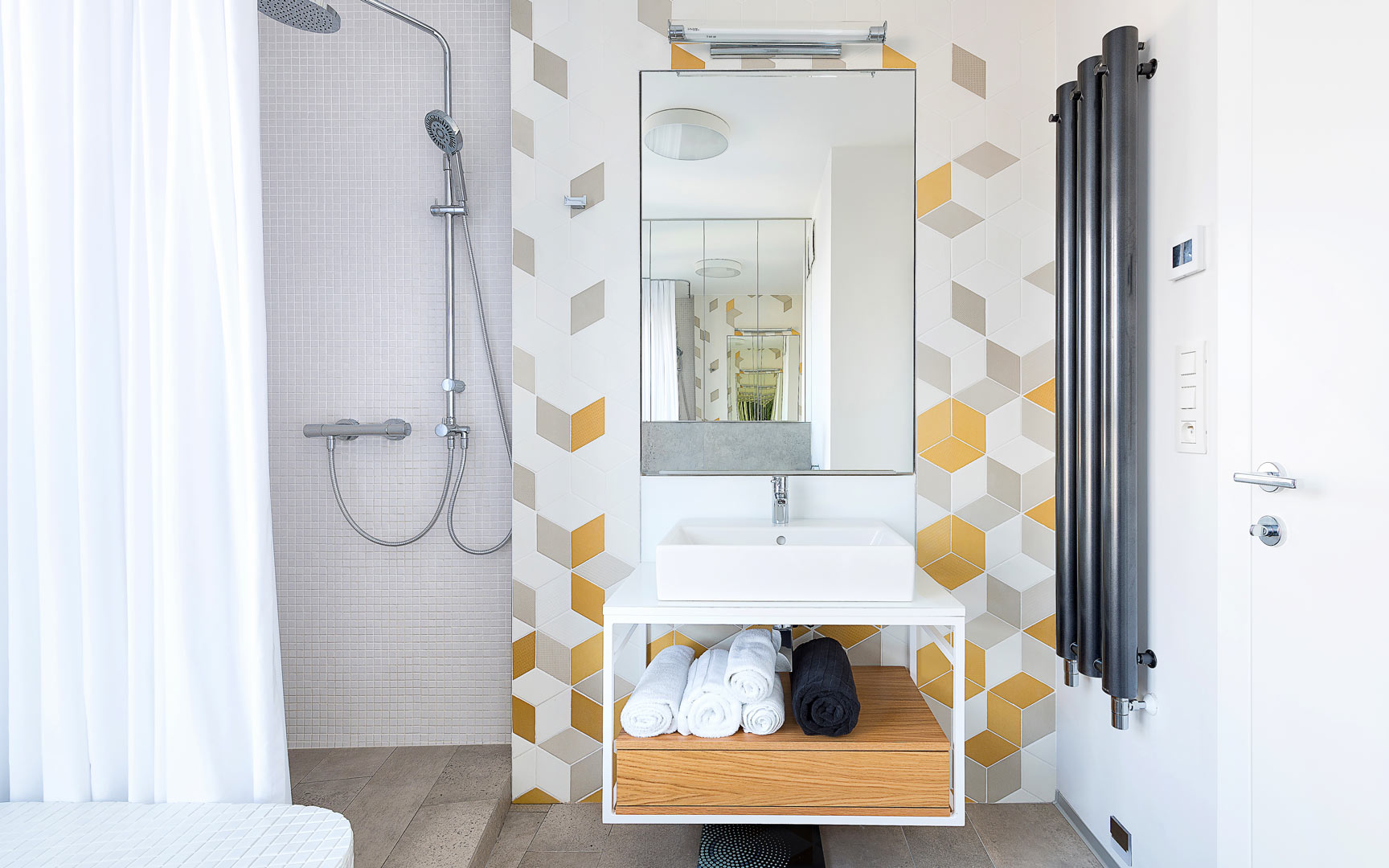 Diamonds of mustard and grey are interspersed with white tiles to create an arresting feature wall in this bathroom. Apart from their unique shape, the Mutina Tex tiles by Raw Edges also sport various textures inspired by yarn, to added dimension to the wall.

To create that stylish neutral grey base on which to inject a trendy splash of yellow, try the concrete-inspired Panaria Opificio 22/A tiles. The porcelain tiles are available in five shades of grey, which feature the soft but rugged tonal shading of an industrial concrete floor. The tiles are available in four sizes and also in a 20mm-thickness for outdoor use.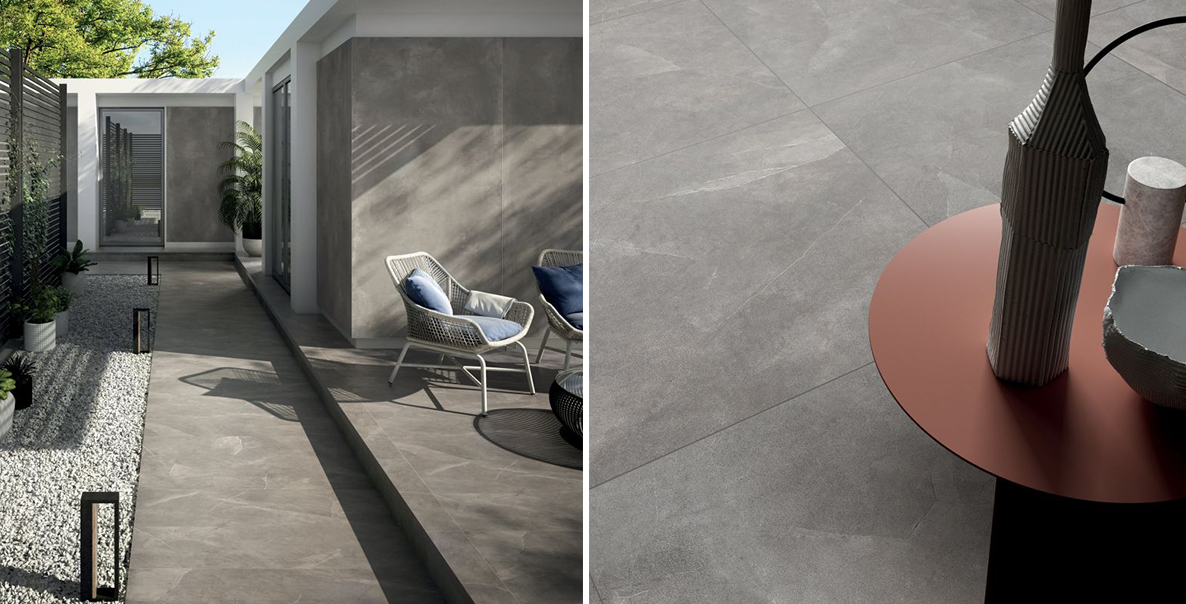 Bring the beauty of pulpis stone into your space, with the Ariana Storm stone-inspired tile collection. As the name Storm suggests, the pattern is akin to clouds in a darkened sky, with contrasting vein effects and a lightly textured surface to enhance its material look and feel. Create a sophisticated look with golden brass fixtures as your 'yellow' element, or with soft furnishings in pastel yellow.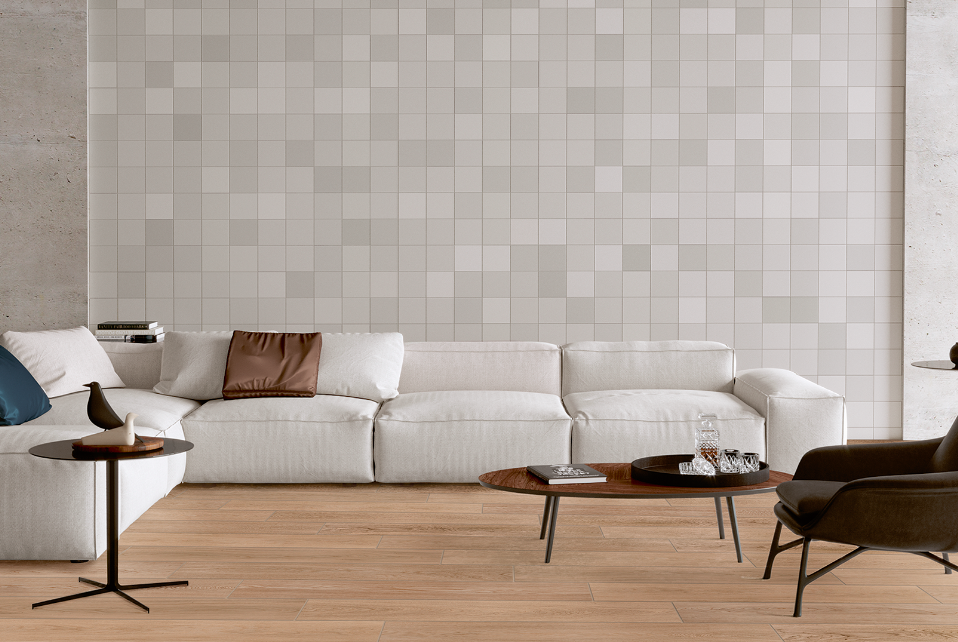 Set your grey canvas with the Nadis Croma collection, made up of 15cm by 15cm square porcelain tiles that come in wonderful tonal variations for each colour. The Gray tiles [pictured above] are a mosaic of similar hues that bring life to a flat surface. "Illuminate' your grey room with throw cushions or accessories in yellow for a measured dose of colour.
See the tiles featured above at riceLAB. Visits to riceLAB are strictly by appointment only and limited to four people per group. We encourage guests to make their tile selections online at www.rice-fields.com before coming down to minimise their time spent at riceLAB. Make an appointment by emailing us here or by calling 6692 1199. riceLAB is at 213 Henderson Road 01.03 Singapore 159553. RICE is open from Mondays to Fridays 10am to 7pm, and Saturdays from 10am to 6pm.
Get the European tiles you love at great prices! Browse the Tile Me You Love RICE range on our website in the Materials tab, using the filter Tell Me You Love RICE.