01.04.20
Tiles for outdoor spaces – here's what you need to know plus designs you'll love!
Tiles
With a 20mm-thickness, the Ragno Stoneway Ardesia outdoor tiles replicate the natural beauty of stone in four colours, two textures and many sizes for design versatility.
Singaporeans are lucky to be living in a country of perpetual summer, where al fresco lounging and dining can be a daily affair. The boundaries between indoor and outdoor spaces are now blurred, with outdoor furnishings increasingly mimicking the sleek style of indoor pieces, just made of more robust anti-UV weatherproof materials. Set the stage for a stylish patio or balcony with durable tiles that will stand up to our tough weather conditions, and be easy to maintain as well as compared to natural materials.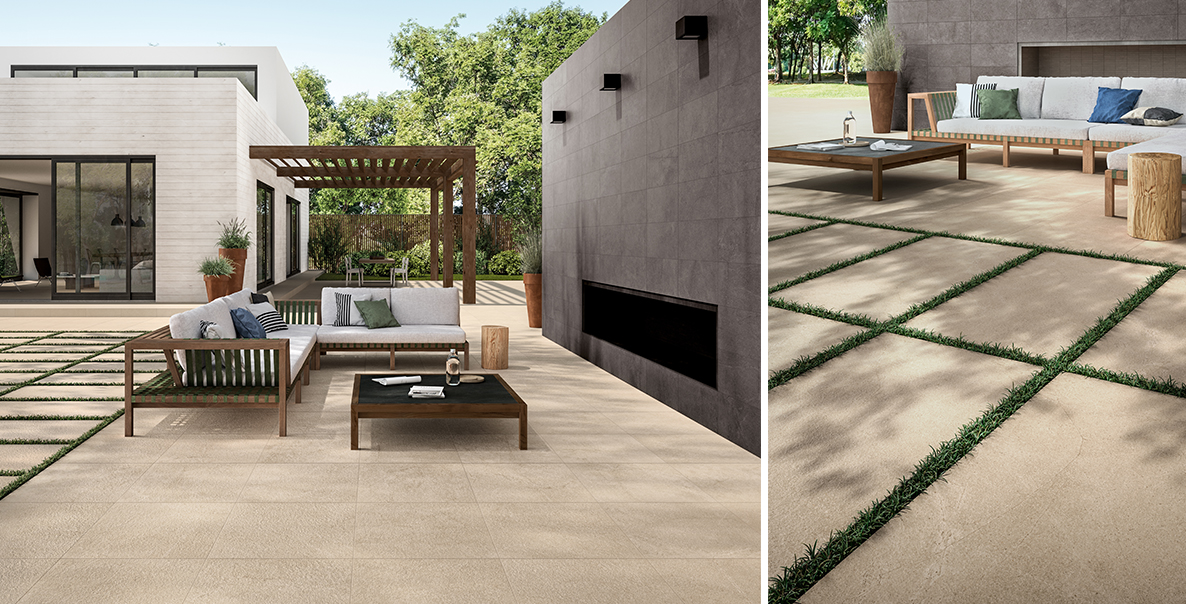 Warm-hued stone-inspired Sunrise tiles from the Panaria Horizon collection, large 20mm-thick tiles of 60cm by 120cm, are set as paving stones in this outdoor area.
Most tiles of regular 10mm thickness can be used indoors as well as outdoors, but tiles meant for outdoor use are made to different specifications which give them the ability to endure harsher weather conditions. They also have a rougher texture and higher slip resistance value of R10-R12, as compared to indoor tiles with a lower slip resistance value of R9-R10. As such, they also cost more than indoor tiles.
Timber has always been a challenging material to use outdoors, so stone has always been more ubiquitous. However with tiles, you can enjoy the beauty of 'wood' decking or paving that will never rot or discolour. This explains why timber-inspired tiles are trending now for outdoor spaces, and with the inspiration that follows, it's not hard to see why!
Long 30cm by 120cm timber-inspired Panaria Cross Wood Dust tiles create a wooden deck that brings the primordial beauty of ancient wood into a modern space.

They have also been set into the grass in the garden as paving stones. Choose from three colour tones for outdoor tiles in the Cross Wood Collection.

The stone-inspired Ergon Stonetalk Martellata tiles on the ground, and Minimal tiles on the hut, both in Grey, express the beauty of stone in various ways.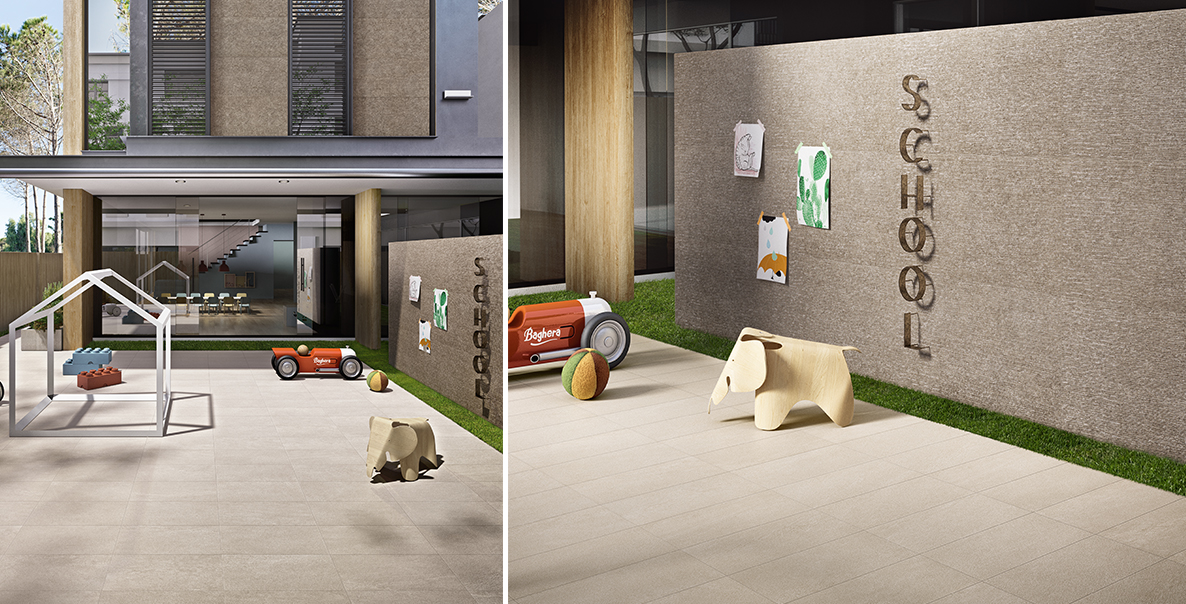 The highly-textured grooved surface of the Ergon Stonetalk Rullata tiles on the partition wall adds a decorative aspect to this outdoor space. On the ground are Stonetalk Sand tiles in the Minimal design.

Airports are high-traffic areas that benefit from using highly robust tiles such as the Panaria Buxstone outdoor tiles seen here in driveway on level one of Changi Airport Terminal Four. These tiles have a higher slip resistance of R10, as compared to the indoor tiles.

The surfacing of this driveway at SAFRA Mount Faber isn't stone, but the Ragno Stoneway Porfido tiles in a 15cm by 15cm size; a dead ringer for the natural material. Outdoor tiles such as these come with high slip resistance for added safety as well.
Porcelain tiles, also known as homogeneous tiles, are produced with feldspar, a mineral derived from granite. The material makes quality porcelain tiles strong enough even for driveways! However, it is crucial to ensure that a suitable and compatible adhesive is used for good bonding strength of tiles to the concrete base, and that the right application techniques are used. Ask your Material Planner at riceLAB to find out more on this!

Find out more about the tiles featured above at riceLAB. Make an appointment by emailing us here or by calling 6692 1199. riceLAB is at 213 Henderson Road 01.03 Singapore 159553. RICE is open from Mondays to Fridays 10am to 7pm, and Saturdays from 10am to 6pm.

Get the European tiles you love at great prices! Make an appointment to browse the Tile Me You Love RICE range at riceLAB now.