18.03.20
3 stone-inspired tile collections perfect for any part of your home
Tiles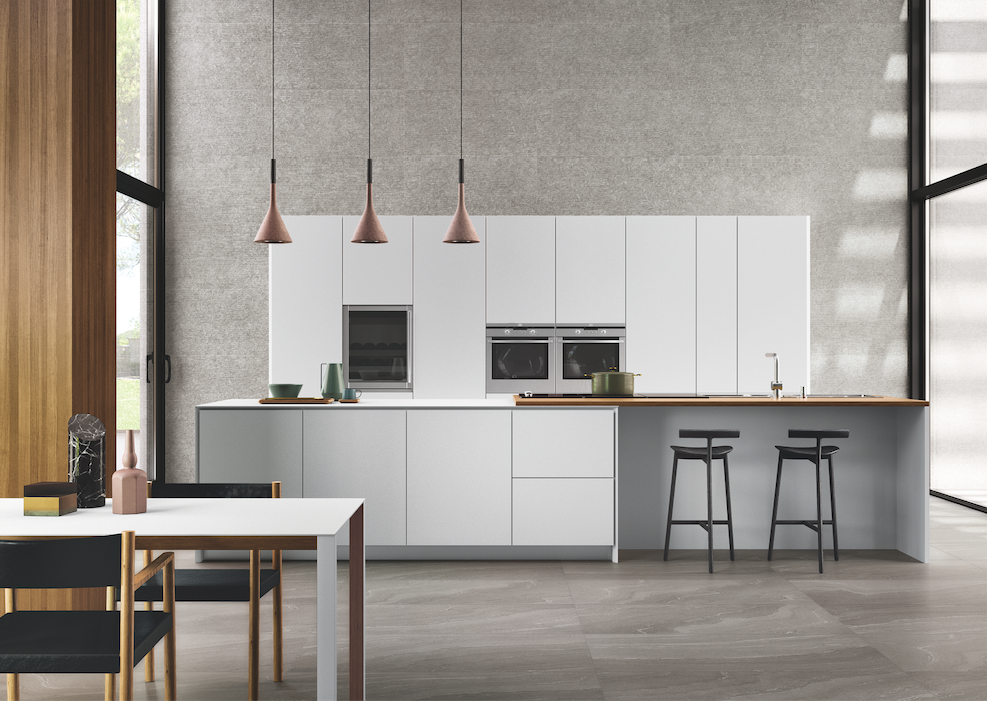 Ergon Stone Talk tiles in Grey Martellata on the floor and Grey Rullata on the wall create a rich multi-textured look in this open-space kitchen.
Natural materials such as timber and stone have always held a familiar reassuring quality. But unlike timber, it is challenging to use real stone in interior spaces. Now, with stone-inspired tiles, we no longer need to worry about the ecological impact of extracting natural stone, or the cost of transporting, installing, and maintaining the material, but still enjoy the elegant look of the material. Stone-inspired tiles also allow us to enjoy a far wider range of colours, designs and textures. Ergon, by the heavyweight Emilceramica group, have produced several stone-inspired tile collections popular for their attractive interpretation of stone looks. Find out more about three of these collections that bring the beauty of stone onto your home in many modern, stylish ways.
Stone Talk
Think of Stone Talk as the quintessential stone-inspired tile collection, with designs that express the various ways stone can be worked. Available in five hues ranging from the fairest beige to dark ash, three designs, and many sizes, these porcelain stoneware tiles cover all your style preferences. The Minimal family as the name suggests, is evenly coloured, with a semi-polished finish projecting an elegant appeal. Martellata features obvious natural stone veins and a hammered finish. Rullata is the most expressive of the three, with a grooved and faceted effect for strong visual impact on walls. The three tile families are created to be used in tandem to create multi-dimensional surfaces in one space.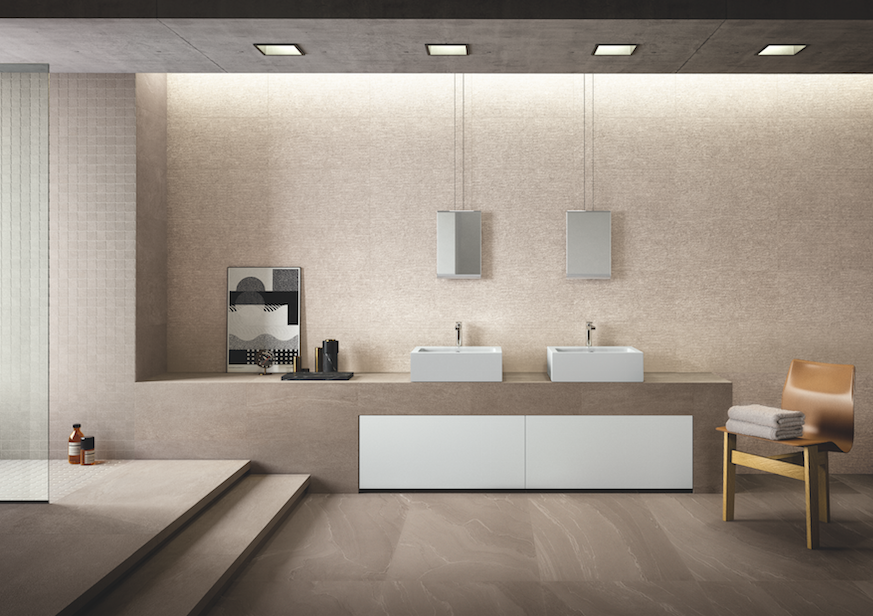 A mix of Stone Talk tiles in different finishes – Martellata on the floor, and Minimal on the steps and counter – in Taupe create a relaxing but visually rich ambience in this bathroom. On the wall are Rullata tiles in Sand.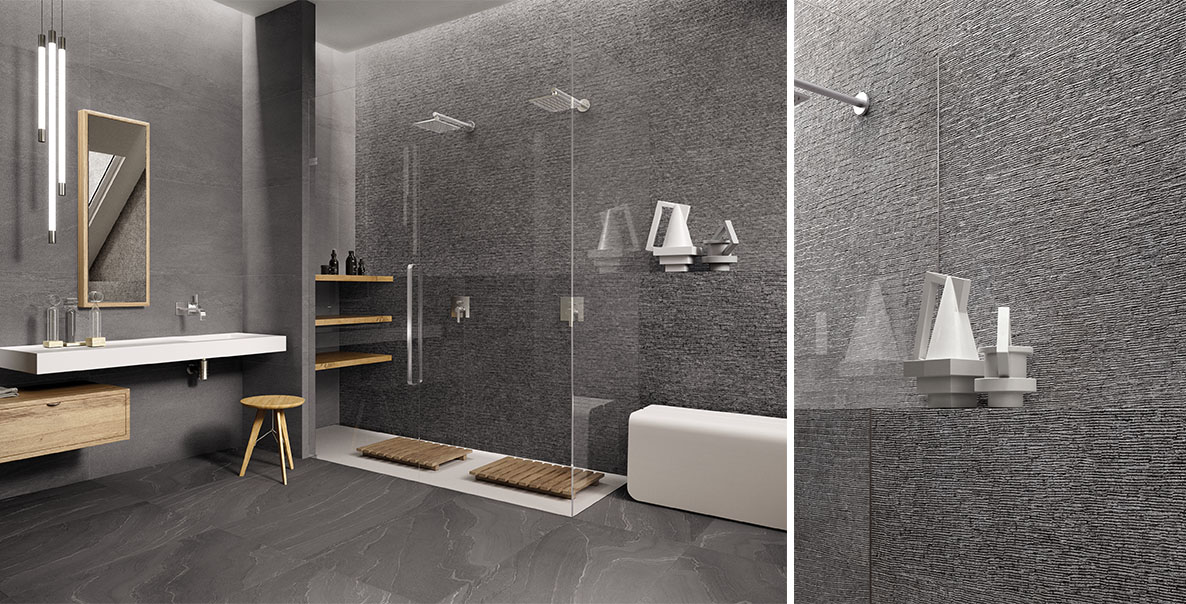 This bathroom demonstrates how to use textures to create a visually interesting space. All three tile families of Minimal, Martellata and Rullata in Dark were used on various surfaces.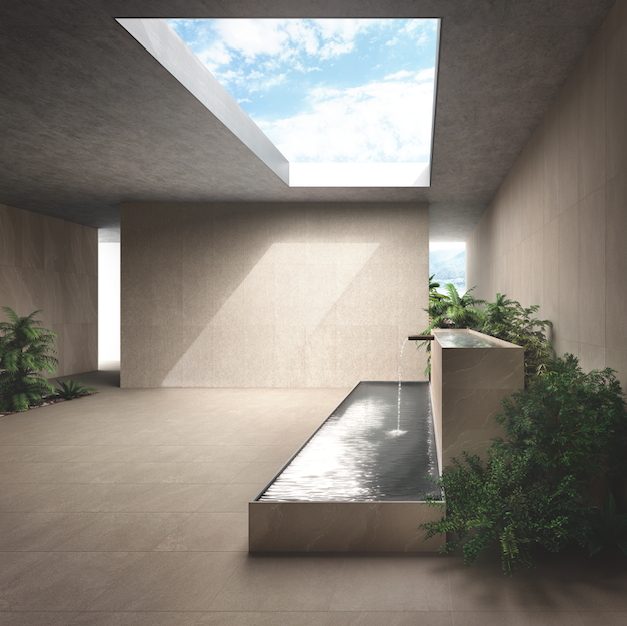 The tiles of Stone Talk are also perfect for outdoor areas, with anti-slip options for added safety.
Grain Stone
Inspired by granite, the stone-inspired tiles of Ergon's
Grain Stone
come in two finishes – fine- and coarse-grain, with a decorative option in the form of Cage. The etched gridlines and diagonal slashes on Cage represent an exciting new
decorative
possibility for stone-inspired tiles. Their design possibilities are further enhanced as Grain Stone tiles come in the same five colour tones as the Stone Talk collection mentioned earlier – Dark, Grey, Sand, Taupe and White. Add to that the seven available tile sizes and you've got a comprehensive toolbox to create compositions of rich visual texture for your indoors and outdoors!
The three variations of Grain Stone – fine-grain, coarse-grain, and Cage – in the Sand colour tone are used in this bathroom to prevent the neutral-coloured space from looking bland.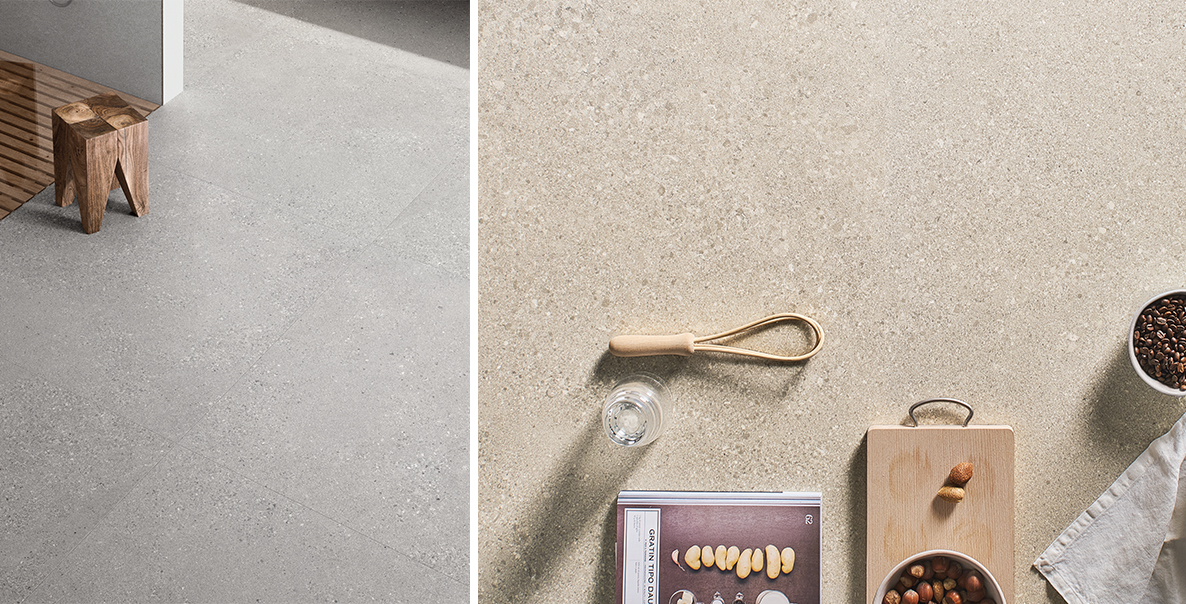 A closer look at the fine-grain tiles (left), and coarse-grain tiles (right) of Grain Stone.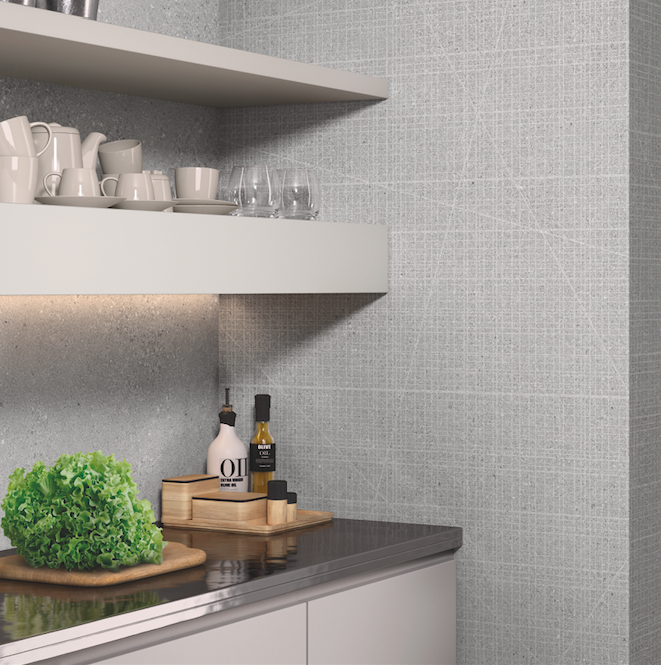 The subtle decorative etching on the Cage tiles gives it the look of woven fabric to create a sophisticated tactile vibe.
Known as nature's
terrazzo
, Ceppo di Gré is a stone which features a stunning pattern of broken mineral fragments cemented together with a fine-grained substrate. It has been used for Milan's most iconic 20th century buildings, and now the you can enjoy the beauty of this rare stone in your home, and in a sustainable way with the
Lombarda
collection from Ergon. Lombarda gives us stoneware porcelain tiles inspired by Ceppo di Gré in three colours of Bianco, Grigio and Nero, six sizes, and in semi-polished as well as natural finishes.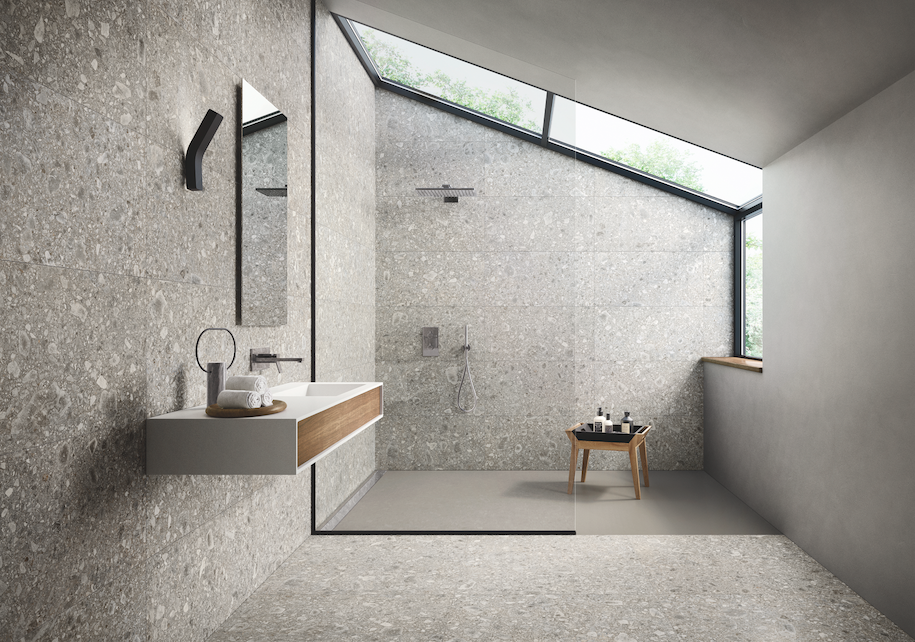 It's not too much to do your whole bathroom in one tile, as shown in the space with Lombarda Grigio tiles in 45cm by 90cm on the wall, and 90cm by 90cm on the floor.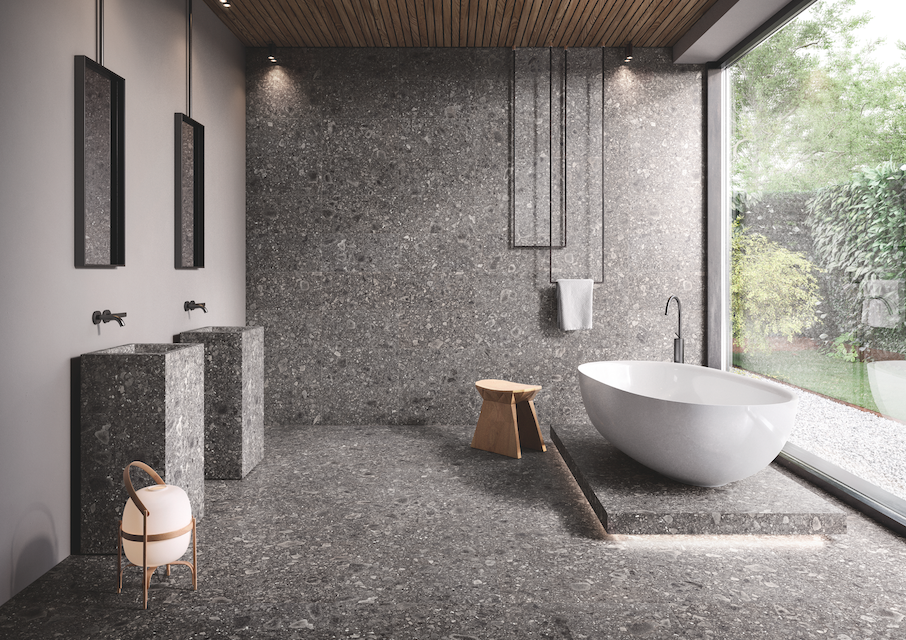 The dynamic pattern of the Lombarda Nero tiles make surfaces look almost seamless, to create an illusion of solid stone surfaces in this sun-bathed bathroom.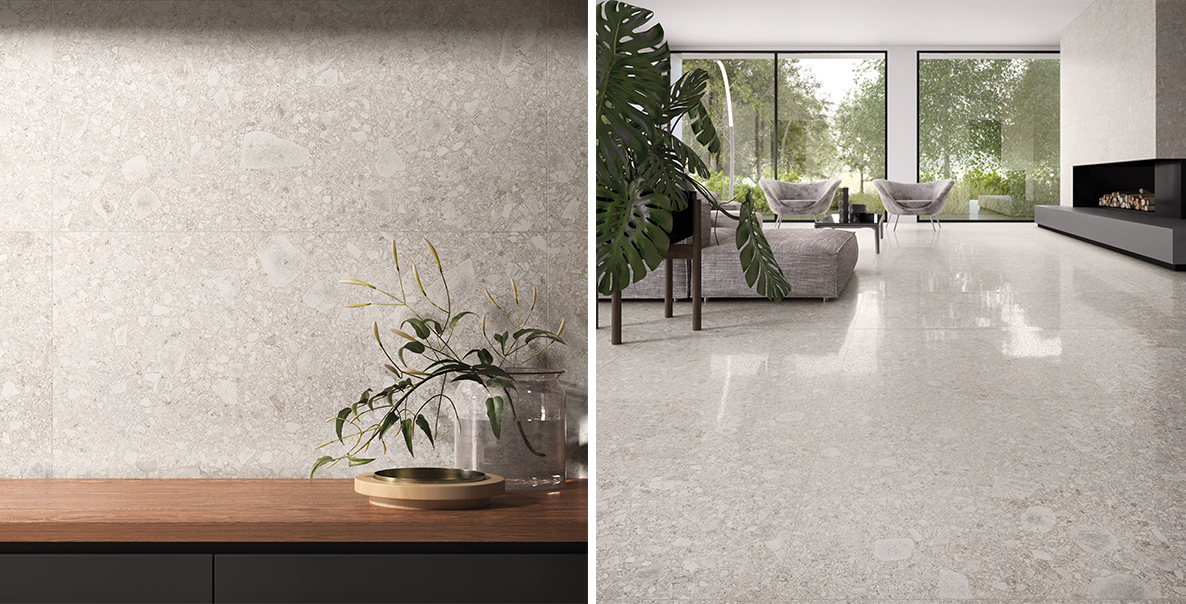 Lombarda Biano tiles used on the wall (left) and on the floor (right), showing the decorative versatility of the stone-inspired tile.
Find out more about the tiles featured above at riceLAB. Make an appointment by emailing us here or by calling 6692 1199. riceLAB is at 213 Henderson Road 01.03 Singapore 159553. RICE is open from Mondays to Fridays 10am to 7pm, and Saturdays from 10am to 6pm.
Get the European tiles you love at great prices! Make an appointment to browse the Tile Me You Love RICE range at riceLAB now.