04.03.20
RICE is 19 this year! Here are 5 recent projects that stand out for us.
Tiles
From a groundbreaking container showroom concept in 2001 to our current four-storey flagship building in Henderson Industrial Park, RICE has contributed tiles to many projects during our 19 years in the tile business. The business has grown over the years, and so has the size and scale of our projects. Let's look at five recent and memorable ones.
1. Changi Airport Terminal 4
A neutral, earthy palette of materials and colours was planned for this new terminal which opened in 2017, designed by SAA Architects with a multi-disciplinary team of international consultants. Durable tiles were a natural choice for many public areas in T4, as each material was assessed based on its functional and aesthetic qualities in the various areas they were used.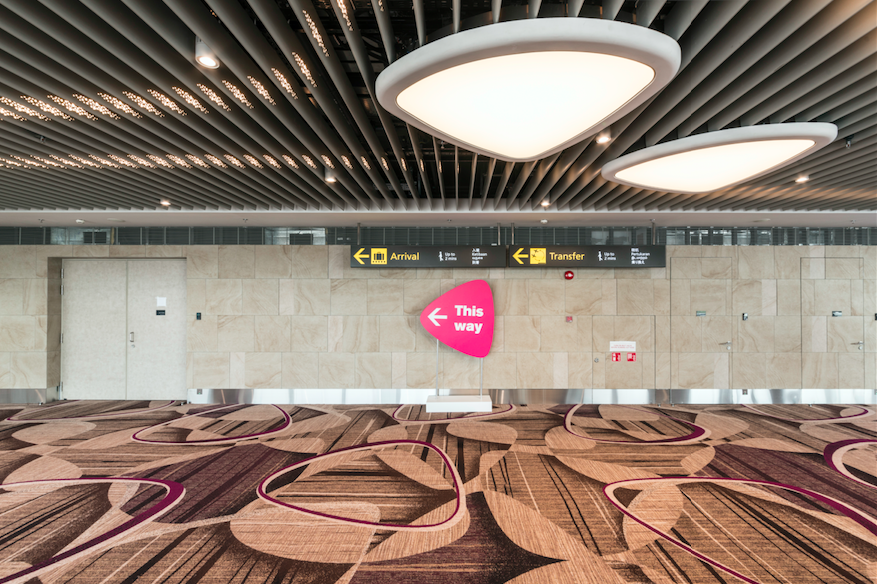 As travellers walk towards the arrival hall after they land, they are greeted by a soothing wall of stone-inspired Pietra Di Chantillonnais tiles from Edilgres. The tiles' warm natural colours were inspired by limestone found in the Burgundy region of France.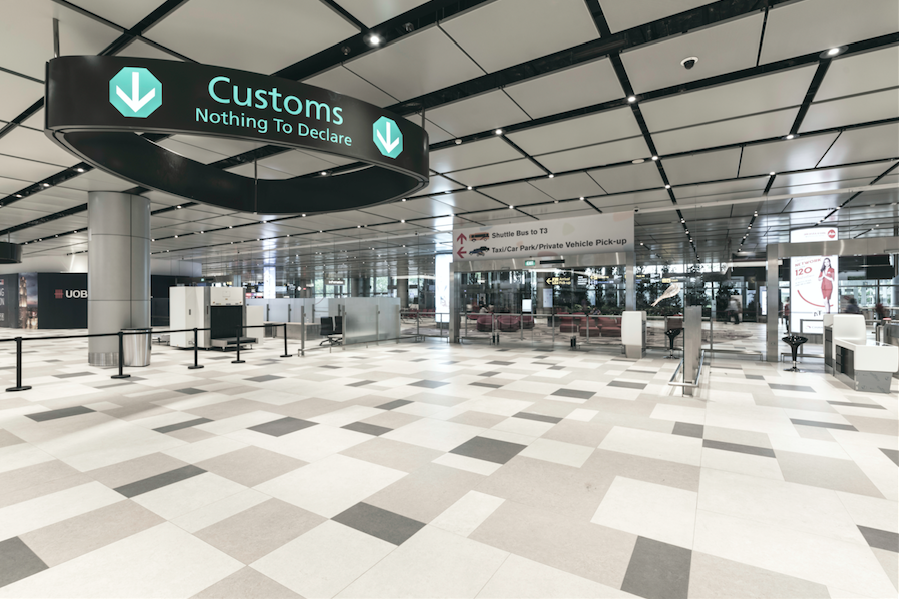 The floor of the baggage claim area and the public areas of the arrival hall is made up of Buxstone tiles from Panaria in hues of Almond, Shell and Clay. The lively design is meant to energise tired travellers, but still be soothing to look at.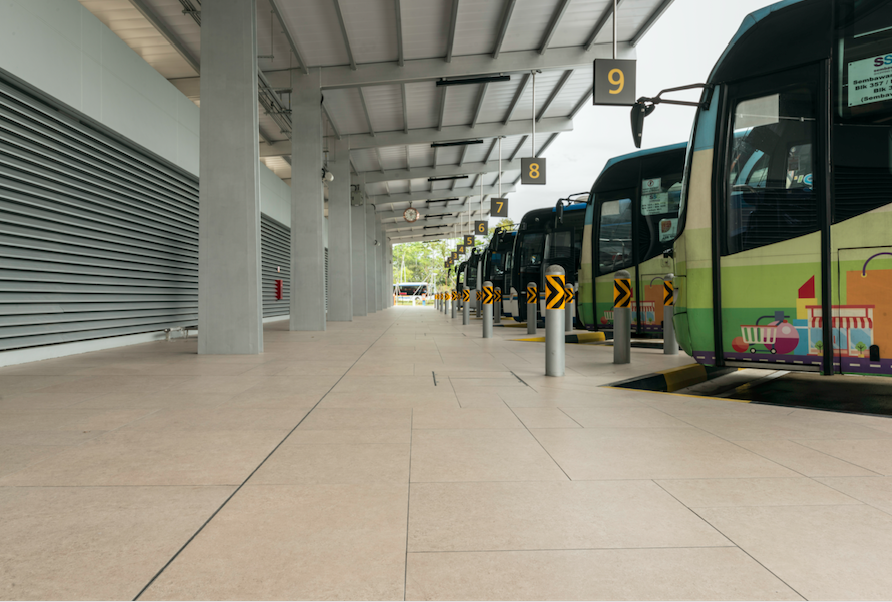 Panaria Buxstone tiles were also chosen for the coach bay outside the building to visually link the indoor colour palette with the outdoor areas. The tiles in Shell feature a higher slip resistance of R10 as compared to R9 for the indoor tiles. This is to improve safety in the case of wet weather.
Read more about RICE tiles in Changi Airport Terminal 4 here!
2. Jewel Changi Airport
As the most anticipated mall opening of 2019, Jewel Changi Airport didn't disappoint. The glass-and-steel complex designed by Safdie Architects and developed by CapitaLand and Changi Airport Group exudes an air of sophistication with its canvas of nature-inspired hues such as sand and stone. RICE is humbled to have supplied tiles to both the public areas and commercial spaces within Jewel.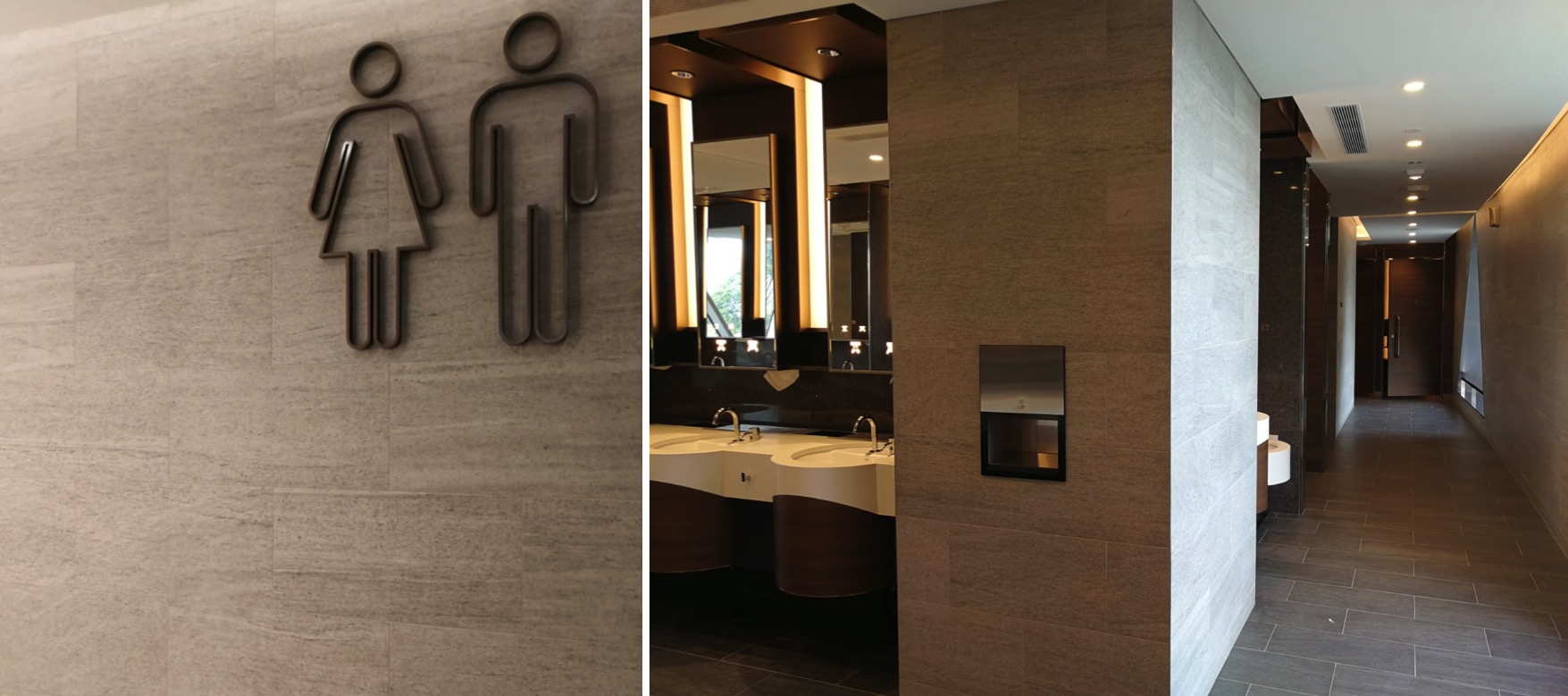 Enhancing the lush landscaping in Jewel are the stone-inspired Panaria Basalike tiles in the public restrooms. Soft Grey tiles were used for the walls, and Deep Grey tiles on the floor.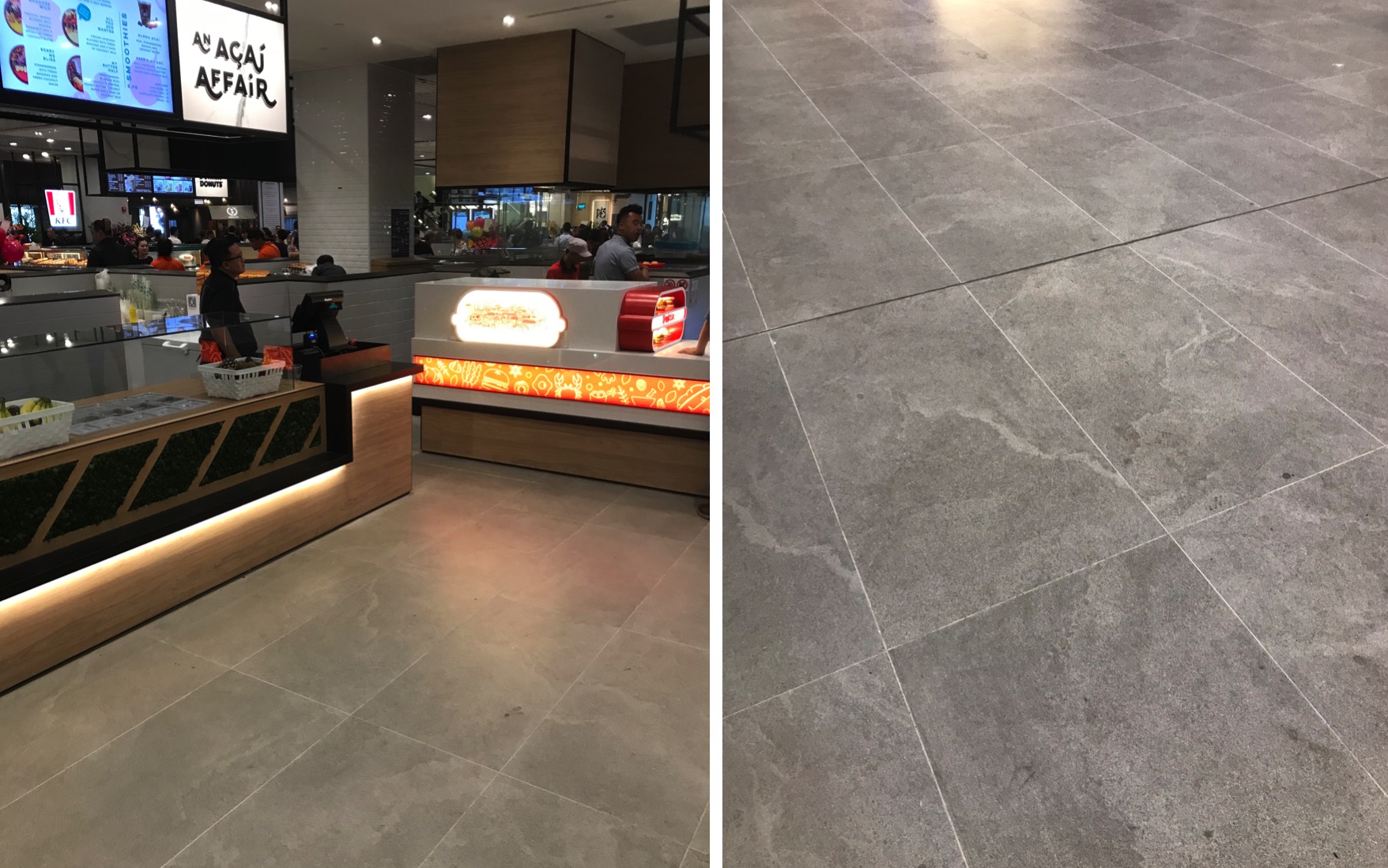 For the Food Hall at basement two, a high traffic area in Jewel, Ergon Grey Controfalda tiles from its Stone Project Collection were chosen for their durability and neutral yet stylish looks.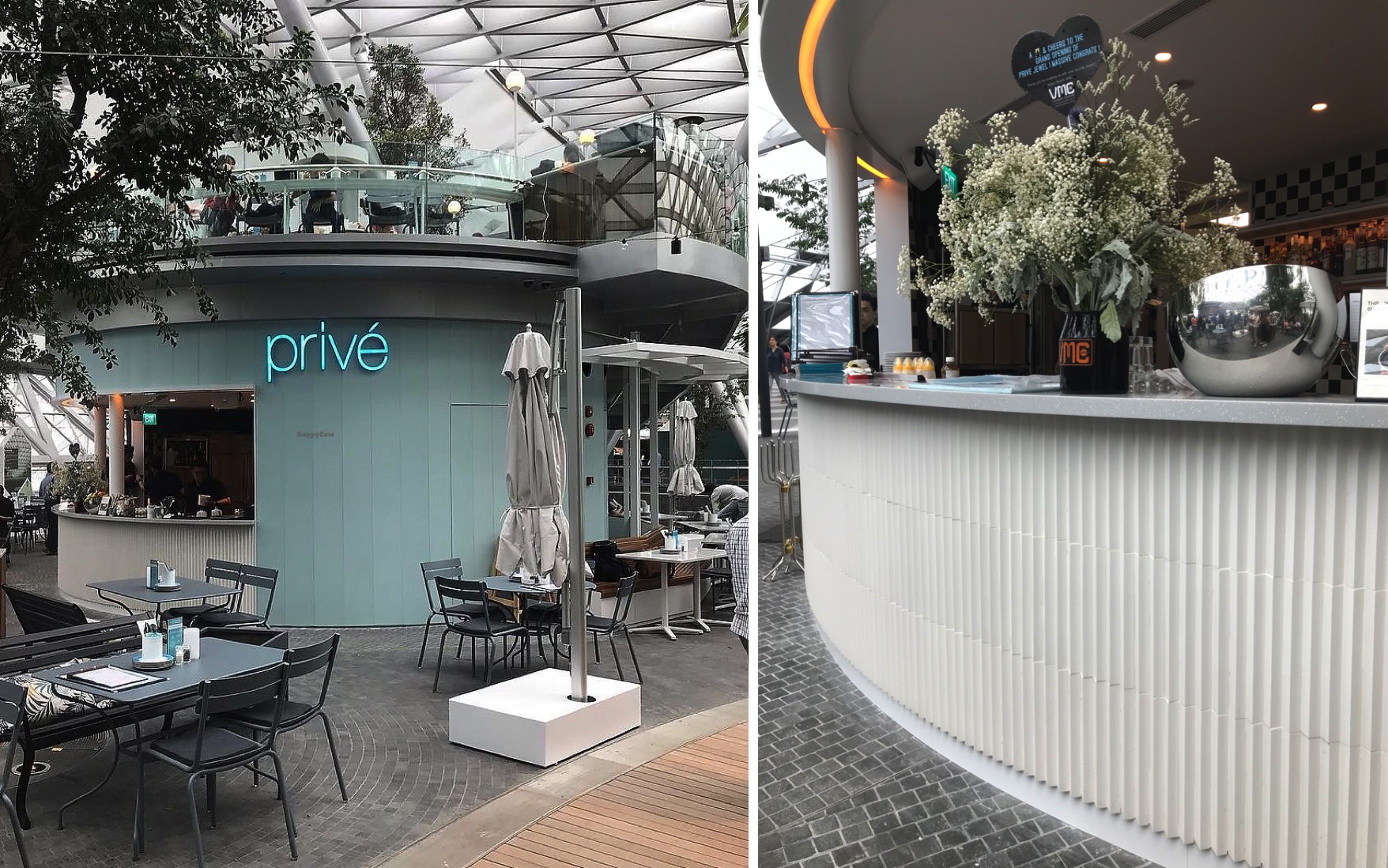 Privé restaurants are known for their contemporary design-led interiors. The Jewel outlet at the Canopy Park features the unique Mutina Rombini Triangle tiles by the Bouroullec brothers around the service counter for a three-dimensional pattern.
Read more about RICE tiles in Jewel Changi Airport here!
3. OUE Downtown Gallery
Top architect firms DP Architects and SCDA Architects joined forces to convert the former DBS building into a mixed-use development consisting of serviced apartments and office spaces, with retail offerings on the ground level. The lifestyle and retail cluster, named OUE Downtown Gallery, opened in 2017 with a stylish sophisticated city vibe that truly embraces its urban work, live, and play concept.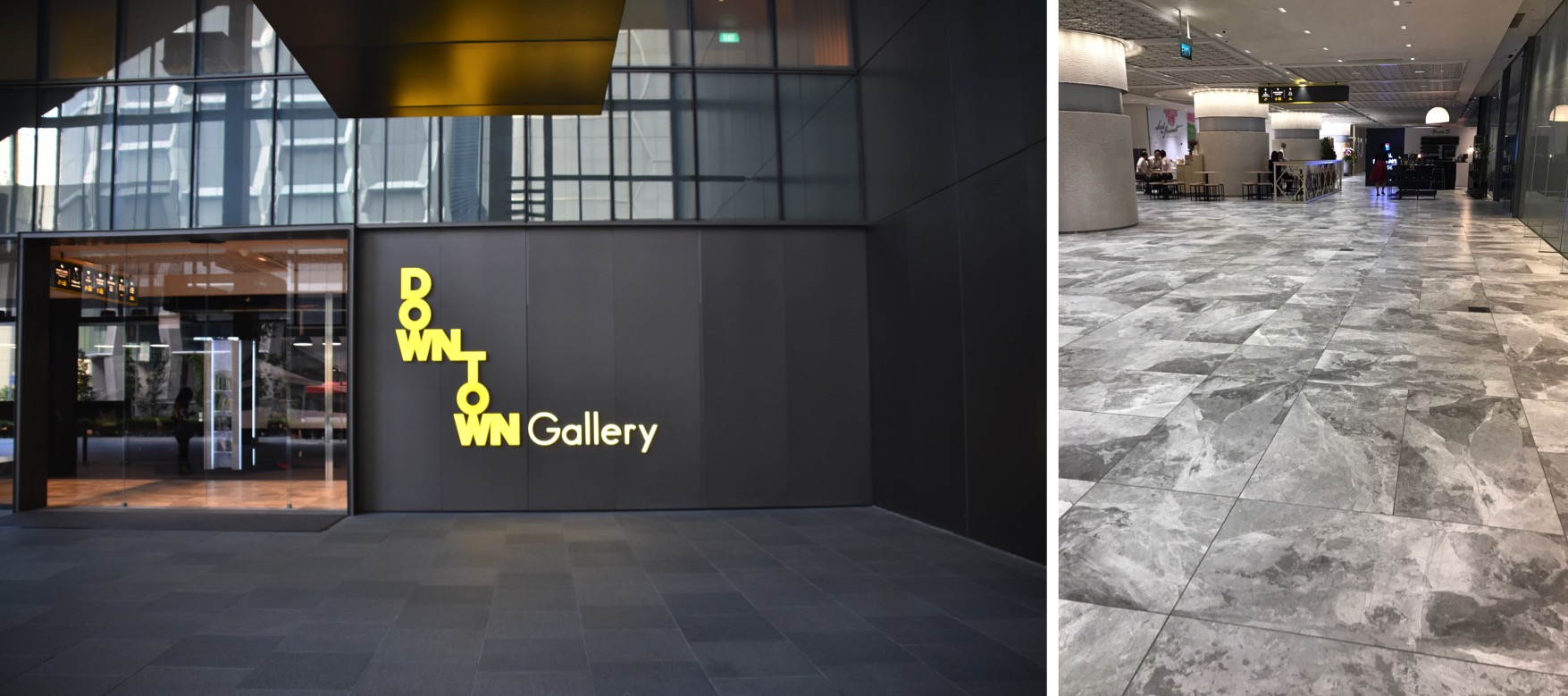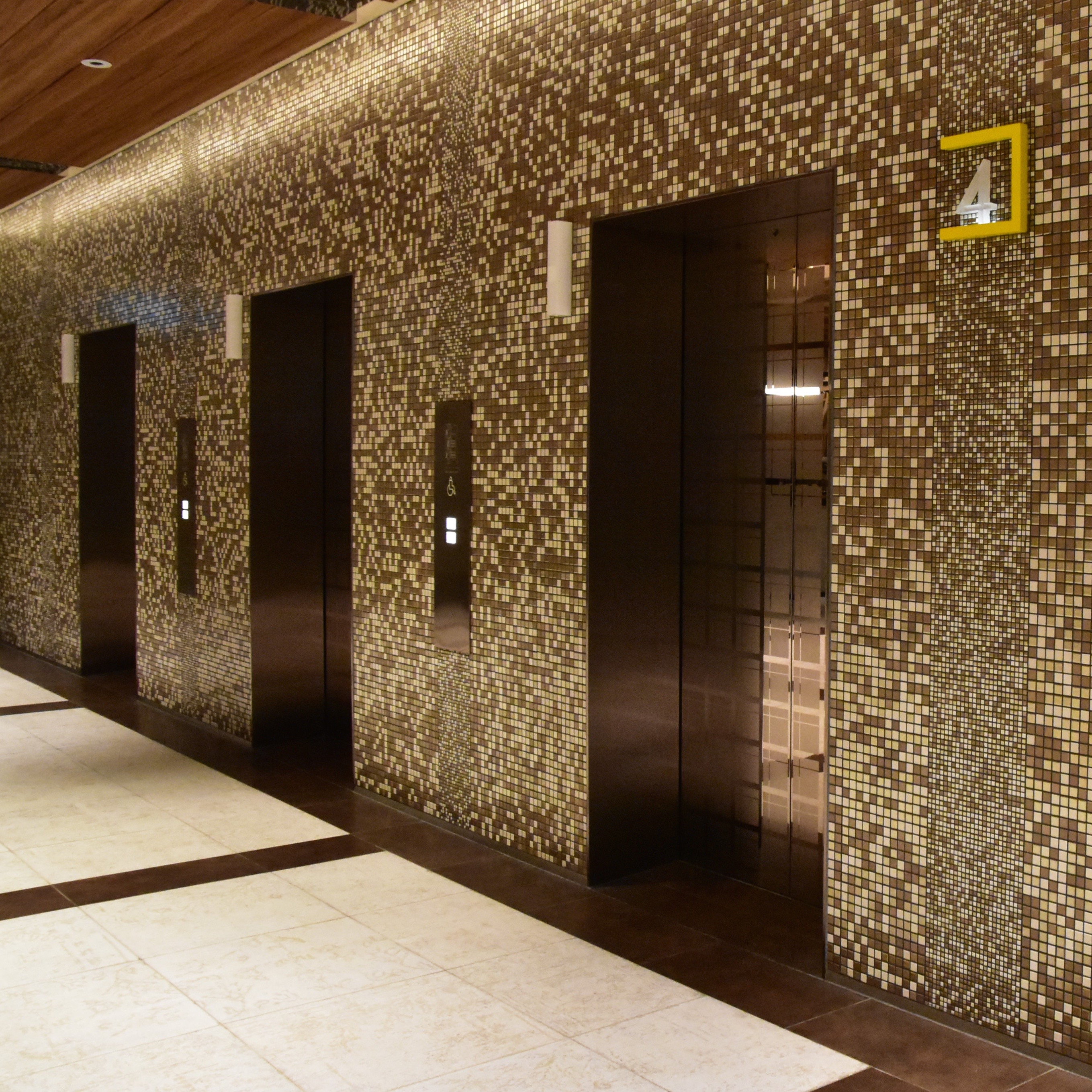 Adding some shine to the interior colour palette is the reflective Appiani mosaic mix in shades of gold and brass. The neutral-coloured Nomad Papiro Nat porcelain stone tiles on the floor balance out the glitzy look.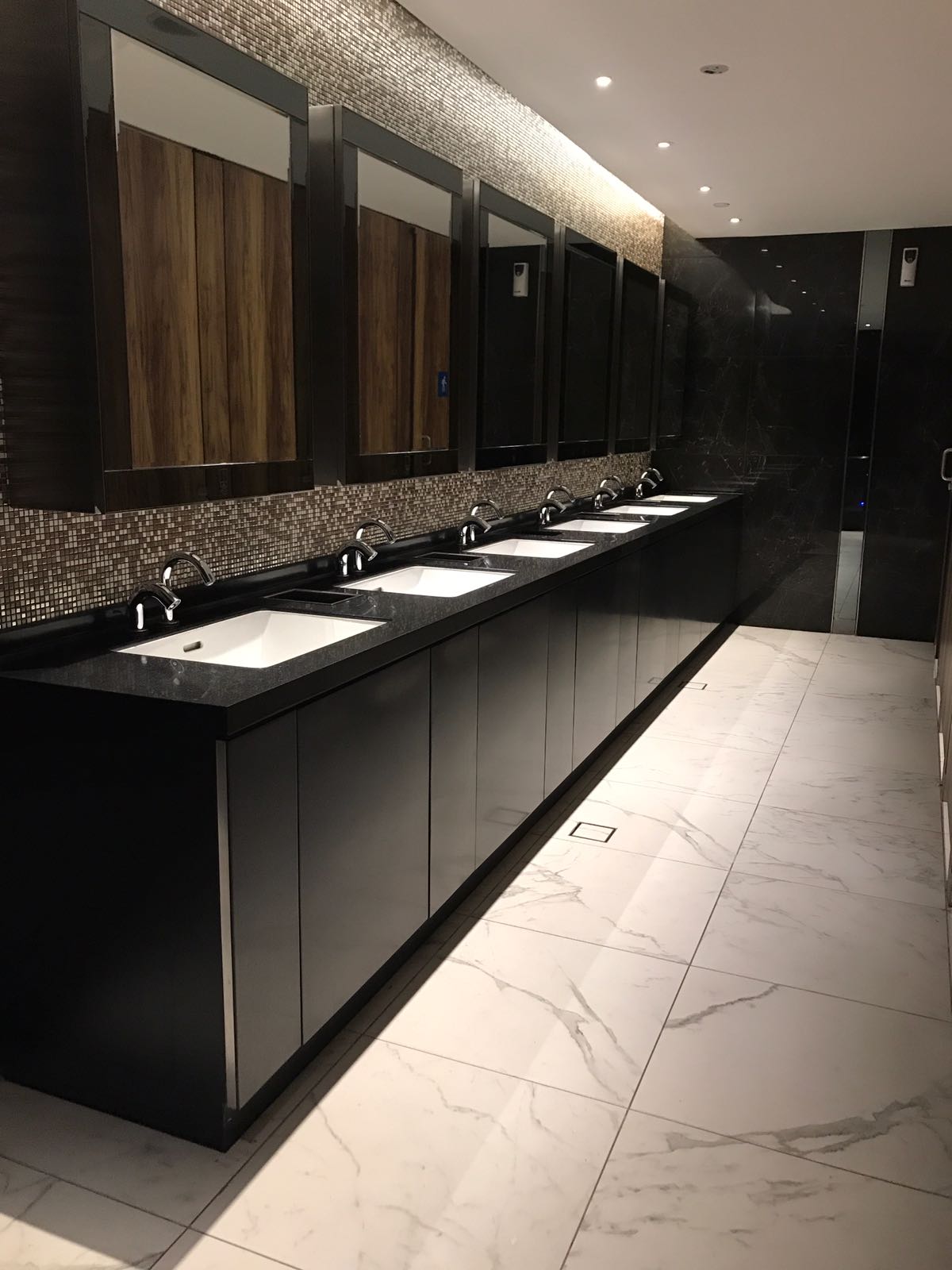 In the restrooms, the Appiani Colonial mosaic mix walls echo the aesthetics of the lift area. The light marble-inspired extra matte Atlas Concorde Mv Calacatta floor tiles create a visually spacious look.
4. Nim Collection
RICE worked with W Architects, helmed by Mr Mok Wei Wei, to customise tiles for the bathrooms of Nim Collection's 47 houses in phase one of this housing development by Bukit Sembawang Estates Limited. Besides the travertine-inspired tiles, RICE also provided timber-inspired tiles for its open terraces and room balconies, and tiles for the kitchen as well as open yard area.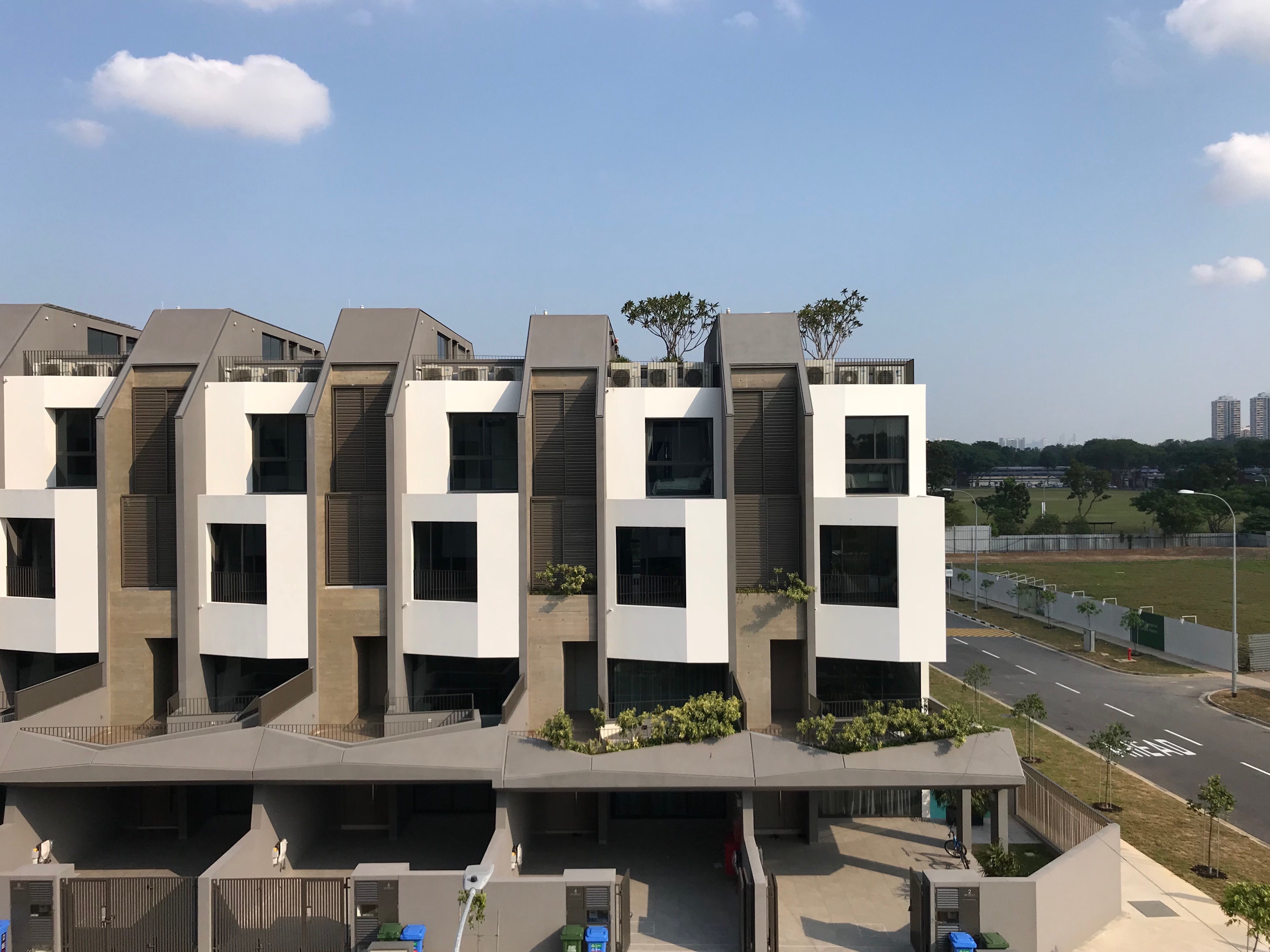 The distinctive angled facades on the terrace houses of Nim Collection located near Seletar.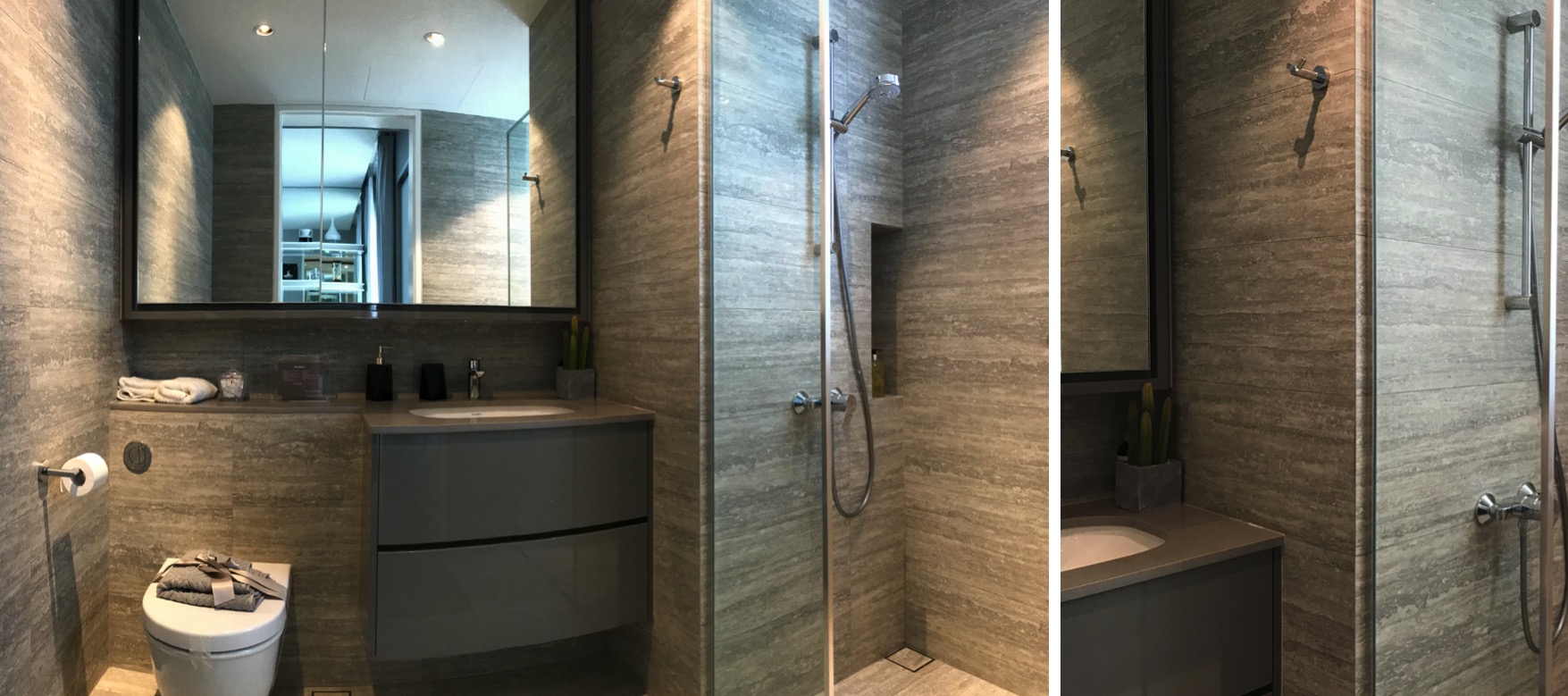 RICE developed this grey-toned travertine-inspired tile with a tile manufacturer for the bathrooms of the homes in Nim Collection, seen here in the show suite of the project.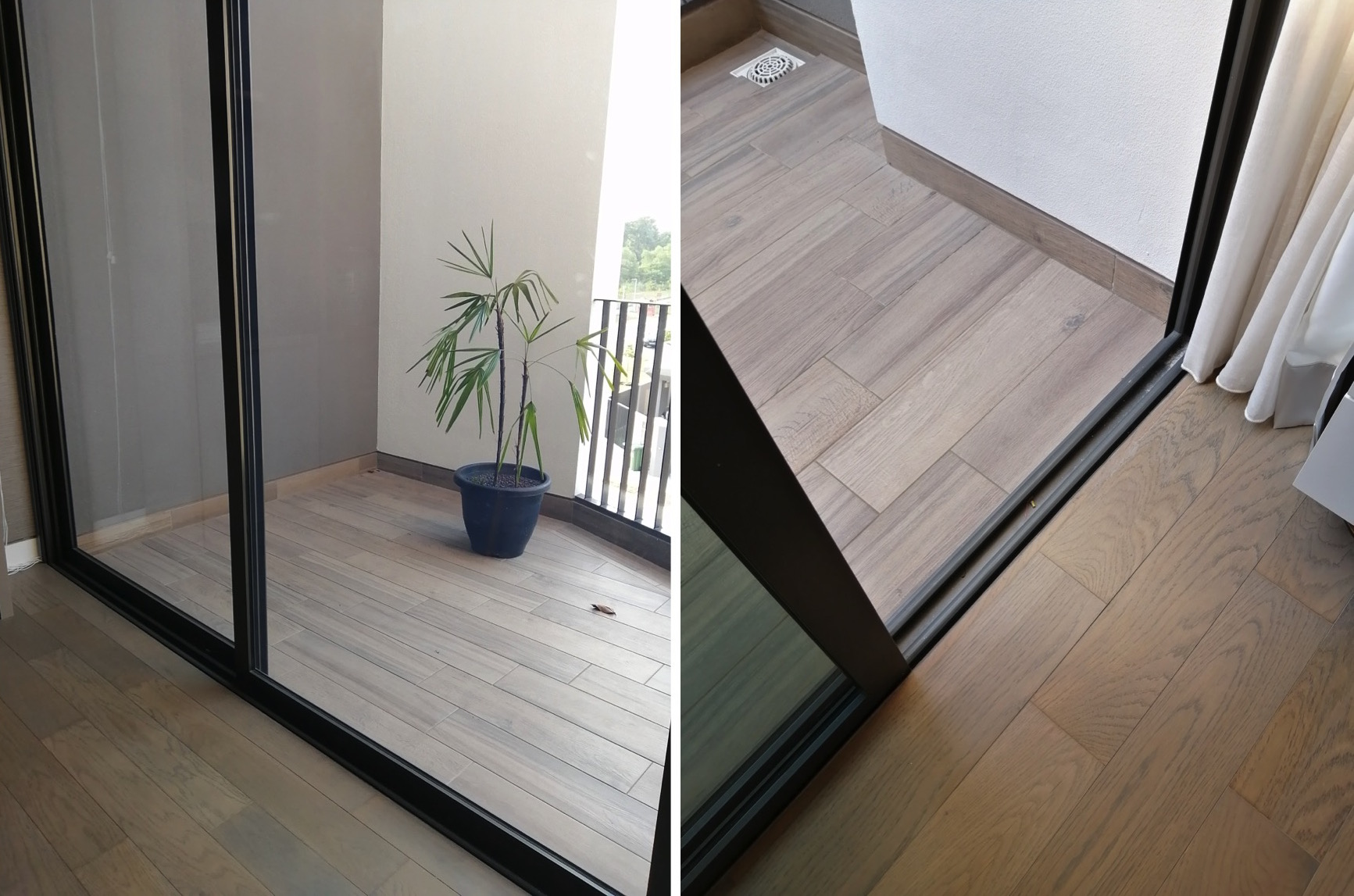 Timber-inspired tiles in outdoor areas such as balconies match the tone of the natural timber of the interiors while providing anti-slip qualities with higher durability. 
Read more about RICE tiles in Nim Collection here!
5. Jervois Prive 
Tiles from RICE will be used in the bathrooms and kitchens of the luxurious 45-unit Jervois Privé condominium, developed by Midas Land. Located in prestigious District 10, this freehold project was designed by President Design Award-winning architect Yip Yuen Hong of ipli Architects as a thoughtful statement of modern living. The project's show suite was launched in 2018.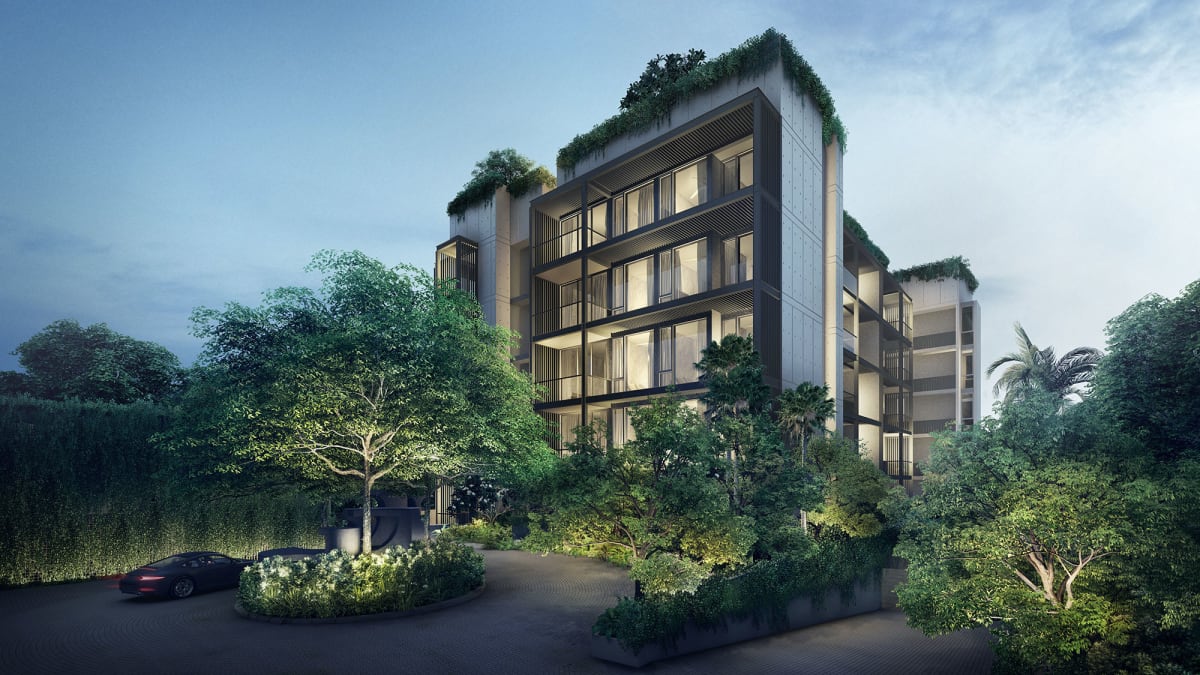 An artist's impression of Jervois Privé. Image: Midas Land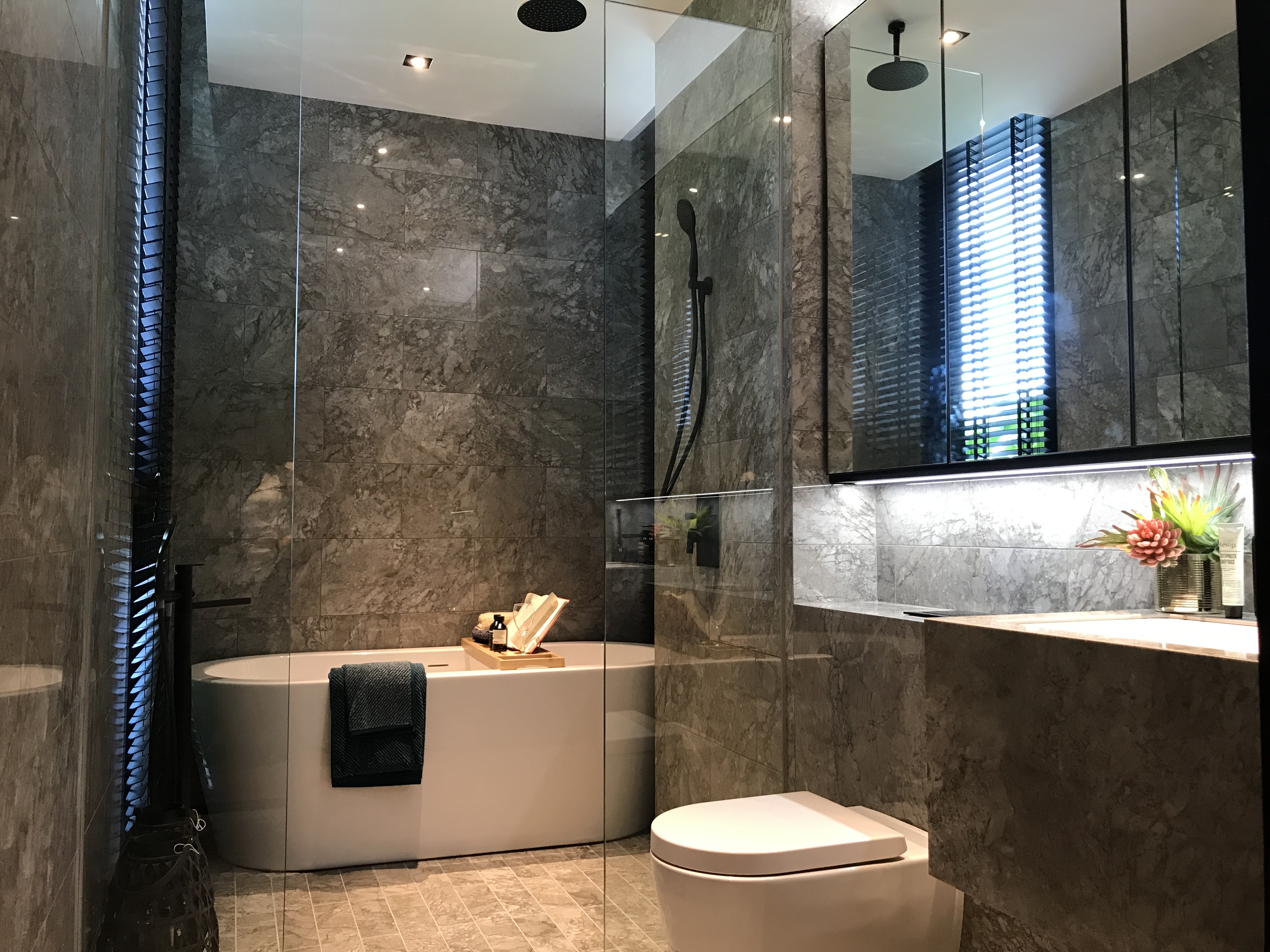 The master bathroom of the 1,389 sq ft Jervois Privé show suite is clad with Breccia Braque marble-inspired tiles from Emil, with different finishes and sizes for the wall and floor.
Read more about RICE tiles in Jervois Privé here!
Find out more about the tiles in the projects featured above, at riceLAB. Make an appointment by emailing us here or by calling 6692 1199. riceLAB is at 213 Henderson Road 01.03 Singapore 159553. RICE is open from Mondays to Fridays 10am to 7pm, and Saturdays from 10am to 6pm.
Get the European tiles you love at great prices! Make an appointment to browse the attractively priced Tile Me You Love RICE range at riceLAB now!