19.02.20
5 cool blue tiled looks for your home, including Pantone's Classic Blue!
Tiles
The Mutina Pico Up Blue tile in this bathroom, a close match to Pantone's Classic Blue, features a pattern of small raised dots to bring subtle texture to this bathroom.
For its ability to convey ideas of stability, reassurance and confidence, Classic Blue was chosen by the Pantone Colour Institute for its Colour of the Year 2020. This navy hue has a grounding effect, and in interiors, is commonly paired with white or cream for iconic nautical chic. Blue is part of the cool family of colours which is meant to relax and soothe. In using blue tiles, you won't just be adding the colour to your space, but bringing wonderful texture and materiality to your interiors as well. Consider these fabulous true blue tile inspirations.
Dark blue can look dull if the tile surface is smooth and flat. Add texture to make a dark wall visually interesting. Take for example this deep blue wall clad with Mutina Pico tiles. Designed by the Bouroullec brothers, the tiles sport a slightly irregular dotted pattern and were designed to showcase the organic characteristics of ceramics. The naturalistic texture and tactile dots of the tiles in this bathroom makes a delightful contrast with the smooth and polished surfaces of the washbasin.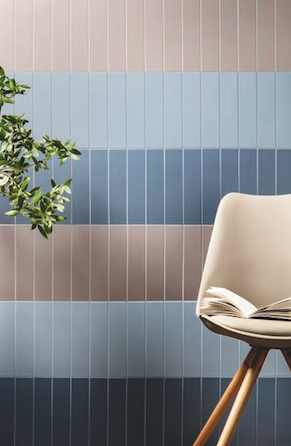 Can't decide which blue to choose? Go for all of your favourites! These solid- coloured tiles from CE.SI evoke the colours of classic menswear – blues and browns, for a smart tailored look. Yet, the unconventional vertical arrangement also looks fresh and current. Italian tile brand CE.SI prides itself on continual colour research to produce a rainbow of rich fully coloured tiles which come in various sizes as well.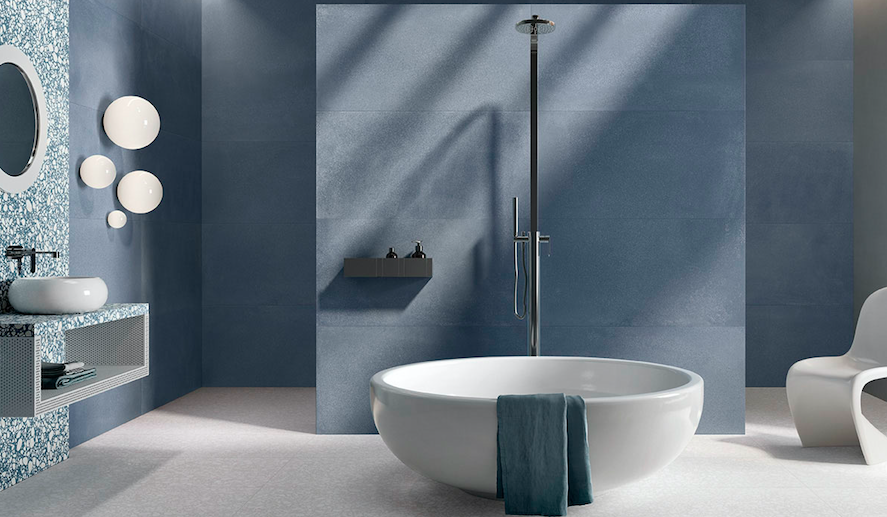 Add a tint of blue into your concrete mix and you get dusky grey-blue walls that are beautifully multi-dimensional, as in the pictured bathroom. The dusky nature of blue concrete is recreated perfectly with the Ergon Medley Minimal Blue tiles, a collection which also celebrates terrazzo. But unlike actual concrete which is porous and prone to chipping, tiles are water-resistant and extremely robust.

The shimmering bands of blue on this wall were the result of an experiment by designer Hella Jongerius for Italian tile company Mutina to see how different glazes would interact with different-coloured clay tiles. The end product is the fascinating Diarama collection, with tiles sporting alternate matte and glossy glazed stripes to create an artistic statement, no matter how you arrange them.

With the Mutina Rombini tile collection, even baby blue has an edge. This sweet hue is available as a patterned tile with a subtle or magnified fishnet design, or as a three-dimensional triangle-shaped relief, which can be used together to create a landscape rich in detail and dimension. In developing this collection, designers Ronan and Ewan Bouroullec wanted to investigate the possibilities of colour as well as ceramics.
Find out more about the tiles featured above at riceLAB. Make an appointment by emailing us here or by calling 6692 1199. riceLAB is at 213 Henderson Road 01.03 Singapore 159553. RICE is open from Mondays to Fridays 10am to 7pm, and Saturdays from 10am to 6pm.
Get the European tiles you love at great prices! Make an appointment to browse the attractively priced Tile Me You Love RICE range at riceLAB now!