22.07.20
Use tiles to create a great looking balcony, courtyard and patio area
Tiles
The Ragno Fornace rectangular porcelain stoneware tiles bring the beauty of clay and terracotta into the outdoor and indoor spaces of this home.
In Singapore, we are blessed to be able to enjoy the fresh air and sunshine of the outdoors all year round, especially if we have a balcony or outdoor space at home. Balconies are a common feature in condominium apartments and have started appearing in HDB developments too. These little pockets of outdoor space have immense potential for beautiful skyrise gardens. Post COVID-19 design trends also point to the popularity of homes designed with outdoor spaces such as courtyards and balconies as more people stay at home but still want to enjoy nature in the comfort of their own space. Weather-proof and durable, tiles are the best surfacing materials to use in balconies and outdoor terraces. They are easy to clean and come with textured non-slip surfaces which are safer to walk on in wet weather too. Style-wise, tiles can also bring in the look of organic materials such as timber, stone, clay and terracotta, which all go great with plants and are easier to maintain than the natural material. Whether you've got a small balcony or a spacious garden, they have the potential to look great! Get started with the ideas to follow.
The Ragno Fornace tile collection was developed to create the look of terracotta and clay in the form of tough porcelain stoneware tiles. The tiles come in a size of 7cm by 28cm, a shape which can be used in various laying patterns on floors and walls to create lovely rustic looks with their fabulous tonal variations. They come in three evocative shades of Beige, Tortora [pictured above] and Rosso, a reddish tone which brings to mind exposed red brick houses. Set contemporary metal furniture against the rusticity of the space for a modern look.

With six warm colour shades ranging from light hues such as Ivory [pictured above] to darker shades of grey, the Ragno Stoneway Porfido stone-inspired tile collection will bring a measure of sophistication to your outdoor spaces. Use them in place of natural stone for your balconies, gardens, terraces, and even driveways, for easy maintenance. The tiles are available in various sizes and two thicknesses for seamless transition between different areas.

The appeal of the Panaria Primestone tiles doesn't just lie in their elegant and harmonious colour tones of White, Silver [pictured above], Sand, Greige, and Black, it is also in the large format sizes which promise almost seamless surfaces for your outdoor areas. The tile size goes up to 100cm by 300cm, and are as slim as 5.5mm- thick for easy overlay over existing surfaces. Tiles are available in a large variety of sizes, as well as in a thickness of 20mm. As part of the Panaria Protect series, the Primestone tiles feature anti-microbial qualities too.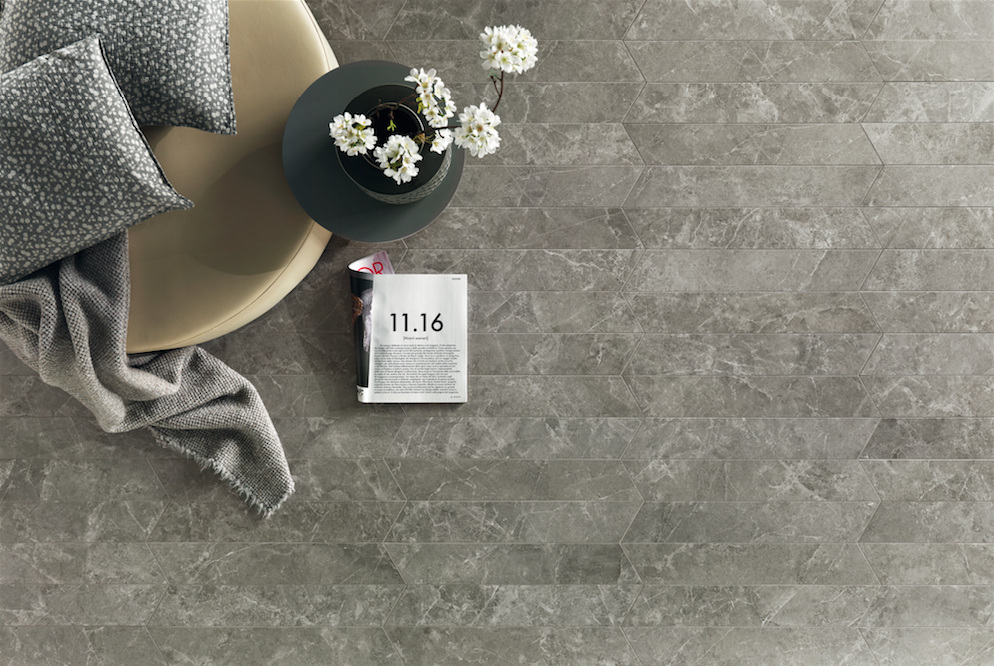 The luxurious flooring of your living area can now flow seamlessly and continue in your outdoor patio or balcony, bridging the look of both areas, with marble-inspired tiles such as those of the Panaria Trilogy collection. The collection's five distinctive patterns and colours are available in various sizes and shapes, including chevrons (pictured above). The tiles also come in large format sizes of up to 100cm by 300cm with a mere 5.5mm-thickness, but with the solidity and durability of porcelain stoneware. Choose from a soft or glossy finish.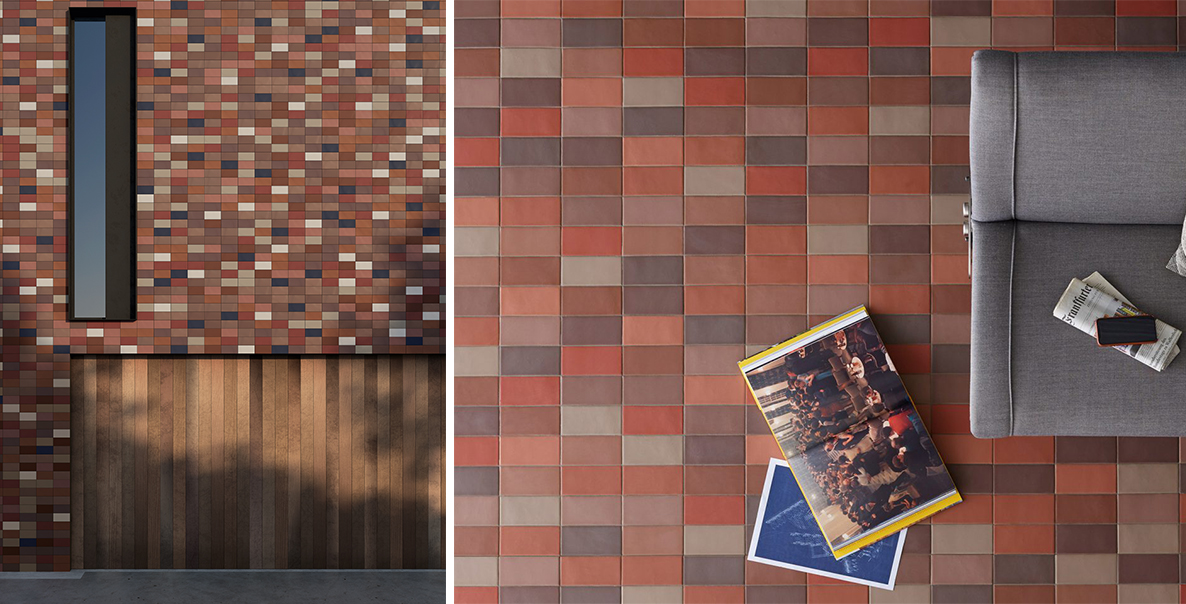 Think exposed brick is predictable? Check out the Mutina Lane tiles, which clad an external wall of this house completely for a twist on the usual red brick façade. Poly Terracotta is one variation in the Lane collection, which comprises of 7.9cm by 16cm tiles in various tones inspired by the built landscape of London. Designers Barber and Osgerby developed five base colours for Lane, and added pops of colour for the Poly variation. Lane looks great outdoors, thanks to the textural quality of each tile which gives them an organic handmade look when the light hits the surface.

Bring pattern into your outdoor space with the Mutina Piano collection. Whether on the walls or floors [or both], the six muted colourways creates a soft background with the staggered bands of colour acting as 'vibrations' which also energise the area at the same time.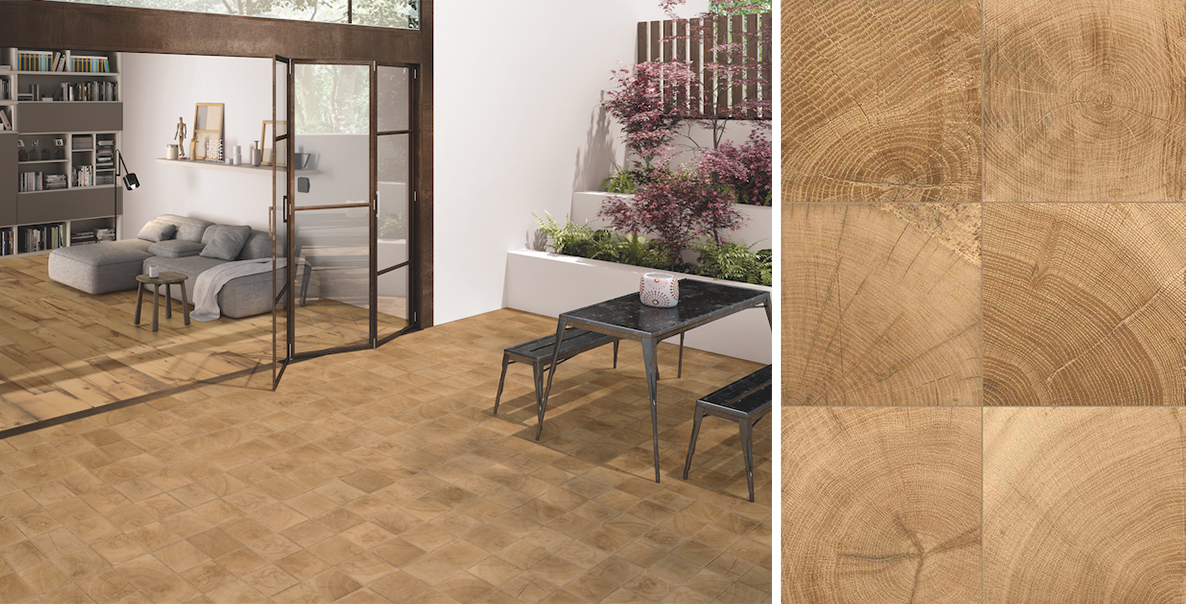 Whether you like your timber surfaces traditional or worked, the Emil 20Twenty collection of timber-inspired tiles has something for you. The collection features wood in various expressive designs, such as cross-section grain cuts, pallet-style strips painted white, marked and distressed, or grey and weathered. The many tile sizes available allow for further experimentation.

The three textures, seven sizes and five colours of the Ergon Grainstone stone-inspired collection give it the ability to fit almost all environments both indoor and outdoor. The pictured roof terrace, for example, features the Sand Rough Grain tile in a Naturale finish for greater slip resistance. The tile's 80cm by 80cm size creates a look of generous proportions. Grainstone tiles are also available in a thickness of 20mm, making them suitable for applications such as garden paving and even vehicle driveways.

Characterised by its ornamental pattern of sedimentary stones, Ceppo di Gre is a prized material that has been used for Milan's most iconic 20th century buildings. Bring the elegance of these buildings in a sustainable way to your own outdoor areas with the Ergon Lombarda tile collection, named for the area where Ceppo di Gre is quarried. Available in three colours and in semi-polished and natural finishes, the 20mm-thick variation of the Lombarda tiles can also be laid on grass, sand and gravel in the garden.

The Blustyle Living Stone tile collection transports the wondrous natural beauty of locations all around Europe to your home. The tiles of the collection were inspired by the geological landscape of Spain, France and Italy, such as the magmatic tock of the Italian volcanic islands which led to the Balsalt Grey tile [pictured above in a size of 60cm by 60cm and a thickness of 20mm]. Three sizes and three finishes are available for each of the three tile designs.
Find out more about the tiles featured above at riceLAB. Visits to riceLAB are strictly by appointment only and limited to four people per group. We encourage guests to make their tile selections online at www.rice-fields.com before coming down to minimise their time spent at riceLAB. Make an appointment by emailing us here or by calling 6692 1199. riceLAB is at 213 Henderson Road 01.03 Singapore 159553. RICE is open from Mondays to Fridays 10am to 7pm, and Saturdays from 10am to 6pm.
Get the European tiles you love at great prices! Browse the Tile Me You Love RICE range on our website in the Materials tab, using the filter Tell Me You Love RICE.